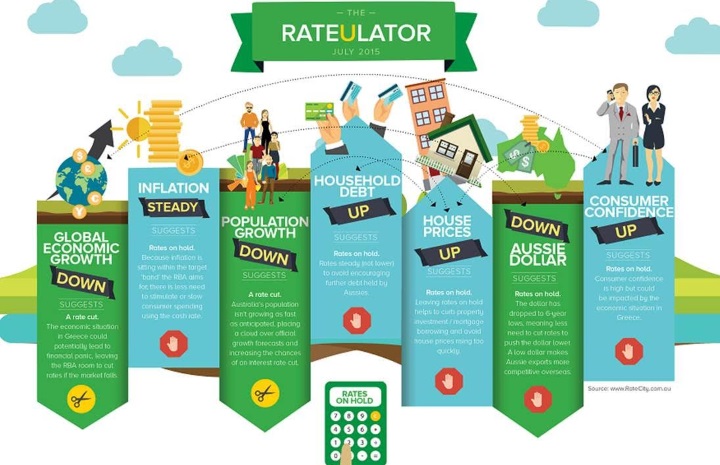 July 6, 2015, Sydney: Interest rates are set to remain on hold at 2 percent when the Reserve Bank board meets tomorrow. But a RateCity analysis of key economic indicators reveals an increasing likelihood that rates will be slashed further before the year is out.
Thirteen of the 18 key economic indicators analysed by RateCity this month point towards rates remaining on hold in July, while five suggest a further rate cut.
Peter Arnold, financial analyst at RateCity, said a rate cut was likely to be towards the end of the year or early next year.
"The case is building for another rate cut and we expect to see a further 0.25 percentage points wiped off the cash rate before Christmas," he said.
"Each month we look at a wide range of factors that influence the movement of interest rates and what that means for people; whether they have a home loan or are trying to save."
"This month twice as many indicators point to steady rates as do for a rate cut so we're confident that we'll see them unchanged for at least a few months to come," he said.
High house prices and soaring household debt were among the key indicators that suggest the RBA will leave rates unchanged tomorrow. Those, combined with high consumer confidence and inflation, which remains within the target band the RBA aims for, he added.
"Consumer confidence in Australia is high but could be impacted by the economic situation in Greece, which could lead to some financial panic in global markets, opening the door for a rate cut here," he said.
About RateCity
RateCity (www.ratecity.com.au) is Australia's leading financial comparison website, where Australians can easily search, compare and apply for over 7,000 financial products – from credit cards to home loans to car insurance – from over 200 institutions. Our job is to take the hassle out of finding the right financial products online – saving our users both money and time. RateCity is a private company with an AFS Licence and ACL (AFSL & ACL: 316 710), powered by CANSTAR, in partnership with Mi9.
Disclaimer
To the extent that any RateCity Pty Limited data, ratings or commentary constitutes general advice, this advice has been prepared by RateCity Pty Limited ABN 12 122 743 542 AFSL 316710 and does not take into account your individual investment objectives, financial circumstances or needs. Information provided on and available from this site does not constitute financial, taxation or other professional advice and should not be relied upon as such. RateCity Pty Limited recommends that, before you make any financial decision, you seek professional advice from a suitably qualified adviser.
Product Disclosure Statement relating to the product should also be obtained and considered before any decision about whether to acquire the product.
Please refer to RateCity's FSCG for more information.