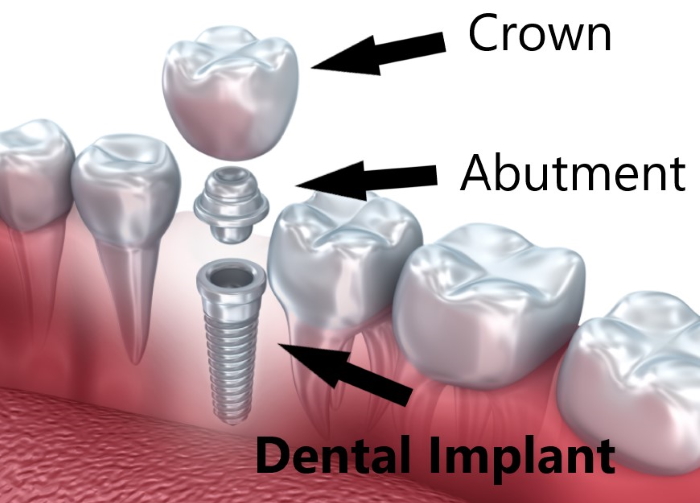 Nowadays, it's not unusual to see and hear an advertisement about dental implants. It can be utilised as a treatment for several oral health problems.

Generally, dental implants provide a long-term solution for your missing teeth. Every single implant has a tiny titanium screw-like post. When properly cared, it will last a lifetime.
Dental implants: Basis as to when you need them
There are several reasons as to why you would need dental implants. Some reasons are due to a missing tooth, needs support for a partial denture, enhances full upper or lower denture stability, easier and comfortable to chew, and enhances your smile appearance to boost your confidence.
Advantages of dental implants
Aside from boosting your confidence and to support the stability of your denture, you can also get some benefits on dental implants. Check out the top advantages of this modern option.

It would be easier for you to chew your food through the support of a dental implant. The force upon chewing is distributed evenly and prevents further gum recession and bone loss.
As the dental implant is directly anchored into the jawbone, it allows you to bite down naturally just like your normal teeth.
Implants are similar to your natural look and feel of your teeth. They become permanent because they fuse with the jawbone.
Poor dentures can cause your tooth to slip within your mouth resulting in you to mutter and mispronounce your words. However, with dental implants, it helps you to speak clearly without any worries.
Dental implants don't need to reduce other teeth. It allows more comfortable access between teeth, promoting oral hygiene.
Implants are designed to last longer as long as you take good care of it properly. It also removes the awkward inconvenience of removing dentures. No need for you to use adhesives to keep them intact.
Procedures during dental implants
Before proceeding to dental surgery to have your implants done, you must get an x-ray to scan your jawbone. This helps the dentist to check where he should place the implants properly without affecting the nearby teeth.

When your dentist is ready, he'll give you an anaesthetic so you won't feel any pain during the surgery. Once you already feel the numbness, he'll begin to do his implants surgery.

After the successful surgery, you'll have to wait for a few months until a bone grows around your implants. You'll have to visit your dentist again to check if the implant is stable.

Once the implant stability is confirmed, a foundation will be created to support your new tooth. Later on, your dentist will make an artificial tooth by taking a mould of your mouth.

Lastly, the artificial tooth will be screwed into the support created as its foundation.
What happens after a dental implant?
It's natural to have bruises after the surgery. You'll feel some kind of pain. Usually, swelling appears on your gums and it's evident on your face.

During the recovery process, you must avoid eating hard foods to prevent your gums from bleeding. You must eat soft foods after the surgery to let it heal.

Once you have your dental implant, it's important to brush your teeth daily. Visit your dentist regularly so he can monitor your oral health.

Possible dental implants risks
With the right and proper surgery, dental implants can be successful. It's uncommon to have problems but there can be possible dental implant risks.

Some of the rare issues that you might encounter are infection, injury to surrounding teeth and blood vessels, sinus issues, and even nerve damage.

To avoid these certain problems, you need to see a certified dentist with vast experience in dental surgery and implants. In that way, you are certain that you won't be having any problems.

We suggest you can try to have your dental implants at Balmoral Dental Centre. Aside from that, they also help you maintain your oral health in various ways.

Dental care is important
Needing dental care is necessary for your oral health. Don't wait for a time when your problems get worse. Visit Balmoral dental implant clinic to get your dental check-ups.

Some people choose dental implants over other types of dentures. Implants last longer than expected with proper care. With this, they can confidently smile and eat comfortably.

So, whenever that time comes, you better choose dental implants. It's a good investment for your oral health. Although it's quite costly, you can guarantee that your oral health will be in good condition.

Ultimately, dental care is necessary to avoid further issues and added expenses to your monthly budget. Seeing a dentist won't cost you much but the result of the damage does.

Contact Balmoral dental implant specialists to have risk-free implants.