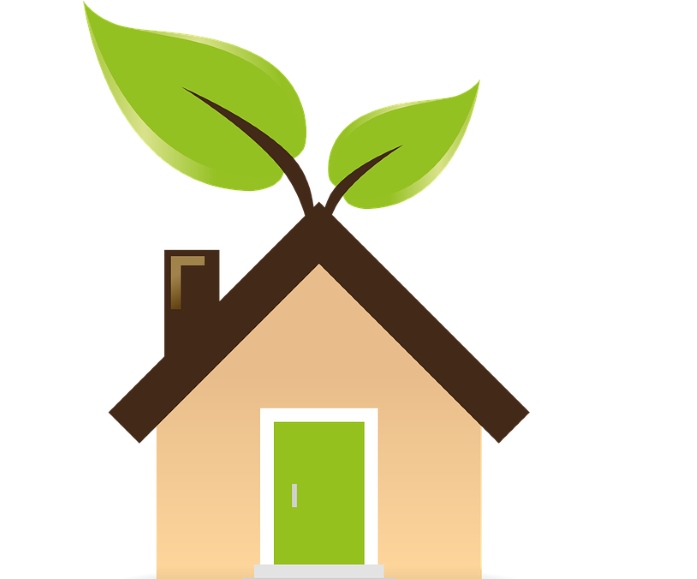 We all need to start doing our little bit to try to fight climate change and help protect the world's environment. And where better to start than in the home? There are plenty of small changes that you could use in your house to make sure that it becomes a more environmentally friendly place to live. By doing so, you will reduce your household energy usage and ensure that you aren't bringing any products into it that have created a huge carbon footprint.
So, are you ready to get started in turning your basic house into a green and eco-friendly living space? If so, here are a few simple steps that you can begin with.

https://pixabay.com/en/house-green-plant-apartment-468082/
Use Composite Timber
If you are planning on redecorating your home anytime soon and are looking to use wooden flooring or want to add some decking to your garden, it's always best to look at composite timber. Do you want to know why people choose composite timber over natural timber for their decking now? It's because it's the more durable option and so won't need to be replaced quite so often. As natural wood can end up badly weather beaten and damaged by insects, it regularly needs to be replaced. In some cases prudent homeowners end up replacing their natural wood decking every couple of years, which means more and more trees need to be deforested. This isn't the case when composite timber is used as its durability means it will last well into the future
Get A Smart Meter
If you don't already have a smart meter installed in your home, it's really worth asking your energy supplier to send you one. These kinds of meters give you a better idea of how much you are spending on your energy usage each and every day. As a result, homeowners then know exactly how they could be cutting down on their energy usage. Not only does this work out better for the environment, but it will also work out better for your bank balance as well!


Install Energy Efficient Light Bulbs
It's also a good idea to check the light bulbs that are currently in your lamps and main light fixtures. Are they energy efficient? If not, it's high time that you swapped them for ones that are. You should be able to find plenty of energy efficient bulbs in your local hardware store, so it should be simple enough to find the right type for your home's light fixtures. If you can't find any in store, it could be a good idea to look at online retailers as they might be able to offer more choice.
Switch To Homemade Cleaning Products
Most of the cleaning products that we use in our homes are made with very harsh chemicals that could be harmful to the environment around us. Plus, they could be very dangerous for pets and children. Thankfully, you don't have to keep on buying these often-expensive products. Instead, you can make your own at home. It is very easy to make most regular cleaning products with some household ingredients that you might already have in your store cupboard. As you can see at the Popsugar website, quite a few of these homemade cleaners require ingredients like white vinegar and bicarbonate of soda.

https://pixabay.com/en/baking-soda-box-white-powder-768950/
Improve The Property's Insulation
Do you have an idea of how well your home is insulated? If you live in a period property, then the insulation might not be quite up to scratch and it could be resulting in you using a lot more energy to heat the home than what would usually be necessary. Even if you don't live in a period property, it's still worth checking out your home's insulation to make sure that the whole property is sufficiently efficient. If it isn't, you should hire a builder to improve the insulation in the walls. It's also a good idea considering replacing any old windows with some modern UPVC double glazing. This can significantly cut down on drafts and make the whole home feel a lot warmer on the whole.
Regularly Clean The Filters On Appliances
Do you remember when the last time you cleaned the filter on your washing machine or tumble dryer was? If it wasn't recently, it's worth doing so now. That's because clogged filters can actually reduce an appliance's energy efficiency. If that's the case, then the appliance will be using a lot more energy than what it would normally use. Don't worry; this job shouldn't take you too long. You just need to remove the filter by hand and pull out any hairs, dust, or fluff that have got tangled in them. Once you replace the filter, the appliance should work as good as new!
https://pixabay.com/en/washing-machine-laundry-tumble-drier-2668472/
Buy Recycled Or Upcycled Furniture Items
When the time comes to replace certain pieces of furniture in your home, it's best to look at furniture stores that sell recycled or upcycled pieces. At the very least, you need to look for new furniture that has been made using recycled and sustainable materials. These pieces of furniture won't have created a big carbon footprint during their production, so they won't add too much onto your household's own carbon footprint. Similarly, when you have a piece of furniture that you no longer use or don't want anymore, it's a good idea to donate it to a charity shop or try to upcycle it yourself. That's a lot better than simply taking it to the local dump or throwing it out with the trash.
Use Your Dishwasher And Washing Machine At Night
Did you know that it is possible to save a bit of money by only turning on your dishwasher and washing machine at night? That's because you will be using these appliances at off-peak times. Some energy suppliers will offer little discounts on their energy when people use it at off-peak times, as it reduces the whole system surging. As well as getting this energy a lot cheaper, it will also be more environmentally friendly as there won't be such a huge demand for it at these times.
Good luck in making your home a lot greener!