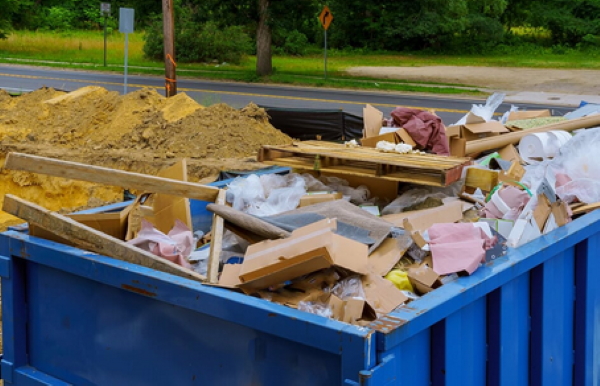 When most people hire a skip, they do it because they need to get rid of rubbish or old furniture that's taking up space. The internet has taught us that there are plenty of other non-conventional ways to use a skip bin, however. People are using them for all kinds of things and have come up with creative ways to use their skip bin.
Best non-conventional ways to use a skip bin
As an Urban Garden or Flowerbox
One way for humans to reduce their impact on the planet and environment is by planting more flowers and trees to soak up the excess carbon dioxide. Unfortunately, there's not much soil in urban areas. It's hard to find a place to put down roots, if you will. Well, skip bins let you create a garden whenever and wherever you want. All you need to do is hit the garden centre for some seeds and soil. Small and large bins alike can be used to add a splash of colour to the world. You never know, it might become a fun new hobby for you. At the very least, you'll give back to the environment.
Clear Up Garden Waste
Taking care of your garden is sure to generate a lot of green waste. Most people are surprised by just how much waste is left over when they finish gardening. It's a lot to get rid of, so it's not surprising you might run into trouble with it. Maybe you have a massive tree on your property that drops more leaves than you can count come winter. Skip bins are suitable for more than just indoor rubbish. A green waste skip gives you somewhere to put all that green waste out of the way. From branches to leaves, pop it in the skip and clean it away without a problem.



As a Swimming Pool or Hot Tub
We all know how sweltering it can get during the summer. People have turned to use their skip bins as a way to beat the heat. The average skip bin is large enough to fit up to three people comfortably. That gives you more than enough room to have a little pool party or create a hot tub and jacuzzi. The internet is filled with ideas on how you can take your skip bin and make a swimming pool complete with slides and bars.

It's expensive to dig up the ground for a pool. Not to mention, what if you don't like it? It's even more costly to fill it back in. You would have a better time with a mobile pool with heaters and lights. That's what you can get with a skip bin. Just fill it up with water, grab some friends, and away you go!


The Ultimate Man Cave/Ladies Lounge
You don't have to fill the bin in to hang out with your mates and have some drinks. With a bit of carpentry and creativity, you can convert your old skip into a new man cave. Put the skip on its side, add some couches and a low table, hang some lighting, and you're good to go for a fun night with the lads.

There's nothing stopping women from doing the same thing. Tip-over the skip, paint the inside with some pastel colours, and decorate as much as you want. You can use string lights and potted plants to create a more rustic feel. Have a night out with the ladies or relax by yourself with a good book and a better drink.

Last but not least, you can also get the kids in on the fun and spend time together as a family.



As an Art Gallery
They say that one man's trash is another man's treasure. As artist Mac Pregno has shown, though, one man's trash could also become another man's art. Max has changed the idea of what we can use to create art by turning skip bins into an art gallery. His artistic nature showed its practical side when he converted a 27-metre skip bin into his personal art gallery, showcasing over five hundred works of art.

The skip art gallery is more than just a standard art gallery as it is entirely mobile. If you're feeling artistic and don't want to settle down, grab yourself a skip bin and convert it into a mobile art gallery for your masterpieces.



For Shelter
Shelter is something that everyone needs – and has a fundamental human right to. A house is a symbol of home and belonging. That is why people work for years to buy one. However, a house will be the most expensive investment the average person will make in their lifetime.

The thing is, not everyone needs a massive house that costs hundreds of thousands of dollars. If you feel you would be satisfied with a small space for yourself, then why not convert your skip bin into a new home? You'd be surprised by how many people have done this.
Hire a Skip Bin Today
All kidding aside, many people could benefit from hiring a skip for an affordable and effective way to remove waste. Whether you are doing some spring cleaning, clearing out the house to prepare for a new tenant, removing office waste, or preparing for a renovation, renting a skip bin from highly regarded companies such as Skip Bins Sydney makes the whole process effortless.

One problem people have with skip bins is that they don't see how they can reuse them. Reusing and upcycling are essential to taking care of the environment. Keep these creative ideas in mind and come up with some of your own when you're wondering what to do with your skip bin once all the rubbish has been taken away.