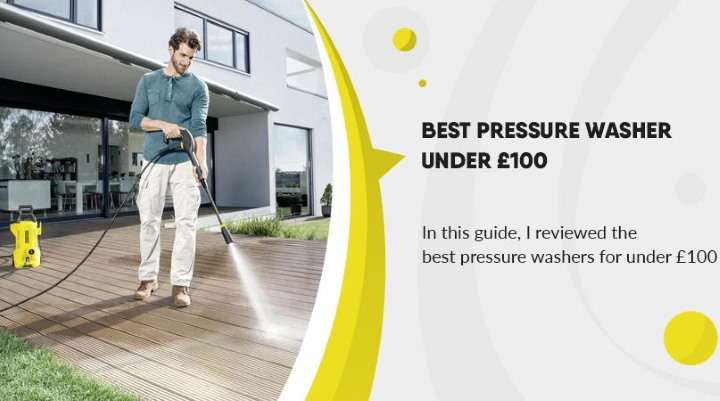 The garden hose is quickly being replaced as the home must have surface cleaning tool. You no longer need to hand scrub or clean while there are cheaper yet very effective cleaning equipment. Electric pressure washers have become very popular devices for home cleaning purposes. You can get the best pressure washer under £100 for home use. At any time, your home needs a proper cleaning and maintenance of the driveways, sidings, patio, concrete, the cars, SUV's, trucks, walls, cleaning the lawn machine, removing smudge and stubborn oily stains, etc.
Recommended
The most recommended electric pressure washers for home use are AR Blue Clean AR118 and AR Blue Clean AR383. The two machines have specifically been designed, with the home user in mind. The two are top selling products on Amazon with great user reviews and above 4 star rating out of 5 star rating. You get everything you need from the two; ease of use, portable, conserves water and energy, very safe for home use, have the power to handle any kind of cleaning and easy to maintain.


Read on to understand why you need either AR Blue Clean AR118 or AR Blue Clean AR383 to do all your home cleaning chores:
What Pressure do you need for Home Cleaning Purposes?
Manufacturers recommend a 2000 PSI (water pressure measure) for general home cleaning. 2000 PSI limit is ideal for doing any kind of work at home without necessarily damaging surfaces. Anything above 2000PSI is too high and is ideal for industrial use, for example stripping paint. AR Blue Clean AR118 has 1500PSI while AR Blue Clean AR383 comes with a little more power, 1900PSI. Both have 1.5 GPM and consume 14 Amp of power.
Choosing Between AR Blue Clean AR118 and AR Blue Clean AR383
If you are looking for more regular and heavy home cleaning purposes, AR Blue Clean AR383 will be more suitable. AR Blue Clean AR383 has more pressure to work on the sideways, concrete, had to reach areas. It is also fitted with a pump for additional functionality. The wheels make it easy for you to move it around while doing the cleaning. Read AR Blue Clean AR383 Review.


AR Blue Clean AR118 is more ideal for the lighter cleaning, for example decks, cars, vinyl surfaces, kitchen cleaning and other light chores. The AR Blue Clean AR118 is very portable, can be carried in your car trunk, stored on the shelves or hung on the wall. No need to worry about the storage. AR Blue Clean AR118 also features a detergent tank. It comes at less than $100, far cheaper than its competitors, yet does lots more of the work. Read AR Blue Clean AR118 Review.
Why you Need Electric Pressure Washer for Home Use
1. With AR Blue Clean AR118 or AR Blue Clean AR383, you are sure to make your home cleaning faster and save on time. The machines can clean literally any surface you throw at them, including deck, patio, furniture, sidewalk, home siding, fence light wash, and others.


2. Pressure washer makes household maintenance work easier. Pressure washing erases years of damage done to your vinyl and wood and exterior of your home. Remove vines and damaging plants stuck in your home. The pressure washers also keep your gutters free from dirt and debris. The pressure washers will also get rid of spider-webs that traps leaves and twigs.


3. You or your house help get really tired scrubbing using their hands. Besides, you cannot get the desired results with a simple use of a garden hose or hand scrub. Save time and resources by investing in one affordable yet effective cleaning equipment.
Things to Look for When Buying Home Electric Pressure Washer
If you want to get the best value out of your money, you need an electric pressure washer that optimal power to do the home chores, it does not have to feature too much or less power. You find the following features in both AR Blue Clean AR118 and AR Blue Clean AR383:


* PSI not more than 2000, and not less than 1500


* Availability of a detergent tank or electric pump


* Energy saving induction motor engine


* Longer life expectancy of the pressure washers


* Manufacturer warranty and guarantees


* The nozzle under use, depending on the kind of spray you want

With AR Blue Clean AR118 and AR Blue Clean AR383, you can never go wrong. The ideal way to keep your home surfaces cleaner than ever. Always buy from reputable retailers to get manufacturer warranties, genuine electric pressure washers and at recommended prices. Your honest review of best pressure washer for home use.