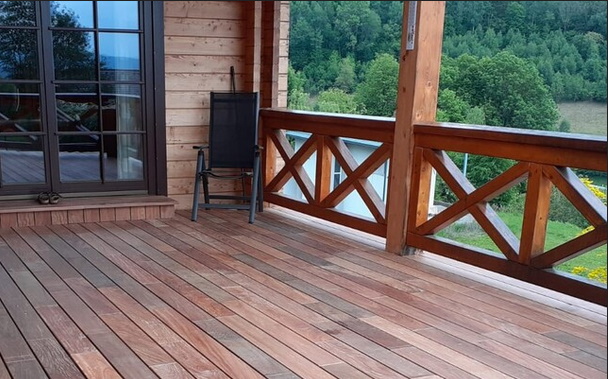 Are you looking for the best terrace materials on the market today? Then you should consider Ipe Wood. It is an exotic wood from South America, also known as Brazilian walnut. Its characteristics make it the perfect material for your terrace. IPE decking wood comes from the Tabebuia tree native to the subtropics of Central and South America.
Part of its harshness is due to the tropical environment in which it grows. It has oil and natural hardness, so no matter where it is installed, you can use naturally treated wood. When you can have a more durable and weather-resistant solid wood deck, don't settle for synthetic deck materials. The following are some of the advantages of using Ipe wood on the deck.
Durability
Ipe boards are durable because the material is one of the densest woods on the planet. Not only that, it is also sustainable and environmentally friendly. Even without any treatment, the wood surface is naturally resistant to mold, insects and fire. Its fire resistance grade is A grade, which is the same grade as steel and concrete. Compared with other materials, it shrinks and expands less. Because of these characteristics, using Ipe timber to build a deck will make your surface look good and can be used for more than 50 years. It looks good.
Another advantage of Ipe compared to other materials is that its smooth, uniform texture looks beautiful. Its texture is wavy and straight, and the texture is very delicate. No need to seal, maintenance work is as simple as cleaning stains and mopping the floor. It is recommended to apply oil to the wood to increase its ability to repel ultraviolet rays and water.
Oil can also keep the wood its reddish brown. Multiple sizes When it comes to wholesale flooring, you will find Ipe wood in different sizes. They can be used on decks, steps, pillars, handrails, skirting boards and joists. They are also heavy woods, which are ideal for sidewalks and other structural applications. Ipe coverings are usually air-dried, but can also be used in kiln drying. You can also get pre-grooved and tongue-grooved Ipe wood.
Disadvantages of Ipe wood
Because of its density, it is a very hard and heavy wood. You will need special tools during the installation process. It also needs to be pre-drilled before screwing in. If you want to maintain a natural color, you need regular lubrication. It is also a bit expensive due to its popularity and high demand. But this is the price you have to pay to get the best decoration materials on the market today. However, the advantages outweigh the disadvantages. Ipe wood is the most popular decorative solution due to its durability, aesthetics and usability. It has dark brown to olive brown.