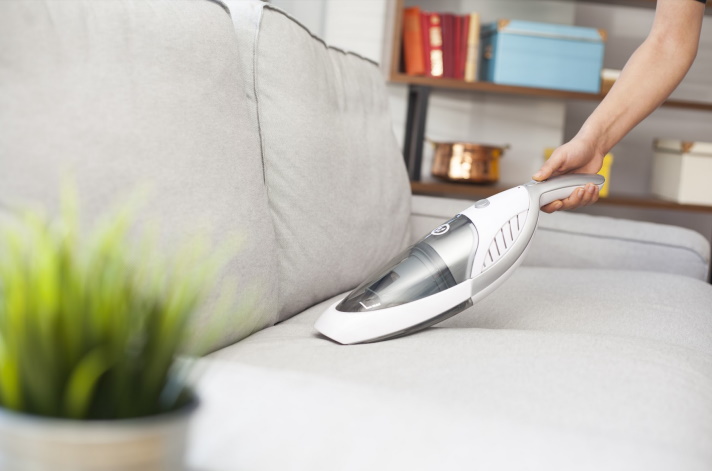 The sofa is the centrepiece of your living room. It's a perfect place to relax and unwind as you read a book or binge-watch your favourite Netflix shows.
With that said, you've probably spent a lot of time browsing for the right sofa. You might probably have shelled out a few hundred for a nice sofa or even a thousand for the genuine leather ones. Since it's not a cheap investment, you want to get a lot of use out of it. Keep your sofa in a tip-top shape so you can enjoy lounging on it for years with the following tips.

1. Choose The Right Material
Buying the right sofa gives you an instant advantage in terms of making your sofa maintenance task easier. Choosing the right fabric for your lifestyle could help extend the life of your furniture.
For instance, choosing 2 seater sofas online with synthetic fibres are a great choice for upholstered furniture which is expected to have heavy usage. Also, if you have pets, you might want to choose fabrics and materials that don't have too much texture or have loose weaves.

2. Use Sofa Covers
The best way to maintain your sofa is to use sofa covers and slip. Sofa covers can prevent the surface from getting scratched as well as protect it against spills.
Sofa slips also help keep your sofa clean, particularly if you have kids or pets around. It prevents messy spills and helps control damage to the fabric. Plus, it also ensures easy cleaning by saving you time and money.
Now, if you have an old sofa, keeping it under wraps could make it look nice until you get a new one. When it's time to buy a new one, you can browse RJ Living's range of sofas and other stores for unique options.
RJ Living's range of sofas
Sofa covers also come with several designs and colours. It also allows you to match your room's décor and make it pop out.

3. Vacuum Regularly
Pet hair, germs, dust, dirt, and debris easily stick to sofa fibres but can be difficult to remove. Over time, the accumulated dust and debris become embedded deep into the fibres and cause damage to the fabric over time. To prevent that from happening, you need to vacuum your sofa at least every week. You may do so even if you don't see any dust.
Make sure to use the upholstery attachment of your vacuum for deeper cleaning. Also, make sure you use a soft-bristled brush attachment so you don't snag the sofa's fabric. If it has a removable cushion, remove them and vacuum it underneath as well as its nooks and crannies.
Also, you should consider vacuuming under the sofa the floor surroundings. Consider pushing the sofa backward or forward at least once a week to vacuum any accumulated dirt underneath.

4. Do Spot Cleaning
When accidents happen, it is important to immediately clean the stain or mess right away.
Make sure to blot, not rub, any spills with a clean folded towel. In some cases, this is enough to get rid of a stain completely. It will be easy to do so if the sofa fabric has been pre-treated with a fabric protector.
Always do note to check the manufacturer's instructions to see the proper cleaning product to use. Also, test it in inconspicuous areas before you use any cleaning product for spot cleaning your sofa.
Regardless, it's best to use mild or natural cleaning products such as baking soda and vinegar. Apply the cleaner with a soft brush in a circular motion to gently work into the fibres. Once dry, you could vacuum the area.

5. Flip The Cushions
A simple way to maintain and extend the lifespan of your sofa is to periodically turn over the loose cushions. This method allows for the even distribution of wear and tear. By doing so, the cushions won't' develop indentations right away.
You can fluff the cushions after you've cleaned them to keep them in shape. In addition to simply turning them over, you could change the cushions around from one couch to the other. Some couches get more usage than others, so changing cushions around could ensure an even structure.
6. Protect It From The Sunlight And Pollutants
Sunlight could damage sofas, causing them to fade or even fray. This is especially true for silks and other delicate fabrics. Consider moving your sofa away from windows or drawing the blinds during peak sunlight hours in your area.
If moving your sofa is not an option or you dislike keeping the blinds closed, consider purchasing stain protection when buying a sofa. This is an extra feature that could protect your sofa from harmful UV rays.
Also, airborne pollutants such as smoke or fumes from cooking could harm your fabric. While you can't always prevent air pollutants, simply opening windows and doors allow for good ventilation. This should also help in odour control.
Conclusion
As you have read, maintaining your sofa is easy and doesn't take too much effort and time. Practicing the above sofa maintenance tips should allow you to enjoy the comfort of a great-looking sofa for years to come.