Are you looking for the best-ducted air conditioners that give you an option to control and maintain temperature, make less noise, and perform better? Then you are in the right place. Ducted air conditioners distribute the hot or cold air evenly throughout the whole space with ducts and vents.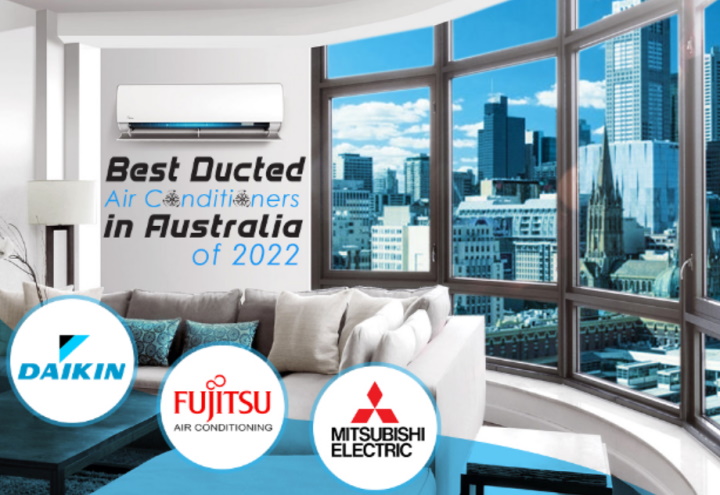 In this article, we will explain everything you need to know about the best-ducted air conditioners, features, brands, and much more.
So let's get started.
What Is Ducted Air Conditioning?
As the name indicates, ducted air conditioning works by spreading the ABC air via a series of ducts and vents in the room of your house. It comprises a central unit consisting of a condenser, compressor, and air handling unit often located in the basement, garage, and attic. It uses a refrigerant to cool the external hot air and cool the whole home.
Not only do they give cooling during the summers but they also can warm your homes in winters. That's why they are also called ducted reverse cycle air conditioning units.
Features of Ducted Air Conditioning Systems
Now that you know what ducted air conditioning is, you might need to know why one should prefer ducted air conditioning.
Install Zones
With ducted air conditioning, you can install zones for the rooms you do not want to cool. In this way, they are energy-efficient and save up costs.
No Noise
Ducted air conditioners are the quietest noise emission. This is due to the compressor system located far away from the air vents, making it the quietest.
Control and Flexibility
It provides more control and flexibility over how you can cool your home as compared to other systems. e.g: you can use the MyAir app to control the rooms you want to cool with your smartphone.
Seamless look
Ducted air conditioning gives a seamless look as all the ducts and vents are installed internally within the roofs, walls, and under the floor. The only things visible outside are the vents. So overall, it is not heavy on the eyes and maintains an aesthetic look of the room.
Cost-efficient
The installation of the ducted air conditioner is less as compared to ductless systems. Moreover, it takes less time to install it.
Ducted Air Conditioning Brands
Daikin Ducted Air Conditioning
Daikin ducted air conditioners are designed to provide the functionality of the reverse cycle. It gives warmth during the winter and cooling during summers. Moreover, it delivers remarkable energy performance, flexibility, and freedom of design. It is the ultimate solution for the areas where discrete installation is preferred.
Fujitsu General Ducted Air Conditioning
Fujitsu General offers a wide range of ducted air conditioners integrated seamlessly into homes. Its slim and compact design adds value to the room. The new airflow design and low operation sound have improved energy efficiency. The functions of zoning and controlling temperature bring ease and comfort to your life.
Mitsubishi Electric Ducted Air Conditioning
Mitsubishi Electric ducted air conditioning is ideal for multiple room applications. It provides the flexibility of climate control with a touch button. It's easy installation, zone selection, and unobtrusive features make it ideal to use in offices, homes, or extensive residencies. The flexible and high pressure within the ducts increases the airflow to ensure the air reaches evenly throughout. It emits noise so you can do your work without interruption.
Toshiba Ducted Air Conditioning
Toshiba offers ducted air conditioners suitable for every area of your home. Low operating sound levels and flexibility provide a wide range of heating and cooling solutions. You can control temperature, maintain static pressure and save up electricity. Moreover, it provides rapid heating and cooling to achieve the temperature rapidly.
Best Ducted Air Conditioners in Australia
Daikin FDYQ160 16.0 kW Premium Inverter
This premium converter stands out due to its R22 retrofit capability. With this feature, it can be retrofitted into a pre-existing system. The DC fan motor, cross-pass heat exchanger, makes it highly energy efficient. It is specifically designed to keep in consideration the harsh summer climate of Australia.
*Night quiet mode

*Energy efficient

*Enhanced operation limit

*R22 retrofit capability
Fujitsu ARTG54LHTC High Static Single Phase
The high static single phase ducted conditioner has multiple features, perfect for installing in your homes. DC fans, rotatory compressors, the programmable system saves energy. With the zone feature, you can manage 8 zones to be connected. High static and single-phase power provides easy installation.
*Zone control

*Greater Installation flexibility

*High energy efficiency

*Easy to use the controller
Mitsubishi Electric Ducted Air Conditioning
The Mitsubishi Electric ducted air conditioning is designed to maximize energy efficiency. The Wi-Fi control zone gives control to 4 to 8 zones. With a built-in sensor, you can check on the room temperature, brightness, and occupancy. Moreover, it operates without any noise emission and is unobtrusive.
* Ideal airflow

*Quiet operation

*Easy to install

*Touch button climate control
Cost for Installing a Ducted Air Conditioner
The cost of installing a ducted air conditioner depends upon many factors. The size of the building, roof space, and brand of the air conditioner might influence the cost of installing the ABC air conditioner. It is estimated that labor will make up 15-20% of the total ducted air conditioner installation price.
| | |
| --- | --- |
| Size of the space | Estimated charges for installation |
| Single story home with two bedrooms | $5000-$9000 |
| Single story home with three bedrooms | $8000-$12000 |
| Double or triple story | $10,000-$20,000+ |
Bottom Line
Ducted air conditioning is the ideal choice for heating or cooling your desired space. Zone control, easy installation, quiet operation, and climate control bring the perfect comfort and convenience. You should consider the cost for the installation taking into account the size of the building, space, and brand of the conditioner. We hope this article has guided you with Australia's best-ducted air conditioners.
All in one, ducted conditioners are worth investing in. So what are you waiting for? Upgrade your system by installing the ducted air conditioner or replacing it with the existing system.