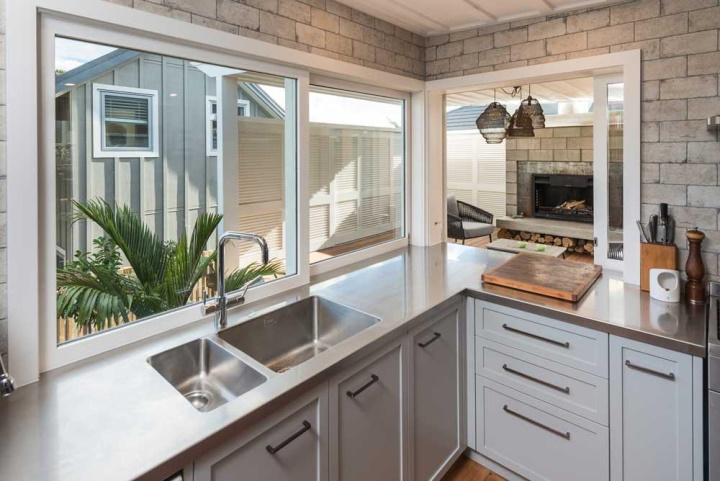 A kitchen benchtop or countertop is undoubtedly a vital element without which your kitchen would be incomplete. With bar stools or chairs aligned next to it, around the benchtops is where conversations happen, it is where you garnish your food and pour drinks while you cook. A kitchen benchtop is the hub of activity and, therefore, needs to be both functional in terms of durability and high in aesthetics.
Having said that, the material you choose for your kitchen benchtop will determine the look of your kitchen and how resistant it is against your family's eating or cooking habits. So, choosing the suitable material is of utmost importance. To help you out on this front, we have brought for you a list of the most preferred and expert-recommended kitchen benchtop materials from our kitchen renovation experts in Sydney. Pick the one that best matches the vibe and needs of your kitchen and have it become your kitchen's best feature.

Engineered Stone
Made up of over 90% crushed quartz mixed with resin, engineered stone or composite stone is one of the most preferred materials for kitchen benchtops. The reason is the aesthetics and durability that it brings to your kitchen. Being a versatile material, available in different shades and textures, it easily blends with all kitchen styles, be it a contemporary one or one based on a bohemian theme.

Features of Engineered Stone Kitchen Benchtops
* They offer a lot of variety in terms of colours and textures. From white, brown to grey, they come in numerous shades and you can go for solid colours or textured ones.

* Engineered stone tops the list when it comes to durability. They don't crack and are heat and scratch-resistant.

* Unlike other materials, it is not susceptible to staining.

* Being a non-porous material, they are easy to clean and resistant to stains.
Timber

Next on our list of best benchtops materials is timber, an evergreen material that was and most probably will always be in trend. Why? Because depending upon how you style it, it can charge your kitchen with a traditional, modern, coastal or even a country vibe. In terms of versatility, timber benchtops are second to none. A timber benchtop comes in a lot of colours, styles and textures and you can refinish it to change the look of your kitchen.

Features of Timber Kitchen Benchtops
* Timber is a versatile material that you can/may use to create any look, modern or rustic.

* Timber benchtops are easy to repair. You can refinish it anytime and have benchtops as good as new.

* Being a tough material, it is one of the most durable options.
Polished Concrete

If a modern, sleek and simple look is what you wish for your kitchen benchtop, polished concrete is your go-to material. Nowadays, polished concrete benchtops are common in modern kitchens because they are easy to maintain and give off a minimalistic appeal. The most commonly used concrete for benchtops is traditional Wet Cast Concrete and Glass Fibre Reinforced Concrete and both these materials bring in the kind of sturdiness that your kitchen demands.

Features of Polished Concrete Benchtop
* You can easily mould concrete into any shape or design of your choice.

* Depending upon your preference, you can give it a glossy finish or a non-reflective one.

* Concrete benchtops are susceptible to stains being a porous material, but you can seal and make them stain-resistant

* Concrete is a cheaper option than marble and granite but in terms of appearance, it is on par with them both.
Marble
In the race for the best kitchen benchtop material, marble comes at the top. Even though marble comes on the pricier side, it is a style statement for every sophisticated and modern kitchen.

Features of Marble Kitchen Benchtop
* Marble benchtops are a luxury addition to your kitchen.

* Every marble benchtop is unique in its appearance because of the variations in its texture and patterns.

* From black to white, marble countertops come in all preferred shades and you can easily pick the one that matches the vibe of your kitchen.

* Marble is costly and difficult to maintain because of its porous nature but with regular maintenance, it will keep adding value to your kitchen for years to come.
Stainless Steel
Most commonly used in commercial kitchens, stainless steel benchtops are slowly finding their way into domestic spaces. Why? Because they are durable and resistant to heat, stains and even water. Adding to it is the fact that they are versatile ie., can be cut into any size or shape, are easy to install and are 100% recyclable.

Features of Stainless Steel Benchtops
* Stainless steel benchtops are non-porous and therefore offer resistance against stains of any kind and are easy to clean.

* Unlike other benchtop materials, it is completely recyclable.

* They are one of the most durable benchtop materials because of the resistance that they offer against heat and stains.
This was our list of the most durable kitchen benchtop materials. From them, choose the one that best matches the vibe of your kitchen and would be able to sustain your family's habits. And for benchtop installations, get in touch with our kitchen renovation experts at Inspired Kitchen.