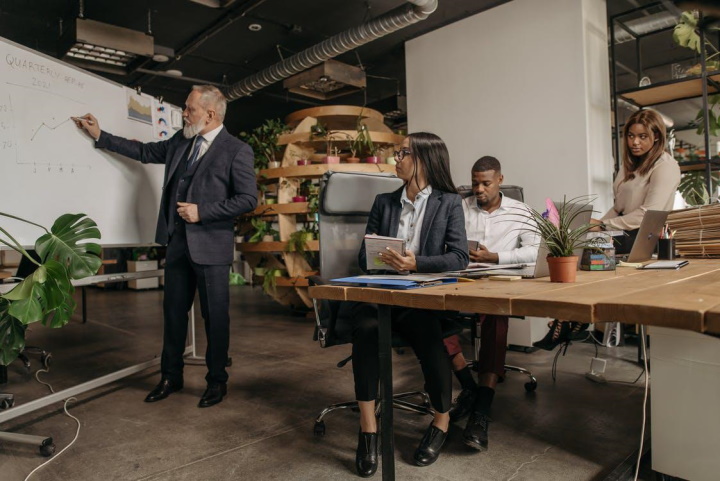 Becoming an inspiration in your school isn't easy. There is no right or wrong strategy, only the 'best fit' for everything that makes your school unique. But at the same time, it is essential to understand that becoming a leader in a school setting is not like how it was a few decades ago. Schools have often been well managed, but it is time for a new generation of leaders to take the reins. Leadership has emerged as a unique 21st-century skill for heads of schools and principals and leadership at all levels.
Inspiring and effective leadership is about charting a course and ensuring no one falls behind. So, what are the fundamental principles that leaders must adhere to? What strategies can you employ to achieve your objectives?
With these questions in mind, here are a few strategies to become an effective leader in school and the classroom.

Tackle all challenges with a vision
Issues such as encouraging institutional collaboration, closing the achievement gap for disadvantaged students, and teacher recruitment have been at the forefront of educational debates for a long time. Educational leaders who want to tackle these challenges must be able to clearly define attainable goals to work toward – goals that contribute to an overall vision of education betterment and consistency.
Furthermore, since the education landscape is continuously evolving, doing what you can to climb the ladder of success is crucial. To that end, you can apply for a master of education online and gather the ability to lead like a true hero and increase your chances of success.

Listening actively
It may appear evident that listening is essential to leadership. When approached by a student, a teacher, or anyone else, first must listen to their point of view. Then you can ask them what they believe should be done to resolve the issue. It ensures that the individual feels included in the choice process.

Take responsibility
One of the first things you can do to discover your true leadership potential is to take note of all the factors that influence your school's performance. You may be concerned that discussing these issues will negatively affect the school. However, by doing so, you are effectively closing the door on possible solutions. If you require additional funds to realize your perspective for the school, seek support from the community. If you made a decision that didn't work out, admit your mistake and move on.

Make yourself available
Participate in extracurricular activities and show some interest in what your school community is up to. Taking some pride in your school is terrific, but showing up and participating in all of it is even better. You only have so many hours in the day, so you can't do everything, but make an effort to show up regularly. It makes all the difference to be present at the moment. You'll also get a chance to see how everyone else feels about the school.

Be confident
Everyone in an organization is affected by a leader's mindset. Everyone in the school will likely feel the same if their leader enjoys coming to work. Good leaders take the time to cultivate genuine friendships and demonstrate their concern for others. They promote a good tone by being patient and kind, building up those they work with, and assisting them in seeing their growth potential. A positive leader doesn't lash out at others when things aren't going as anticipated.

Demonstrate emotional intelligence
When you can effectively manage your thoughts and feelings, you can manage the emotions of others more effectively. Successful school leaders understand this. They work hard to maintain a positive relationship with their feelings. They don't ignore them or falsely claim they don't exist. They find healthy ways to deal with them. As a result, they are not emotionally reactive but somewhat emotionally responsive and have high emotional intelligence in all situations.

Encourage feedback and collaboration
Influential leaders know that feedback is a two-way street. They take the time to identify the weaknesses and strengths of those they work with. They also welcome feedback and enjoy learning what they're doing well and where they can work on improving. Great leaders collaborate with their teams to establish plans and goals that benefit the teachers and students they work with. They recognize the importance of coaching and mentoring for themselves and the teachers at their school.

Create and innovate
Strong leaders understand that decisions do not always have a clear answer and that the solutions they seek are often unconventional. It is essential to know when to adhere to "the way it's always been done" and when to change things to fit unique situations. Educational leaders are constantly looking for new and improved methods of doing things. They value cultural perspectives and are open to new ideas. They are not only innovative and creative, but they also empower teachers and students to be so.

Organization
Educational leaders can improve standards by recognizing that all shortcomings ultimately target opportunities for change, but doing so requires a high level of organizational skill. Staff shortages will be one of the biggest future challenges. The Education Policy Institute published a report before the shutdown in early March 2020 that defined issues with recruiting and retaining in teaching, with particular shortages in languages, science, and math.
This pre-existing problem was aggravated in the early days of the crisis before school closures as teachers became ill. It is likely to remain a concern as schools reopen. Managing this will put any leader's problem-solving skills to the test. Still, those who can prioritize based on needs and objectives will see good outcomes in difficult circumstances.

Communicate effectively
Educational leaders must be skilled communicators. They must effectively communicate with one another, various departments, and their entire crew. They recognize the importance of genuinely listening to and hearing those they represent. These leaders have an open-door policy and welcome outside input. Leaders must also convey their vision so that everyone understands its significance and is inclined to work toward the same goals.
Conclusion
So these are some ways you can become an effective and fruitful leader in your school. While you follow these tips and make your way to the top, remember to take time to grow, adjust, and try to embody the qualities of successful leaders. When making positive environmental changes, it's critical to keep evaluating and enhancing your leadership abilities.