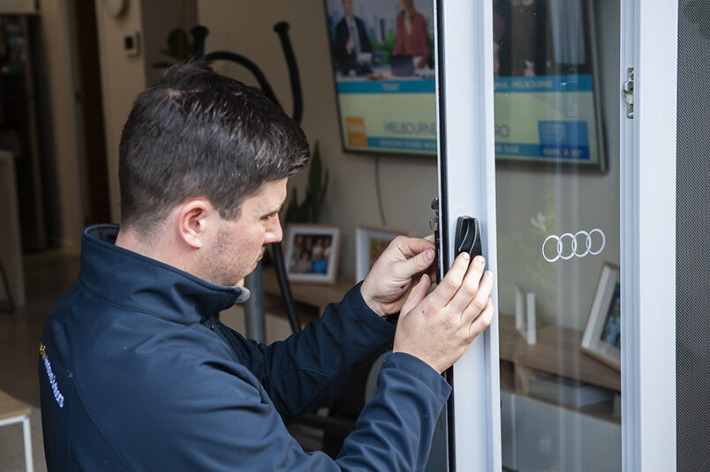 Lock and Roll, the experts in window and doors repairs, installations and maintenance, are proud to be offering their extensive service to all commercial premises throughout the Sydney region.
Backed up by over 50 years of experience, Lock and Roll have the know-how to fix all issues relating to doors and windows, no matter the complexity.
Commercial premises often have many specialised systems in place with their windows and doors, which require dedicated attention from a fully trained technician.
For instance, one common door item for businesses that isn't necessarily found in the residential setting, is door closers.
Over time, these can wear out due to frequent use, or lose their ability to close smoothly, and in bad cases, the doors can jam.
Although it may appear to be a do it yourself job, door closers have a wide array of features that are bespoke to a given application in a certain place in the building.
This may include tuning the closer to the differing air pressures on either side of the door, for example, a door from an air conditioned office into a warehouse.
Door closers also come in various sizes;
if the chosen unit is too small, it won't be able to smoothly handle the weight of the door (which in commercial settings can be quite heavy), or if the unit is too big, the door will become hard to close.
Another important factor for businesses to consider is their front door, the first thing any potential customer sees, which can leave a lasting impression on visitors.
A damaged front door, or one that is hard to open, are both serious issues, but fortunately Lock and Roll can remedy any door related issue.
Some common faults with doors include squeaking hinges, or hinges that are loose, unsecured or worn out, which mean that the doors no long open and close as smoothly as designed.
Outside of hinged doors, Lock and Roll can also assist with all bi-fold and sliding door repairs. Bi-fold doors can start to develop issues due to age, movement in the building, as well as general wear and tear, which can result in the doors no longer sliding freely on their tracks, resulting in them jamming or shuddering.
Sliding doors meanwhile can develop issues along similar lines due to general wear and tear, with issues stemming from worn rollers and damaged tracks.
A solution offered by Lock and Roll is the installation of automatic door openers, which are becoming popular at the present time with people preferring not to touch door handles.
Security for businesses is also paramount, with Lock and Roll able to carry out all repairs to door locks around the building, providing a tailor made solution for your needs.
Often in the commercial sphere, this can include all locks set up for master keys for all key holders.
The other area of expertise for Lock and Roll is repairs and maintenance for all window types, be it double hung, awning, casement, or sliding in design.
Double hung, or those that slide up and down the window frame, can suffer from a range of issues where the window sticks, won't hold, or won't close fully.
Lock and Roll can take care of all hardware component replacements and repairs, including those to the spiral or spring balances, the counter balance, locks, as well as issues with the mohairs and seals.
Attention to the seals and mohairs can improve the window's performance to keep the building insulated – warmer in winter and cooler in summer, but also eliminate whistles or rattles in high winds.
Awning windows, those hinged at the top, or casement windows, those hinged at the side, present their own issues for commercial premises.
Often the hinges become worn out and hard to open due to wear and tear, or they can become difficult to latch or lock.
With the hardware components of the windows often exposed to the elements, hinges, latches, winders and stays can deteriorate over time.
Chain winders themselves create their own set of circumstances, with the components sometimes corroding to the point where the windows become impossible to open.
The final window type is sliding windows, where there can be issues with the windows getting stuck, having trouble closing or locking, or the windows rattle or whistle in the wind.
In many cases, the window's rollers may be worn out, with other possible issues found in the frame, mohairs or seals.
With Lock and Roll at your service, the brand's highly trained technicians will be able to quickly diagnose any issues, and determine the best course of action.
While Window Repair to many items of window or door hardware systems are readily available, sometimes a full replacement is warranted if there is excessive damage to the fittings.
No matter if it is a repair, replacement, or initial installation, Lock and Roll have access to all of the necessary new parts to complete a job, as well as access to specialists capable of assisting with bespoke tasks, for instance constructing new wooden windows to irregular shapes if the existing window is too rotten to safely permit repairs.
Once an appointment is made with Lock and Roll, the technician arrives to assess the job requirements.
In most cases, all necessary parts will already be stocked in the technician's van, with repairs carried out on the spot.
An important factor for businesses is that there are no hidden costs, with certainty given through the quote, while using a fully trained expert eliminates workplace health and safety issues for your business with DIY repairs.
Understanding the importance of a business's time, all technicians will arrive at the pre-arranged time, or make prior contact to schedule alternate arrangements.
Lock and Roll's work is guaranteed to meet your expectations, with all products installed carrying the full manufacturer's factory warranty.
For your peace of mind, all Lock and Roll technicians are fully insured, with the company carrying a master security license, with all technicians also carrying their own security licenses.
Lock and Roll is a member of the Australian Glass and Window Association, as well as the Strata Community Australia (NSW) and Family Business Australia, with the brand an accredited contractor with Ebix Trades Monitor.