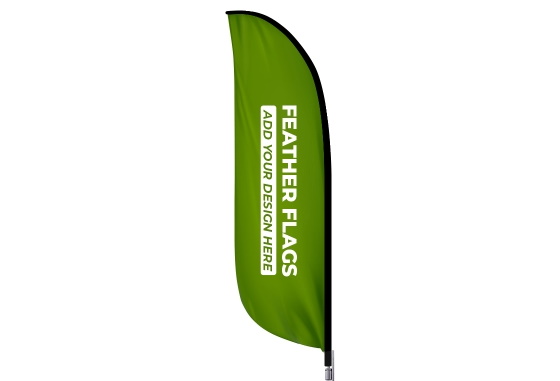 The COVID19 pandemic dealt a crushing blow to several small-scale retail stores across the world. Thankfully, in the post-pandemic world, retail sales have overall been significantly better than anyone expected. However, the future of several brick-and-mortar retail stores still lies on a knife's edge.
According to market experts, 2022 will be a critical year for retail store owners. Unless retailers meet customer expectations and popularize their respective brands – their futures will remain uncertain. On the other hand, costs are rising. Rising marketing costs, in particular, are causing great problems in the retail sector.
Thankfully several savvy business owners have figured out the perfect solution. From grocery stores to luxury brand stores – every top brick-and-mortar retail store owner is using this cost-effective promotional tool. What's this magic tool? Simple, cost-effective, and customizable feather flags!
Feather Flag – A Very Important Marketing Tool
Feather flags are slender and tall flags that businesses from various industries use to promote their brands. They can be set up in pretty much any location – outside the store, inside the store, or at crowded events. Most importantly, these unique bird feather-shaped flags are extremely eye-catching.
It's impossible to ignore these flags due to their feather-style designs. Hence, they're great at making a brand name visible in a specific location. If you custom-print your brand's logo/name on these flags, your business can enjoy various benefits. Here's how savvy business leaders get the most out of these promotional flags –
They Buy Flags Made of Durable Materials
The latest feather-shaped flags in the market are made of super-durable materials like polyester fabric or carbon composite fiber. Both these materials are super-sturdy. They don't get wet when it rains outside as they're waterproof.
They don't fade or lose their structure due to the sun's UV rays because they're UV-resistant. Flags made of these materials also don't pick up tears or scratches. Savvy business owners buy promotional flags made of such sturdy materials because of these reasons.
They Use the Flags 24X7
Savvy business leaders buy promotional flags because of their durability. So, they're not afraid to use them 24x7. These flags perform exceptionally well, even if they're left outdoors for weeks. The graphics on polyester or carbon composite fiber flags don't fade because the manufacturers use dye-sublimation printing to design them.
In this printing technique, the ink is transferred inside the fibers of the flags. Hence, the printed ink doesn't fade due to external reasons or factors.
They Buy Different Types of Flags
Another reason why business owners use promotional flags as marketing tools is that they're cost-effective. It doesn't cost much to custom-create and buy a large set of single or double-sided marketing flags these days. When business owners buy these promotional items in bulk, they receive even more discounts.
Savvy business owners don't just buy feather flags, they also buy triangle-shaped flags, teardrop flags, standard-shaped flags, and more. Then, they use these promotional tools in different locations. For very little cost, these business leaders get to make their respective brand names super-popular in specific areas and communities.