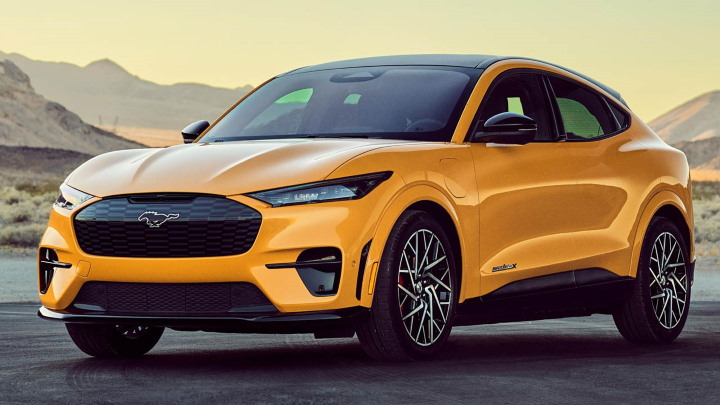 The electric crossover was one of the most controversial models introduced in 2019. And in 2020 Ford has presented the most powerful and fastest modification of the electric crossover Mustang Mach-E GT, which was named Performance Edition. The novelty is equipped with an upgraded engine, thanks to which its dynamics has become close to the characteristics of gasoline supercars.
Many were surprised by the choice of the "Mustang" name for the model, and today the manufacturer has revealed why it was chosen.
The Mustang Mach-E was Ford's first standalone electric car for the brand ("green" versions of models based on gasoline-powered cars don't count). As previously noted in the company, the word "Mach" in the name is a reference to the name of one of the most powerful modifications of the sports car - it was produced in the 1970s. In turn, the letter "E" shows that the car belonged to electric cars. Now Ford has told why the crossover was given the name Mustang.
The very fact that the name of the legendary supercar (and still being in the model range) was given to the crossover, and moreover "electric" one, surprised very many people. Some fans of the sports car demanded to change the name for the novelty. As for millions of people across the globe, Mustang is one of the most famous cars with horse logos, an icon of the "muscle car" class.
According to the brand manager of Ford Electric Vehicle Division, the "green" car should have had another name. But in the end, marketers of Ford concluded that to prove itself on the market for the new model, you need some "hype", and what can be more hype than the icon of all times among all American car brands.
By the way, after changing the name of the car, the appearance of the model was significantly changed — for example, the recognizable tail lights and headlights were refined. Besides, engineers reconfigured the chassis and electric propulsion system.
According to Ford, they decided to continue using their well-known and recognizable names for their "green" cars in the future. For example, not that long ago, Ford introduced the E-Transit. Externally the "green" Transit does not differ from its usual version, in fact, it is distinguished only by the design of the radiator grille: this element of the E-Transit has blue horizontal stripes.
We must say that Ford's management reacted to this naming idea with a healthy dose of skepticism in the very beginning, but the interest of customers in the model convinced them that the solution could work as conceived.