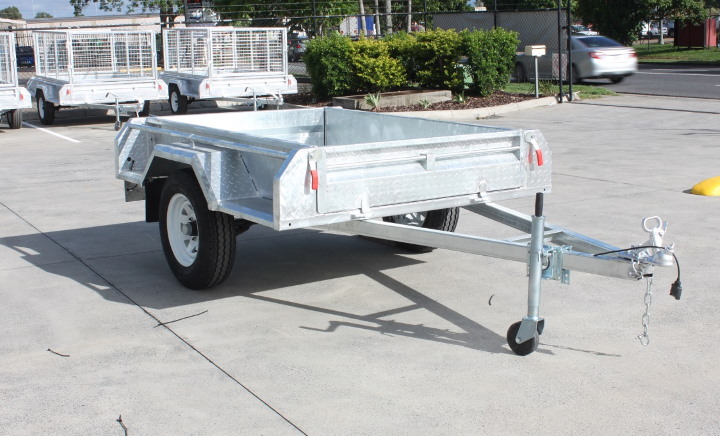 When looking for trailers for sale, there are certain features that you should give careful consideration to. For example, tyres (including their size, tread and weight capacity), the axle location (and how it bears on trailer stability), the strength of the rear bumper, your potential trailer's tongue length, and the towing vehicle you have in mind. Read on to find out more about these crucial features.
Tyres
It's essential that you choose from trailers for sale that have trailer specific wheels and tyres. Trailer tyres have a larger capacity for weight, as well as greater durability. If you are buying second hand, don't let inappropriate tyres put you off, as they can easily be changed. But a new trailer should have the appropriate tyres from the start. When picking tyres, you may need to know your trailer's ATM – aggregate trailer mass, which is the weight of the trailer and the maximum trailer load, as your tyres will need to have a certain weight capacity. Remember that when it comes to tyres, bigger is not always better, as it can put strain on the components of your trailer if the tyres don't align properly due to excess size.
Axle Location
When looking at trailers for sale, it's important to know that trailer models that have the axle behind the load centre give you more stability. By comparison, models that feature the axle in the centre of the trailer can often prove weaker. An axle is basically a round or square shaft attached to its environment with wheels going around it. Straight beam axles are the most common form, usually found in domestic and boat trailers. In the overlay beam axle, additional features create the effect of lowering trailer height, which is advantageous as it creates more stability and less wind resistance.
Rear Bumper
You're going to need a strong rear bumper to pull any weight you plan to lug around. Have a think about you're the rear bumper for a moment when looking at trailers for sale. There are various attachments that can be used with the rear bumper, but if the fundamental mechanism isn't strong, you could run into trouble. Do your research and find out on which brand of trailer has the best rear bumpers.
Tongue Length
The tongue length of a trailer is worth a thought when considering trailers for sale. The tongue length is the part that connects the car and the trailer. This length needs to be half the tow vehicle's width as a minimum. A longer tongue is preferred for more control and flexibility when manoeuvring the trailer. A shorter tongue can mean short-cuts have been made during construction, and it can make turning difficult.
Towing Vehicle
When you're looking at trailers for sale, you need to take into account the towing vehicle you intend to use, as it needs to match with your chosen trailer. If you have a small car, then buying a heavy duty off road trailer won't make much sense. On the other hand, a 4WD will be able to carry a much heavier load.