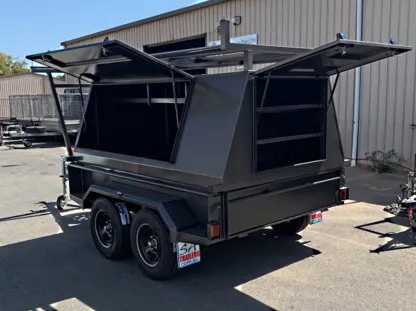 There are a surprising number of trailers for sale on the current market. Are you thinking of buying a certain kind of trailer? There are many different types of trailers on offer which have particular purposes and may suit certain individuals more than others. When you're thinking about making a trailer purchase, it's wise to do your research to ensure what you're buying will be appropriate. To give you some ideas, below are six useful types of trailers you might consider buying.
Car Carrier Trailers
Car carrier trailers are so named because their cargo is cars. There are many different car carrier trailers for sale on the market. Some features to look out for are heavy duty drawbars, checker plate floors and sides, winch posts, LED lights, a double coat of paint, and 7 Leaf spring suspension. You can expect these attributes as a matter of course. Some manufacturers of trailers for sale even allow you to request specific extras such as rocker roller suspension, new tyres and rims, as well as a colour of your choosing.
Enclosed Trailers
Enclosed trailers for sale are the perfect choice when you have loads on your trailer that need to be contained so they don't fall everywhere or blow away onto the road. When looking for enclosed trailers for sale, makes sure you check out the features. Some features that usually come as standard include spare wheel bracket, checker plate flooring, tie down railing inside and LED lights. Additional extras might also include enamel paint, your preference in colour, new tyres, jockey wheel and registration.
Mowing Trailers
Mowing trailers for sale are perfect for those in the landscape gardening trade. You can expect mowing trailers to offer a range of features, and they should be made from locally sourced steel and come fully primed and sealed. Mowing trailers are highly useful, so if you mow often and need to transport your mower to different locations, you should consider investing in a mowing trailer.
Machinery Trailers
Machinery trailers are built to carry heavy machinery from one place to another. You should find machinery trailers for sale that feature 100% steel manufacture by industry experts. If you have particular needs when it comes to machinery trailers, you can also find a manufacturer who can offer custom builds.
Flat Top Trailers
There's just about nothing that a flat top trailer can't haul. Whether you're interested in flat top trailers for sale because you have a lot of outdoor sports equipment, you have a landscaping business, or you need to transport large equipment around, you'll be more than happy with flat top trailers. Easy to hitch to your vehicle, flat top trailers for sale offer you more choice and versatility as to how you move around your possessions. Just make sure you tie down items with rope, bungee cords or a tarp with rope.
Tradesman Trailers
If you're looking for trailers for sale that can help you be more efficient in your own tradie business, then you're on the right track with tradesman trailers. These trailers have all the features you could possibly need to support your role as a carpenter, labourer, landscape gardener or any other kind of tradesman.