19 September 2014. Peter, is a gentle, educated and easy going man keen on growing his business. When I first met him he had just acquired another local business that came with a warehouse, some clients, some tools and several employees. The excitement of the new business went south very quickly when, in the first month, 2 of the employees took him to the Industrial Relations Commission. He's too afraid to have employees again and vows not to.
Just bad luck? I thought so, but another client Heather then offloaded on me about years of her business being a revolving door for employees. Just as they get trained up and learned how to really do their job, they move on - one of them resigning by text message. She has a retail florist business so there is no avoiding staff.
Again, bad luck? Maybe, but a straw poll of my clients has revealed that (rightly or wrongly) many are afraid, reluctant and battle weary from employees. This perception is holding back their growth in many cases.
It is inevitable that if you want to grow your business, you will need to build a team. Bigger businesses build big teams, sometimes in the thousands, so there must be lessons that small businesses can learn. Getting an employee is one of the biggest risk factors to your business, so you need to go in with your eyes wide open. If you feel that a fear of staff is holding your business back, it's time to think like a big business. Here are some strategies that might help:
Treat HR processes as a collection of systems, all designed to find, retain, train and get the most from your people. Keep your systems evolving and developing to make sure they are delivering the results you want. There is no mystery involved, just systems.
Take your time, do your due diligence, interview extensively, give tests and scenarios, reference check and anything else you can think of to make sure you are getting the best person.
Protect yourself by knowing about industrial relations and awards. Get good contracts with adequate protections. There are some excellent resources out there that you can access for low cost. Get advice from professionals.
Toughen up. Accept that there is risk in having employees and realise that sometimes things don't work out, but it's part of the challenge of owning a business. It's no different to accepting the risk of a marketing campaign or taking on a lease.
Never stop looking for potential new team members. Treat it like marketing, where you are always looking for new clients.
Keep a safe distance - employees are colleagues, not friends.
Think outside the box and look at other ways to engage.. part-time, contracting, casual, outsourcing and franchising could all be suitable options.
Look at yourself and get feedback on how you are as a boss. Maybe your staff are the ones who are really scared.
Pay fairly. How many times I see business owners who want to pay commission only or minimal rates. Its false economy - noone great works for minimum wage.
Building a productive team with a cohesive culture is the foundation of a successful business, but getting the first team members can be daunting. This is the time to suck up your fear, do your homework and be brave. In the end, your attitude can take your business somewhere else.
P.S. Peter did it by franchising.
'Small business insights with Dr Warren Harmer'
Dr. Warren Harmer
Business planner and small business consultant
I am a cultivator of great small businesses. I have a Ph.D in science but fell into the world of small business by accident and discovered my passion. My experience owning and consulting to small businesses now spans over 17 years. I like to solve problems using a scientific approach; looking objectively at businesses to see what is happening and applying first principles. In small business, outcomes reign over theory.
Practical, hands-on advice for small business owners is sorely lacking, since most 'experts' have never owned one. Most business information is targeted to big business and their employees.
My objective is to offer instructive, 'how to' information to make business ownership easier, less stressful and more enjoyable.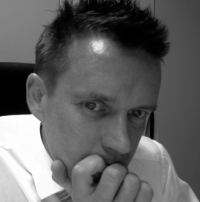 Warren Harmer
Chief Business Planner
0414 609 719
WarrenHarmer.com