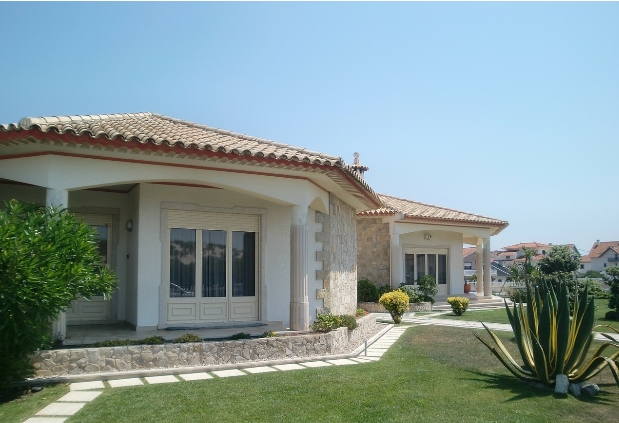 Sentiments on Australia's housing market are currently making headlines aligned with the probability of the economic recession brought about by the current pandemic. This may lead you to question if it is wise to consider house painting when rental concerns, mortgage crisis, bank home loan offers, and even the HomeBuilder's scheme are factors a homeowner must ponder on with. Is it the right time to think of increasing your home's value that may prompt you to look for paint services company near you?
Will painting your home increase its' value? Or should you enlist it up for sale in the housing market before the property price drops even further?
Impact on Australia's Housing Market
Housing prices have currently upended and shown slippage across the country. According to AMP's Chief Economist, Shane Oliver – "prices could fall as much as 20% if the coronavirus-driven recession continues". This further cements the impression of the extreme uncertainty and economic fragility but we are yet to see the full impact of it on the housing market in the coming months.
However, some industry experts stated that there are reports of a renewed emphasis on the rush to sell house properties despite the continued open houses and auctions dropping in a disjointed manner. One of them is Tom Panos, a Sydney auctioneer who says that more vendors are rushing to "cash-out". His view stems from the probability of the people's fear that prices could be lower in the coming six or nine months' time. After all, no homeowner would want to sell for a price that is lower than what they perceive to be their property's worth so they intend to grab a deal they think is considered good enough.
And yet, since the lockdown, the housing value growth rate has lost momentum so buying and selling house properties may be a bit trickier while we are experiencing the global pandemic – thus the reason for the unstable rise and fall for house price index. With the competition drying up, should you sell a house during this pandemic? Founder and CEO Metropole Property Strategist, Michael Yardney cited that most sellers are cutting their asking price. He says that buyers currently have an upper hand in the negotiations leaving the sellers to be more amenable with the offers.
According to CoreLogic, the research firm that handles and compiles all the data relating to the housing market, here are the value changes across the Australian housing market as of the previous month of June.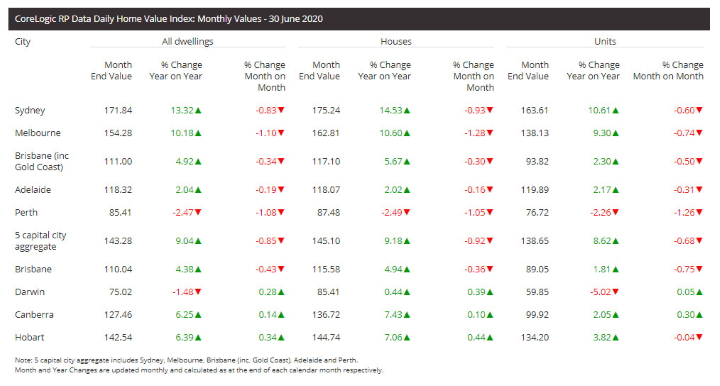 Screenshot courtesy of CoreLogic Australia

The trends in the property and house market may also have relatively linked with home equity. Many households required proper preparation involving meticulous calculations on the house figures. Aside from that, there have been predictions intended to expose potential movements on stock prices and analyzed forecasts in residential property indices. As of the moment, many houses including high-end properties can be purchased at a much lower price. However, many experts perceive that the situation may bounce back along with the hope that lies ahead. The best-case scenario, for now, is to determine how you can boost your property's value without breaking the bank.
Easy and Cost-Effective Ways to Boost your Home's Value
Some people invest in their first or second home before delving into the real estate game. If you're thinking of placing your home on the market and wondering for economical home improvement that may potentially turn the tables around to the terms favorable in increasing your home's value, then here are a few tips for you!
While the first impression is considered as an essential component, renovation projects are introduced to provide a different route of opportunity – the intent to beautifully present your house with a great appeal (compared before) but alternatively in a more cost-effective way.
To Paint Or Not to Paint?
Most house/buyer agents would surely agree on how house painting is the easiest and most cost-effective way to renovate prior to marketing with excellent results to expect. It will be a wise investment that can efficiently appeal to your potential clients and future buyers can envision themselves living in it.
Tip #1: Choosing the right colors
There are specific techniques that you can use to manipulate the aesthetics you want for your home. Are you after a certain theme? Would you prefer to have a minimalist look or perhaps a vibrant color scheme? If you're wondering what interior painting can make your home more relaxing and soothing amidst the pandemic outbreak, you'll need to learn the trick of knowing the right house paint colors to create satisfactory results.
It is best recommended to choose neutral paint colors since the color scheme offers timeless beauty and services as a perfect backdrop so you can flexibly create accents. Plus it goes with just about any furniture and style. Specific neutral colors you can try are beige, tan, and greige (a blend of grey and beige). On the other hand, a perfect blend of lively colors may also bring out pleasing results. Examples color palette you try are silvery blue, warmer browns, and even contrasting rich tones may surprise you as long as you have house painting experts to guide you!
Tip #2: Mastering the Art of Knowing
Did you know that the secret to a good painting job lies in the preparation and your well-chosen materials or products? Yes, it is with utmost importance that you master the art of knowing what your house needs. Painting Contractors may indeed provide you the service however being involved with the renovation plan can bring in a surprise you'll most likely want to experience. Plus it can help you understand that you are indeed getting your money's worth; while having your personal touch to the job.
In preparation for your house painting project, you have to carefully select the type of paintings ensuring that it is a good match with the surface or your house structure. There are different finishes, and sheen provides a particular impact as well. Should you get latex paint, enamel paints, oil-based, or acrylic? For exterior house painting, going for not more than 3 colors and following the 60-30-10 percentage rule is recommended. It pertains to the ratio of choosing paint colors wherein 60% is for the body of the home, 30% for the trim or accents while the remaining 10% is allotted for the front and shutters (adding just a pop of color blending in with the overall color scheme. Knowing which room to prioritize is also a contributing factor in emphasizing unique features.
Tip #3: House Painting Maintenance Also Matters!
With all the effort of creating amazing aesthetics for your house means you need to have the heart to care and maintain it with the same level of passion when you're starting. Aside from the basic house cleaning reminders such as de-cluttering, deep cleaning, investing your time for home interior painting maintenance during quarantine can be a big help in ensuring that the aesthetics of your property stays longer.

If you're considering placing your property on the rental market or simply wish to start afresh with home improvement plans, boosting your home's value is indeed something you want to have a "wow-factor". Attracting potential tenants while ensuring that they are happy with the quality of your property (giving them enough reason to want to live there) is the same as how you should be happily satisfied with the place you live in. So whether the house up for the market or not, investing in it to have premium value is what every homeowner (we strongly believe) deserves to have!
A few may go for a cheaper quote, settling for second-rate service but you mustn't set your investments to be treated poorly by choosing random service. Finding the right choice you can rely on is the most sensible action to take. If you're looking for the painting services contractor near you, Dupaint is the one you can trust! For years of providing home improvement solutions, both residential and commercial settings can experience premium workmanship – and at the most affordable price too! Contact us now at 1300 433 986 and talk to one of the painting specialist today to know more about what we can do for you. Plus get to enjoy FREE quotation!