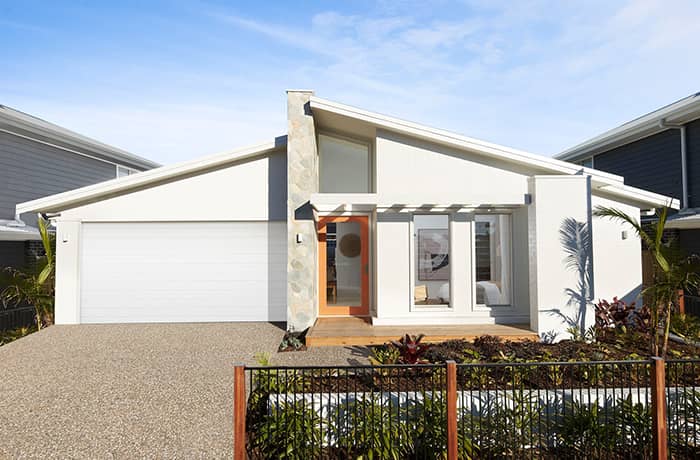 Home is where the heart is, so when you're looking to construct your dream house you need to make sure you're choosing a home builder that can reflect your heart's desires. It's worth investing time into finding the best builder fit - your home should suit your unique needs and not be a cookie-cutter result. But what should you look for when choosing a builder?

There are a few key considerations when choosing a builder to build your home. Their showcased work, reputation, ability to work within your budget and personalisable house customisations are just a few of these factors. To help you go about choosing a home builder, we've collated the top tips from Sydney's best new home builders below.
Stand Your Ground - Find Your Land First
It's generally easy to co-operate with a builder on designing a home for the block of land you've purchased. However, it can be quite difficult when trying to do things the opposite way.

While many argue whether the chicken or the egg came first, there's no confusion in this context. You should buy your land before you choose a home design and builder. Don't let your heart be broken by choosing a home builder and setting your eyes on an ideal design that won't work on any land you find.
Create a List of Potential Home Builders
Once you've marked your territory, compiling a list of potential builders is the next key step.

You'll need to research home building companies in your site's location. Google is your best companion when it comes to this, followed by client reviews and peer recommendations. Start building a list as you accumulate options - which can be as simple as putting a pen to paper or parking a note in your phone.

To be efficient with your time, keep your list of potential builders short. This will save you strife when lowering down your options.

Another wise word of warning goes to when you're following peer referrals, separate business from pleasure. Don't find yourself choosing a home builder or avoiding another based solely on one person's experience. You need to consider how a potential builder could meet your unique needs.
Qualify Your List
Speaking of your unique needs, you now need to funnel down your list of potential home builders to find the perfect one.

The best qualifying aspects concern the expertise and experience of a home builder, met by your budget and design needs. In this stage, you may want to contact some of your builder options to gather more information and start negotiating, initiating a healthy business relationship for your project.
EXPERIENCE AND AWARDS
One of the easiest ways to lower your options when choosing a builder to build your home is to look at the physical evidence. What do reviews say about them? Have they won any reputable awards? Can you visit their showrooms or display homes?

These are the questions you should be asking to learn more about your builder options and weed the bad fits out. You wouldn't put your money in a bank without reviewing their credentials and reputation, so don't settle for any less when choosing a home builder.
A BIT OF PERSONALITY
Your new home will be your haven. The builder you choose needs to have house designs with options appropriate to your lifestyle vision. Ideally, they should also be professional and joyful for you to work with.

Inspect the house design range of the builders on your list (via their website or showrooms) and keep any that speak to your heart. Remember - a good home builder is able to customise designs to meet your taste, so don't assume every design is one-size-fits-all.

Companies who are willing to give you the best resources to support your home building decision in a timely and friendly manner should be prioritised. These factors are good indicators of a positive working relationship that will be beneficial in the home building process.

BUDGET AND PRICE COMPARISONS
Getting value for your money is significant when building a home.
When choosing a builder, don't be afraid to ask monetary specifics to know who can and can't accommodate your home's vision within your budget. Dig into the specifics on fixtures, furnishings and finishes - leave no stone unturned.

This is a good time to seek quotes for comparison. Make sure you're being shown the full picture - an upfront quote for the standard home building factors along with potential cost additions is better than a lower starting price that considers only static factors.

It's important that your quote also recognises how long it takes to build a house and how this will impact financial inputs from both parties. Time is money, so don't forget this consideration when planning to build your home.




LEGAL CONSIDERATIONS
Back your decision up by choosing a home builder that offers the legal support your project needs.

Investigate your options based on their home building license status, the warranties they can offer in the building process, and what insurance comes in the deal. Weather conditions and building regulations can be cruel factors in some projects, so make sure you've thought ahead for these.

Understanding home builder jargon can also help you in your decision. Don't let your options be swayed if you don't understand the specifics of home building technicalities. Ask to dive deeper, compare opinions between your options, or do your own research.
Choose the One
So, after all that you should be able to identify the best home builder for your new home. All that comes next is signing a contract and starting the build!

Remember - ultimately you should choose a home builder based on their ability to suit your exact needs. To start your hunt, we recommend checking out Better Built Homes who are renowned for their personalised service ethos. Contact them today to start your home building journey.