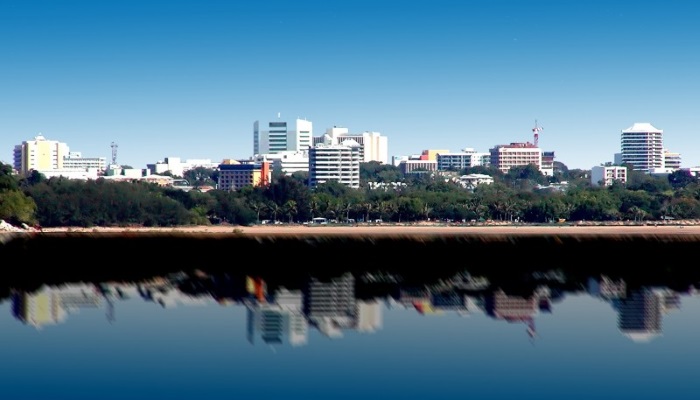 Darwin 8 September 2014. As the financial year ended we heard cries that the market has dived…the bubble has burst…and so and so forth. The facts, however, do not support this. The June Quarter 2014 saw growth again in the median house price across most sectors. Unit prices came back for the Quarter but this was simply a normalisation in the pricing after a spike in the previous quarter due to a number of large settlements going through. Overall for the year house prices are up 1.4 percent and unit prices up 4.5 percent.
We have also recorded the strongest ever financial year sales, since the REINT started keeping statistics. Overall sales (houses and units) came in at a record $1.88 Billion dollars - $1,885,454,838 to be more exact. That was $1,024,400,818 in house sales across the NT and $861,054,020 in units and townhouses.
The other interesting trend so far this year is that, for the first time again since we commenced our records in RELM, units are outselling houses at 53 percent to 47 percent. This could be partly due to a growing desire for inner city living and partly due to the continuing under supply in the detached house market.
Following a fall in the number of sales in the last quarter, we have seen sales figures across greater Darwin jump by 13.3 percent this quarter. Sanderson and Palmerston were the big performers in this respect with Sanderson recording 54 sales – up 14.9 percent on the last quarter, and Palmerston recording a very healthy 20 percent jump in sales from the previous quarter.
Darwin
Darwin city area saw an increase in sales volumes but it was one of the few jurisdictions that saw a decrease in median price this quarter. Volumes were up by 6.5 percent but the median dropped off by 8 percent. Having said that, when compared against the same time last year medians for Darwin are up by 13.2 percent.
Equally the unit/townhouse sales for Darwin were very strong this quarter recording a 56.6 percent increase in sales volume, but again a 5 percent decline in median price. The prices for units in the city are quite steady against last year's prices with only a 1 percent increase when compared to this time last year.
Palmerston
After taking a big hit on sales volumes for both houses and units last quarter, the Palmerston market has rebounded to be the stand out performer in the Top End this quarter.
House sales were up by a very healthy 20 percent – 138 recorded sales for the quarter – and median house prices rose by 3.5 percent for the quarter or 6.5 percent when compared to this time last year. Unit sales were also extremely strong with a jump of 29.5 percent in the volumes, however the median price for units came off by 11.2 percent for the quarter. But that is still up 5.5 percent from this time last year.
Katherine
Katherine saw much weaker sales numbers with house sales falling by 20 percent – keeping in mind that is the difference between 25 house sales in the last quarter and 20 this quarter. But while volumes may have dropped the median price has jumped up this quarter by 8.1 percent.
Tennant Creek
Tennant Creek only had 9 house transactions this quarter, which was steady on last quarter's activity but it also saw strong growth in median pricing with a jump of 7.8 percent in this quarter. The exciting thing for home owners and investors in Tennant Creek is that the median house price is now 20 percent higher than it was the same time last year.
Alice Springs
Alice Springs had a win on two fronts with house sales this quarter. Sales volumes were the strongest across all major Territory jurisdictions with a rise of 28.1 percent and the median price held strong with a slight increase of 0.8%. While this quarter was strong for house sales, compared to the same time last year volumes are down by 8.8 percent. Unit sales performed well with sales up by 4.4 percent and the median was just off a little by 0.6 percent.
Rental Market
Again, while there was chatter about the rental market dropping, this is only so in some areas. For the Greater Darwin market average rent for a 3 bedroom house rose 1.7 percent to $663 per week and average rent for a 2 bedroom unit rose 0.6 percent to $484 per week.
We saw a sizeable drop in rents on 4 bedroom houses in the city, but at the same time 3 bedroom house rents rose by 7.8 percent. Nightcliff house rents were down as were Palmerston but both of these were very modest declines.
With the exception of Marrara unit / townhouse rents were up in all jurisdictions. 1 bedroom units in the city rose by 10.7 percent and 3 bedroom units in the city were up by 10.5 percent. Palmerston unit rents rose by around 2 percent.
In Darwin the vacancy rate drifted up slightly by 0.6 percent to an overall figure of 4.4 percent. This was mainly due to a large increase in vacancies in the house market – up by 3 percent – but in the unit market the vacancy rate actually tightened again, decreasing by 0.5 percent. The Palmerston market saw an even larger decrease in available rentals, decreasing by 1.3 percent.


Quentin Kilian
Chief Executive Officer REINT
First Published in the 2014 June Quarter RELM (Real Estate Local Analysis) published by REINT.
https://www.reint.com.au/index.php?option=com_content&view=article&id=279&Itemid=405