City set to Go Greek May 18 and 19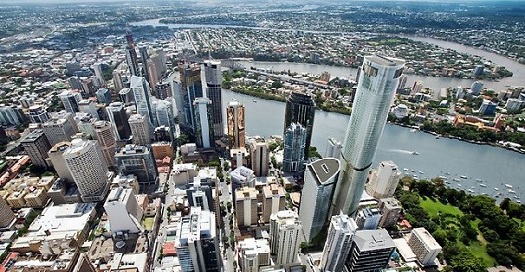 Dine al-fresco en masse, inhale the smell of the Greek BBQs, dance the Zorba, smash plates, soothe your inner Greek with the live sounds of the bouzouki, the lira and the rhythmic drumline, eat 25 honey puffs in one minute, see a film, experience traditional Greek cooking demonstrations, stomp grapes, see inside the stunning Greek Orthodox Church, meet the stars. It's that special time of the year … PANIYIRI Greek Festival! It started 37 years ago; fast forward to 2013 where more than 50,000 Greeks and honorary Greeks will once again descend on Musgrave Park in South Brisbane for the city's largest, loudest and most delicious party. Join Lincoln Younes and Kelly Paterniti (Home & Away) and Jake and Elle (My Kitchen Rules) on Saturday May 18 and Sunday May 19, when Brisbane overloads on Greek gastronomy and Hellenic hospitality as this legendary kaleidoscopic cultural explosion takes over Brisbane town. Highlights in 2013….
SATURDAY 18 MAY: gates open at 12noon
GREEK DANCING WITH THE STARS
Be there to find out what happens when Lincoln Younes a.k.a the youngest River Boy, Casey Braxton and his on screen girlfriend Kelly Paterniti a.k.a Tamara Kingsley from Channel Seven's Home & Away and My Kitchen Rules' Jake and Elle fight it out on the dance floor against Kimberley Busteed and B105's Pete Curruli in the hotly contested Greek Dancing with the Stars competition on Saturday May 18 at 7.00pm.
"TIMBANOUKI" DRUMLINE BOUZOUKI SHOW
New to Paniyiri in 2013, the Greek take on the drumline mixed with the traditional sounds of the bouzouki will echo through Musgrave Park at 6pm Saturday evening.
THE FAMOUS COOKING DEMONSTRATIONS
From 12:15pm it's the ultimate Greek culinary adventure! The demonstrations are hosted by some of Brisbane best Greek cooks and chefs and star all the favourite Greek recipes and treats like Spanakopita (Spinach & Fetta Pie), Poura (Greek Nut Rolls), Loukoumades (Greek Honey Puffs) and the Traditional Greek Mezethes Platter. Jake and Elle from Channel Seven's My Kitchen Rules will make appearances on Saturday at 1:15pm for a coffee competition and 2:45pm for a celebrity guest cooking demonstration.
CULTURAL FILMS AND LECTURES
Between 12noon and 6pm there's a cultural smorgasbord of films and lectures downstairs at the Greek Club in the Acropolis room. Hear Anna Efstathiadou from the University of Queensland speak on topics like "Second World War Photography and the ANZAC Legend: George Silk's and Damien Parer's Greek Campaign" and Dr Amelia Brown of the University of Queensland speak on "Odysseus, the First Greek Traveller". Greek National Costumes will also be on display during the lecture and film program.

SUNDAY 19 MAY: gates open 10am
PANIYIRI 2013 OFFICIAL OPENING CEREMONY
A formal welcome to all festival goers and special guests! Channel Seven's Lincoln Younes, Kelly Paterniti and Jake and Elle will be on stage for the celebration followed by an impressive performance with the "Timbanouki" Drumline Bouzouki show
GRAPE STOMPING
If you find yourself with some extra energy as a result of the Greek gastronomy, the Black & White Cabs Corporate Grape Stomping Competition at 4:15pm on Sunday is the perfect way to stomp your way back to a hungry tummy! A traditional Greek pastime, be prepared to get a little bit…messy.
TRADITIONAL GREEK COOKING DEMONSTRATIONS
Learn the culinary secrets from inside Greek kitchens with sweet and savoury demonstrations from 10:30am on Sunday upstairs at The Greek Club with FREE entry. At 2:45pm on Sunday May 19, Jake and Elle (My Kitchen Rules) will heat things up when the Queensland siblings don the aprons to stir, beat and fold their way through a Greek recipe.
CULTURAL FILMS AND LECTURES
The cultural enlightenment continues on Sunday with speakers like Emeritus Professor Bob Milns, Anna Eftstathadiou and Amelia Brown from the University of Queensland speaking on topics like "Constantine Cavafy – a great modern poet from Alexandria, on the 150th anniversary of his birth" and "Constructions of Greek Femininity during the Second World War: Propaganda Posters and Photographs".
TRELLA Dance Party
Festival-goers can burn off the Haloumi and Honey Puffs at Trella: The Official Paniyiri After Party with sounds from Brisbane's own DJ Kossi as well as guest DJ Nicky Zee and DJ Petros at The Greek Club on Sunday May 19 from 8pm. Tickets available for $15 at the door

ALL WEEKEND …
HONEY PUFF & OLIVE EATING COMPETITIONS
Devour your way through countless juicy Greek olives or treat your sweet tooth to mountains of mouth-watering Honey Puffs all day Saturday May 18 and Sunday May 19. Heats for both the competitions will take place on the Channel Seven stage, with the finals on the Coffee Club Stage in Musgrave Park.
PLATE SMASHING
There is something about the Greeks that makes you want to smash plates! Sure to be a smash hit with festival goers, test your speed and dexterity with the quintessential Hellenic act of breaking plates which will take place several times during the festival on Saturday May 18 and Sunday May 19.
3D CHALK ARTIST
In a first for Paniyiri, eyes will be drawn to the ground as the bitumen of Edmonstone street is transformed into a 3D chalk masterpiece and glimpse into Greek History. Chalk artist Amelia Batchelor, a highly regarded Brisbane street artist will depict the Parthenon and the Colossus of Rhodes on Edmonstone street between 11am and 5pm Saturday 18 May and between 12noon and 5pm Sunday 19 May.
EAT
Help Brisbane eat their way through 200,000 honey puffs, 500kgs of haloumi and seemingly endless authentic barbequed souvlakia as your delighted senses journey of the senses through 30+ food stalls representing the Aegean, Mainland Greece, Cyprus, Chios, Crete, Rhodes and more all weekend.
THE MUSIC, THE DANCE
Paniyiri is famous for non-stop dance and music. Experience hours of Greek entertainment including The Hellenic Dancers, Fantasia, Glendi, DJ Kossi, Herc & Xena, Μελωδία from Dormition of Theotokos and more all weekend.
GREEK ORTHODOX CHURCH OF ST GEORGE
Explore the history and mystique of the renowned South Brisbane Church with cultural displays open for viewing on Saturday May 18 and Sunday May 19 including
SIDESHOW ALLEY
Plan a detour down Musgrave Park's vibrant Sideshow Alley to find a host of amusement rides and games for the young, and young at heart, all day Saturday May 18 and Sunday May 19 at Musgrave Park.
KID'S ZONE
Get creative in the Kid's Zone with mural painting, art and craft, storytelling, face painting and an extremely special appearance from Minions from the upcoming kids film, Despicable Me! Kid's Zone will run on Saturday May 18 from 1pm until 4.00pm and on Sunday May 19 from 11.00am until 4.00pm. Barn Yard Babies will also keep the little ones entertained as they pet, play and have their photo taken in the gorgeous animal nursery.
FIREWORKS
Sample Greek sweets while watching the spectacular fireworks display explode across the skies of South Brisbane on Saturday May 18 from 8:45pm and Sunday May 19 from 7pm.

WHAT YOU NEED TO KNOW:
Date: Saturday May 18 & Sunday May 19, 2013
Time: From 12pm on Saturday and 10am on Sunday
Location: Musgrave Park & The Greek Club & Convention Centre, Edmondstone St, South Brisbane
Entry: $10 Adults (13+), $3 Aged Pensioners, Children free
Info: www.paniyiri.com or 07 3844 1166
Road Closures:
Edmondstone Street – between Besant and Russell Streets closed from 6am on Saturday May 18 to 6am on Monday May 20.
Russell Street – between Edmondstone and Cordelia Streets closed from 9am on Saturday May 18 to 7pm on Sunday May 19.
Parking:
Disabled Parking available adjacent to Musgrave Park in Russell Street between Edmondstone and Cordelia Streets
Public Transport:
'Catch our Citytrain to Paniyiri' South Brisbane and South Bank stations. For more information on Brisbane Transport Services phone 13 12 30 or visit www.translink.com.au.
Brisbane Transport Shuttle Service available every 15 minutes on Saturday May 18 from 12noon to 8.30pm and Sunday May 19 from 10am to 8pm. Pick up and set down on Elizabeth Street (Stop 82) Eagle Street (Stop 151), Central Station (Stop 7), North Quay (Stop 109) and Paniyiri special stop in Russell Street. (FOR MORE INFORMATION, HEAD TO WWW.PANIYIRI.COM)
Paniyiri is Queensland's signature celebration of all things Greek. Paniyiri is a community initiative of the 25,000-strong Greek community of South East Queensland. Funds raised are channeled back into the community via the Greek Orthodox Community of St George, Brisbane's oldest Greek community established in the 1920s.