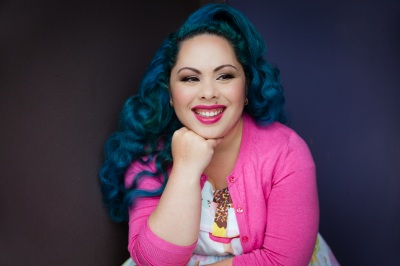 Just like a dress on a sewing machine, Sarsparilly founder Maria Murphy's career as a fashion designer has come together. What started as a pattern of an idea in her head when she was 11, now sees her taking on the vintage fashion industry in style.
Her journey to success is like so many other aspiring entrepreneurs. It is laden with pitfalls, tears and pain. But these needle pricks have not deterred Maria from picking herself back up and will launch her first collection this winter.
"When I was kid, I wanted to be Janet Jackson's costume designer because she always had awesome costumes, she was the Beyoncé of the 90s. It was all I wanted to do, I used to design stage outfits for her, I still have the drawings" Maria said.
"I wanted to study Fashion at UTS (University of Technology, Sydney) as they were the only University in the late 90s in Sydney to offer a Fashion degree, but to get in you needed a higher OP than for architecture and I missed out. I found another avenue. I decided on applying for Fashion Design at TAFE in Darlinghurst which again was a very difficult course to get into due to its popularity, a friend and I applied together, did the drawing test, submitted our portfolios, again I missed out. I didn't give up though as they also offered Fashion Manufacturing at the same campus, with a focus on the production side of fashion with a design subject, from there you could do Fashion Manufacturing and then move on to Fashion Design. No missing out this time; I got into the course."
Living on NSW's central coast meant a four round trip every day, so this up and coming designer moved to the big smoke. Here the universe threw another obstacle in her way.
"Being out of home meant the expenses were high and my parents were unable to help me financially. So, I had to get a job but to survive I needed a full-time job, so I had to put school on hold," Maria said.
With the best intentions to go back to study, Maria got entrenched in work and ten years passed. "I had a good job but when the GFC hit, I was one of the people that wasn't needed any longer when they had to cost cut. I was sitting in an employment agency at one of the appointments Centrelink make you go to while you are job hunting and saw a pamphlet on the government's NEIS program.
"I took this opportunity and started Sarsparilly. Back then Sarsparilly was clothing and accessories made by me along with true vintage I got from wholesalers in Melbourne and overseas in the US and Europe. I also bought in clothing and accessories by other small designers sourced on the internet.
"I sold online and face-to-face at a myriad of markets in the Blue Mountains, Sydney and Newcastle."
It was not until the birth of her second child, that her passion for fashion was really tested. One month before her second baby's due date, she went into labour. Testing found her little one had Duodenal Atresia, (his bowel was formed, but possibly not connected). When Regan was born they also noticed features of Down Syndrome and discovered two holes in his heart.
"He needed surgery for the Duodenal Atresia straight away and would need open heart surgery in the future. It was a stressful time, but he is almost three now and such a champion and went through so much including open heart surgery at Westmead Children's Hospital in Sydney," Maria said.
So Sarsparilly was put on hold again as Maria attended a myriad of appointments with OTs, physio, speech pathologists and cardiologists.
When something is meant to be, a way is always found. After selling their home, Maria asked her husband Luke if he minded her minded using the equity to start up Sarsparilly full time as her own clothing label.
She started with four of her own designs in March 2016. "He agreed, and I started with four dresses in March of 2016. The first year and a half was very difficult. I spent many days and nights crying or wondering whether I had done the right thing," Maria said. "There was this voice inside of me that said to keep going, so I did.
"After making a loss in my first year and then only selling two items in June 2017, I was at a complete low. But I kept going and amazingly things picked up.
Since then, Sarsparilly has been catching the eye of influencers and working on collaborations with Irregular Choice, Splendette and What Kate Did. She is asked to show at major international trade shows like Pure London, London Edge and Fashion World Tokyo and has a massive social media following in the US. Sarsparilly also has a licenced capsule collection with Pusheen coming out in July, with other licenced collections soon to be announced.
"I had a business mentor that always told me 'don't ask, don't get'. That is my mantra. I have used it to cultivate relationships with lots of other great brands and we often do giveaways or joint photo shoots," Maria said.
For Maria, the journey has been worth it. She knows there is more to come.