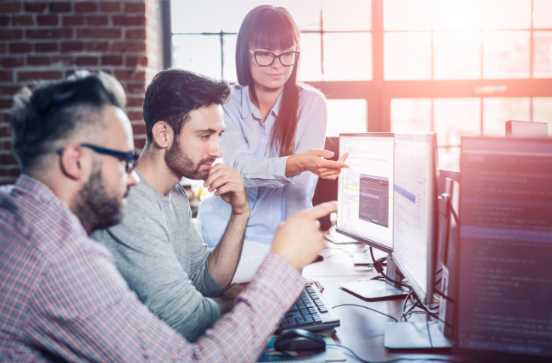 With so many different options available on the market, choosing the right business software can seem like a difficult task. With the potential to completely revolutionise and streamline your business processes, it is essential to partner with the right business software provider. Read on to explore our guide to choosing the right business software, including the key features you need to insist upon before making any investment.

Accounting Software
Choosing business software that will prove to be a solid return on investment, is all about finding software that can expedite the most common and time-consuming tasks of running a business. Accounting software is consistently among the mostly commonly purchased business software as it streamlines even the most complicated financial processes.
Accounting software is a jack of all trades and master of many when it comes to common financial tasks including payroll processing, invoicing, reports, payments and point of sale (POS) service.

Key features
The key features to look for when choosing an accounting software for your business are:
Training and Support: It is important to partner with an accounting software provider that also delivers training services and dedicated support. Whilst all good accounting software programs should be easy to use, it is essential to partner with a provider that will provide support whenever you require it. They key to utilising accounting software successfully is to understand all the features and how each feature successfully interacts with the others.
Cloud-Based Software: It is essential to choose an accounting software that is 100% cloud-based. Cloud-based software provides you with the flexibility to access your business' accounting records from anywhere in the world. It is also significantly more secure than physical or computer hard drive storage alternatives.

PayDirect: One of the biggest challenges facing small businesses is ensuring that invoices are generated promptly and paid on time. PayDirect Online makes it easier for your customers to pay their invoices, by allowing customers to pay directly from their online invoice using a credit card.

Enterprise Resource Planning Software (ERP Software)
If your business manages a large operation, contains many suppliers or hosts a complex supply chain, ERP software can greatly improve the efficacy of your business processes. ERP software combines an abundance of different vital business software into one efficient software suite. With ERP software, your business has access to accounting software, HR management, distribution scheduling, payroll processing and much more.
By collecting your business data into one source, ERP software enables businesses with complex operations to streamline their varied processes, ensuring that they run efficiently alongside each other.

Key features
The key features to look for when choosing an ERP software for your business are:
Enterprise Performance Management: Enterprise Performance Management is software that provides data to assist your business in budgeting, planning and predicting future financial results and growth.
Customer Relationship Management (CRM): It is essential to ensure that your ERP software contains effective CRM support. CRM software manages your interactions with potential and current customers, tracks your leads and provides actionable data and results in relation to any marketing initiatives.

Workforce Management Software
Workforce Management software provides sophisticated solutions for your businesses payroll, scheduling and other human resource tasks. Workforce Management software captures, processes and reports your employees payments, entitlements, pay rates and deductions all in the one place. It can also capture and record the attendance and schedules of your employees. This data can be used to improve your workplace efficacy.

Key features
The key features to look for when choosing a Workforce Management software for your business are:
Award Interpreter: Many businesses will have different employees under differing awards. It can be difficult to understand the award conditions and to keep up with any changes that are required with changing legislation. It is therefore essential to choose a Workplace Management software that will allow you to automatically calculate accurate figures for complex pay rates and awards. Self Service: It is vital for your employees to have self-service access to your
payroll system
. Self-service payroll software allows your employees to access their leave entitlements, payslips and time sheets online, anytime and from anywhere.
Following the recommendations in this guide will ensure that you choose the right business software for your individual and unique business needs.