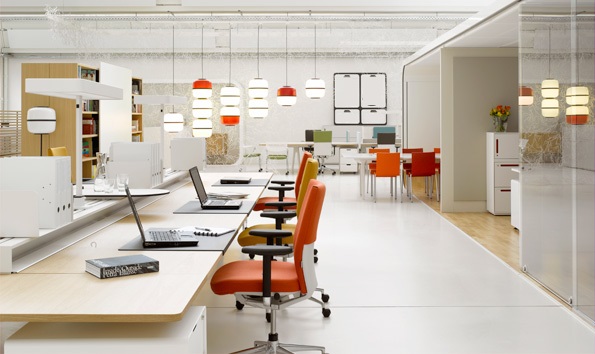 Can the 'new way of working' improve your mental wellbeing?
The office. Those two words conjure mental images of cubicles, nagging colleagues, drab fit-outs and clinical lighting. It's enough to put a strain on anyone's mental wellbeing. But could a bad office space actually be bad for mental health?

The latest findings suggest that the office – where many of us spend eight hours a day, five days a week – needs to be designed to keep occupants happier and healthier. And that means more than a gym downstairs.

Coworking spaces are leading the charge in good office design. And with more and more coworking spaces to choose from, many of us now can pick a shared office space that suits us, and our mental wellbeing.

So what should you look for in an office space for your mental health? Here are 6 ways coworking could help.
1. Find a sense of community
We're often reminded that humans are social creatures. And despite many more of us living in cities, wandering through crowded streets and supermarkets, feelings of loneliness have skyrocketed. And with loneliness as a factor in poor mental health, offices are a space we need to consider.

Thankfully, many coworking spaces offer their communities as key parts of the coworking experience. Many coworking spaces encourage community interaction and support through networking and social events, and these can provide great opportunities for you to make new connections.
2. Let nature back in
Humans evolved with natural, vibrant colours of greens and blues. Just compare the drab artificial greys of an office with the rolling countryside. Which would you prefer? In fact, the science suggests indoor plant life has a positive effect on our mental well being.

It's no wonder you'll find coworking spaces and shared office spaces with a big focus on bringing nature back into our lives. Indoor plants, spaces with natural light, and office pets are staples of coworking spaces. And for good reason!
3. Look for good office design
As open-plan offices swept the corporate world, the assumption was that productivity and collaboration would boost, too. However, more and more studies are uncovering the opposite effect: the extra noise and distractions can affect our mental wellbeing.

According to The Conversation, "Work environments should provide various options that support employees working effectively". That means meeting rooms for groups. And quiet, productive spaces when you need them. The flexible options at a coworking space can be used to your advantage by exploring work stations and work styles that suit you.
4. Get the space to chill
Stress at work is common – whether you're a startup founder or a cafe waitress. And stress is not only bad for your mental health. There is a strong link between stress and our physical health, too. So there are good reasons to find an office environment that can help you manage a hard day at work.

Coworking spaces often come with quiet areas for those moments in the day when you need to de-stress. Some other spaces and activities may be beneficial, like exercise rooms or yoga sessions. Check out coworking spaces amenities to see the benefits of coworking outside of having a productive day.
5. Keep it organised
Messy, cluttered and frantic workspaces sometimes drive creativity. But for many, disorganised environments can lead to negative feelings, like feeling a loss of emotional control. In other words, clean, tidy and organised spaces improve attention and could lead to a better state of mental health.

So, look out for disorganised, cluttered and chaotic office spaces. And that goes for coworking spaces too. Thankfully, many coworking spaces have staff and processes in place to keep the shared office running like clockwork.
6. Access support services
When things get stressful at work, it helps to have a helping hand. At the traditional office, managers, human resources and colleagues are often the first point of call when you need support, whether it's from burnout, imposter syndrome or conflicts.

Coworking spaces often have wellbeing and wellness advocates on hand to help their members. The support services can include resources, coaching, seminars, community support or even just winding down with yoga. De sure to check out what extra are on offer when shopping for your new coworking space.