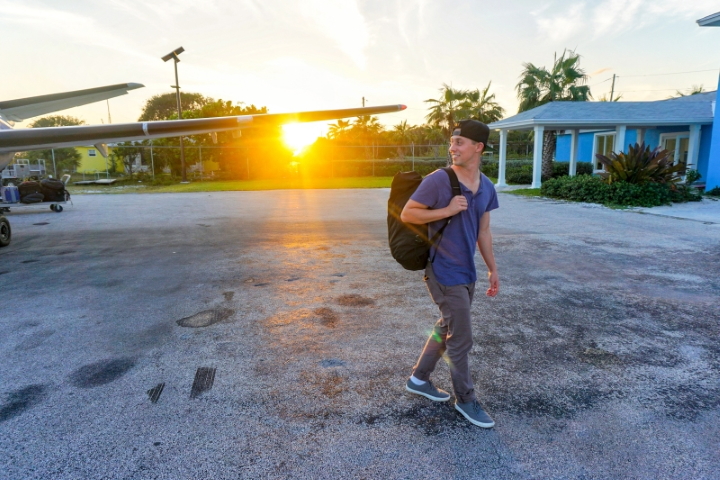 The digital nomad life is quite stimulating and inspiring, allowing you to travel all around the globe, while earning a satisfactory income on the go. However, such an active lifestyle can also bring some unexpected challenges, most notably the difficulties of staying safe and secure when you're forced to travel with all your possessions, including your important work. To that end, here are some beneficial tips that will allow both you and your equipment to stay safe as a traveling entrepreneur:
Always keep your valuables safe
Whether you are staying in a hotel or a private rented apartment, it's always best to simply leave anything more valuable behind while you're out, preferably in a safe, if available. That way, you can be more calm and relaxed, knowing your precious items are secure. If you're on the go more frequently, however, and you're forced to bring your valuables with you, consider investing in the best backpack your budget will allow for. Look for good features such as water resistance, a sturdy zipper, puncture resistance, or even a 'thief-proof' aspect, to ensure your valuable items are as safe from theft as possible during your travels.
Consider getting great car insurance
In case you are renting a vehicle while working in a foreign country or even driving your own car around the continent, travel insurance simply won't be enough to cover all your needs. It would be wise to invest in a separate car insurance policy that will keep your vehicle safe and protected no matter where you are. Do some research before you embark on your journey, and find the best car insurance quote that perfectly suits both yours and your vehicle's needs. That way, you will be safe and sound knowing you are fully protected in case an accident or other unexpected mishap happens on the road.

Get a good travel insurance policy
Unless you are staying in one location for a longer period of time, when you are able to get local insurance, investing in a travel insurance policy is always a good idea, even when it comes to digital nomads. Although many traveling entrepreneurs tend to overlook this aspect, travel insurance can cover anything from your belongings to potential hospital visits and treatments, all of which can end up being quite expensive when you're not covered. Unfortunately, that cost could be unattainable for many traveling nomads working remotely, which is why it always pays to invest in a good travel insurance, and stay safe and sound on your journey.
Make sure to protect your data
As the usual work of every digital nomad most commonly involves the use of electronics, making sure that all of your data is securely backed up is another safety tip essential for anyone who does their job on the go. From your smartphone getting stolen to your laptop suddenly breaking down, there are a number of unpleasant circumstances you could experience while traveling. For that reason, it would be wise to back up all your data in a separate place, whether it's a USB stick, an external hard drive, or even online cloud storage. That way, you can be certain that your files, documents, and personal pictures never get lost, no matter what happens.

Invest in a personal Wi-Fi hotspot
Another way you could protect yourself from any potential threats to your security is by avoiding public Wi-Fi networks whenever possible, as they often lack the necessary security, and can present a safety threat for your personal information and data, including any passwords, credit card numbers, and other important details. Instead, opt for your own network, in the form of a mobile hotspot tied to a SIM card. Of course, the private internet connection in your accommodation will most likely be perfectly safe, but it's still wise to invest in a portable wireless internet hotspot that will allow you to work safely in cafes, while commuting and while traveling, for instance.
Think about getting a VPN
One more great thing that can help keep you protected when using a public or an otherwise unreliable internet connection is a good VPN. Also known as a Virtual Private Network, a VPN will help to protect your data by "hiding" your traffic from other users on the network, allowing you to stay safe while working. What's more, a VPN could also allow you to "unblock" certain websites and content that might not be accessible in the country you're visiting, such as watching your favorite shows on Netflix in places where they aren't available for viewing yet.
While the life of a traveling entrepreneur might be an exciting and fulfilling one, it still requires every digital nomad to be more alert and more aware of their safety on the road. Thankfully, these handy tips will allow both you and your equipment to stay as secure as possible while you enjoy the life of remote working.