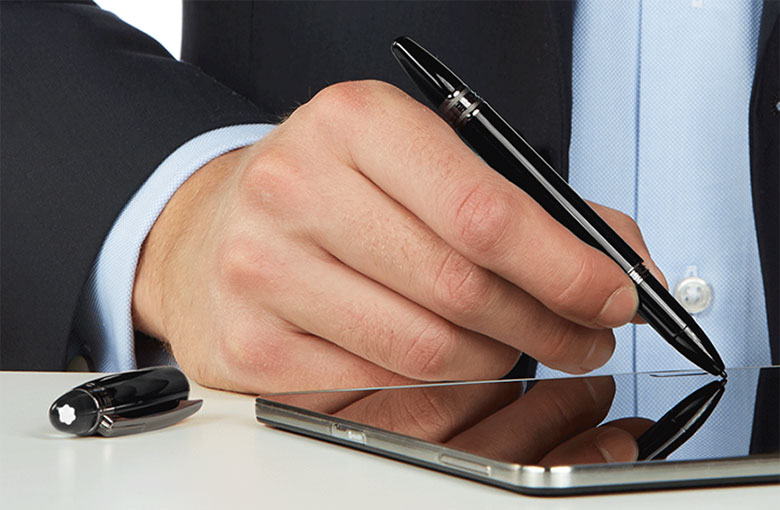 Sydney 17 September 2014. Introducing the first ever e-Starwalker writing instrument and the Pix Pen
Montblanc has launched a series of Galaxy Note 4 accessory collaborations with the global leader in mobile technology Samsung Electronics Co., Ltd. The collaborative collection features a variety of accessories that perfectly complement Galaxy Note 4, the new device from Samsung's successful Galaxy Note line.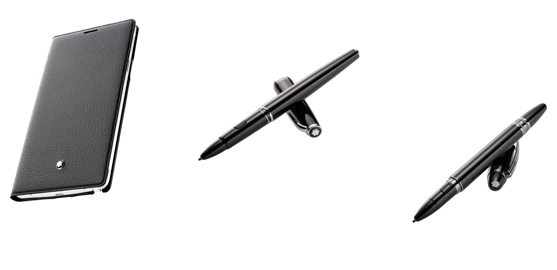 "The launch of Galaxy Note 4 represents our continued commitment to providing people with the essential tools for self-expression," said Younghee Lee, Executive Vice President of Global Marketing, IT & Mobile Division at Samsung. "Montblanc's century old expertise and leadership in the art of writing made the Maison an ideal luxury partner for Samsung Galaxy Note 4."
Montblanc's luxury and craftsmanship heritage meets the breakthrough technological innovations of Samsung. The exclusive collection features the union of Samsung's advanced S Pen technology with Montblanc's latest writing instruments, the Pix Pen and e-Starwalker Pen.
"The integration of the Samsung S Pen with Montblanc's sophisticated, timeless style and expertise in the art of writing provides users with an elegant key to unlock new opportunities for self-expression," said Jens Henning Koch, Executive Vice President Marketing Montblanc International.
The partnership will also debut the Meisterstück Soft Grain Cover and Montblanc Extreme Cover for Galaxy Note 4, two luxurious flip cover cases specially designed by Montblanc Firenze Pelletteria leather artisans.
This exquisite collection of leather-crafted flip covers features a digital ID chip that when attached to the Galaxy Note 4, provides users access to exclusive downloadable Montblanc digital content. These add-ons include a Montblanc version of S Note featuring unique pen settings, cover and template, as well as a 3D effect ink home screen wallpaper and unlock effect.
The Pix Pen will feature an e-refill as well as black and blue ink, while the e-Starwalker Pen will include an e-refill and an analog ink refill. The StarWalker e-Refill will also be available separately for existing owners of the Montblanc Starwalker writing instrument. The Montblanc Extreme Cover for Galaxy Note 4 will be offered in two leathers: Extreme and Soft Grain.
The Samsung and Montblanc collection will be available at Montblanc stores from October.
Contributor
Hayley Maynard | Niche Marketing Group