Owning a beautiful smile depends on various factors concerning your facial appearance. Still, the primary factor that determines the quality of a smile is its whiteness. It is possible to have dull teeth despite proper oral care maintenance. Staining and discolouration mainly occur when you regularly consume tobacco, alcohol, and similar items that damage your teeth.
However, there's a quicker way to get a whiter smile which also increases the lifespan of your teeth significantly when they're damaged or chipped. By obtaining composite veneers procedure from an experienced dentist, you can ensure that your teeth look brighter and support your dental functions for a longer time.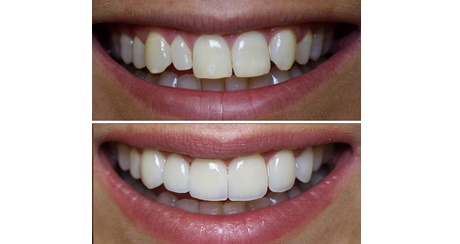 What are Composite Veneers?
Among the different dental veneers available for solving many dental problems, composite veneers prove to be ideal choices to get an instant solution. These veneers offer nearly similar results to porcelain-made veneers and are created using a special composite resin material.
In brief, let's find out how composite resin veneers can solve multiple dental problems while making your smile appear younger and fantastical.
Substantial Benefits of a Composite Veneers Treatment
Millions of patients and professional dentists widely acknowledged the following benefits offered by composite resin veneers around the world:

The duration of getting a composite resin veneer procedure is unbelievably short, and you could get them within one visit only. Usually, it can take up to 5 or 7 hours to get an excellent smile with this treatment, depending on the type of composite material available with your dentist.
There also exist no additional procedures or recovery time after obtaining this procedure because it requires no surgeries. The process is also practically painless.
Teeth can wear out over time because of natural factors and lose their enamel, protecting the teeth against cavities and other problems. Suppose you have a broken tooth, then getting these veneers is quick and hassle-free. If you break them, repairing them is also possible instead of replacing them, which is not the case with porcelain-made veneers.
Your dentist will examine the broken part of the composite resin veneers and add a mould of the same material to the site. It will again enable you to have a complete looking smile. These veneers can also support other dental treatments in the future, such as dental braces, teeth whitening.
Perhaps the best aspect of getting the composite resin veneers is that they're cost-effective and super affordable. These veneers can solve multiple dental problems at a fraction of the cost of getting more permanent dental implants. Those dental problems include misaligned teeth, gapped teeth, broken teeth, dull smiles, etc.
The composite veneers are a great and quick solution to get a beautiful smile in no time. They are also durable against typical trauma. If you maintain your oral health better, you can easily keep them for five years or longer with no reconstruction procedure.