Here to stay and better than ever!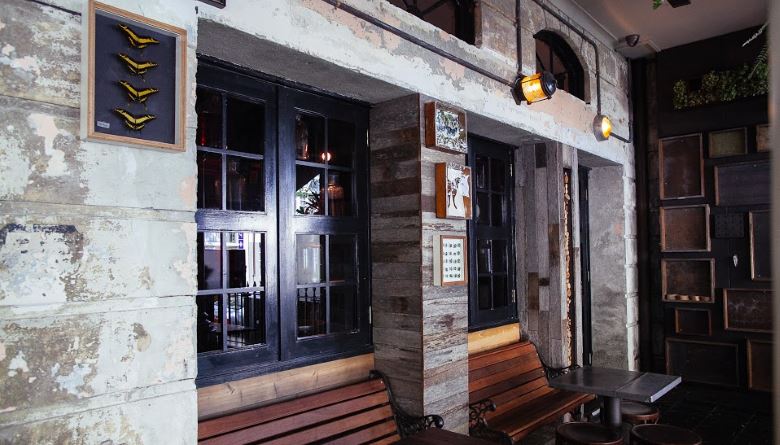 A bookcase opens and reveals a hidden room full of actors and dancers honing their craft; a door leading from a moody apothecary directs you towards an eclectic courtyard showcasing a lepidopterists (butterfly experts – don't worry, we Googled it too!) treasure chest. Inside an 80yr old French horn virtuoso and singer croons over timeless jazz standards. Different worlds blend, merge and transcend to create a world all of their own; you'll never know what you'll find behind each door when you enter The World Bar.
Iconic in its location in Kings Cross, The World Bar is truly a collection of worlds within worlds; each room can transport you to a different time and place. Showcasing a labyrinth of the bizarre, quirky and esoteric, all contained within the beautiful surrounds of a grand terrace, once housing Sydney's largest bordello, The World Bar is the perfect spot to discover, or lose, yourself.
Famous for its late-night parties, The World Bar offers so much more. With its unique rooms and large open courtyard, The World Bar is one of Sydney's premier spots to enjoy drinks in the sunshine. Boasting a range of craft beers, including a few local NSW brews, and an enviable cocktail list capped off with their famous (and improved) teapots, it's the perfect spot for an afternoon catch-up and see which world you end up in.
And it's here to stay. With an ever-changing landscape of renovations, The World Bar is looking better than ever and is ready to keep swinging with a whole heap of new events, whilst ensuring that the old favourite's keep the party going day and night.
The World Bar offers an immersive and hand-crafted experience where one can escape the rat-race of the city. For the peckish, there is a range of pizzas and dumplings on offer, beautifully displayed on handmade boards. Supplied from neighbouring boutique eateries, they're sure to satisfy the hungriest punter out there.
Featuring 5 small bars, you can choose your own adventure as you experience a totally different world within each one.
And it doesn't stop there. As the sun goes down, The World Bar opens up to a range of events, guaranteed to enthral music and culture lovers of all varieties. Monday nights have the smoothest vibe in Sydney with open mic Latin and jazz, where aspiring musicians have a chance to strut their stuff or take a seat and enjoy the silky house band.
If partying is more your style, The World Bar will still be hosting its famous club nights like Cakes, MUM, & The Wall. There's something for all music lovers, from indie-rock nights to the most respected international DJ's. Having shown off names like Flight Facilities, Dappled Cities, Motez, Nina Las Vegas, What So Not and even more recently a cameo from Disclosure, The World Bar is one of Sydney's top live music venues. On any given night you may find an indie band thrashing out new tunes in the Tearoom, live art being painted in the Apothecary while DJs play classic vinyls, an electronic producer testing out their stage presence to a heaving dance floor or an international DJ basking in the bass of hundreds of dancing feet.
For those in the mood for some lighter entertainment, Sunday's comedy nights are not to be missed and are guaranteed to light up your evening. Self-proclaimed as the "funniest thing you ever did hear" and showcasing 8 up and coming comics each week, The World Bar is the perfect location to have your chilled out Sunday evening.
With an ever-expanding list of different events to be staged, including planned theatre shows and a rehearsal space for up and coming bands, The World Bar is the new home of Sydney's most unique and thrilling experiences.
The constantly re-vamped World Bar has something for everyone to be involved in. It's world within world's, guaranteed to excite and intrigue one and all. Open from 3pm each day, come down and settle in for an adventure; you never know what you might discover.
Address and Opening Hours
Open 7 Days from 3pm 'til late.
24 Bayswater Road
Kings Cross, NSW 2011
Worlds at the Bar
For those of you wanting to bask in some summer sun, the Upper Terrace and Lower Terrace are for you. Featuring a spacious outdoor area right on Bayswater road, beautifully adorned by a collection of butterflies, this is the perfect place to relax and watch the world go by.
Step inside to the Apothecary, a million miles from home and yet somehow familiar, this used to house our dreaded poker machines. Now full of interesting, unique and bizarre artifacts, this small cocktail bar is the perfect place to relax with friends in a lush and languid fashion.
If you're a bit of a party animal then head through to the The Club Room. The biggest bar in the venue, the Club Room is where the magic happens in an evening full of partying, dancing and thumping songs.
If you're after something a bit more relaxing; come put your feet up in The Bordello, once housing the Southern hemisphere's largest water bed, this 18th Century Parisian room features velvet red walls, a herd of comfortable, leather club lounges, a balcony, dj's and a heaping of charm.
For the artistic types, be sure to check out
The Tearoom.
A bar-cum-gallery, this room can be reserved exclusively for evenings with space for live bands onstage beneath the bespoke lampshade.
No Pokies, Green Energy, Charity Support
The World Bar is committed to be a positive influence in the Kings Cross community. Due to this we have removed all of our Poker Machines, keeping just one vintage machine as a charity donation box, and support a heap of different charities and organisations such as
The Wayside Chapel,
Gorman House,
and
Heaps Decent.
We also have a rehearsal space where the aspiring artists can come and hone their craft. The World is also highly conscious of its environmental impact, utilising 50% Green energy and supplementing the other 50% by planting Malee Eucalypt trees in NSW.
| | |
| --- | --- |
| Monday | Monday night is Sydney's hottest and longest running independent Jazz night. It's an open mic event, so send through your ideas and music to our resident house band and come along and have some fun. Take the stage or pull up a pew and enjoy the white-hot spirit of JAZZ! |
| Tuesday | Tuesday is Coyote night as The World Bar gears up to celebrate with Party DJs and everything from silent disco and live Brazilian samba bands to dance battles and costume parties on any given week. |
| Wednesday | Hit The Wall on Wednesday for Sydney's biggest and longest running bass party, featuring monthly internationals and Australia's leading trap, drum and bass and dubstep acts every week. |
| Thursday | Thursday nights is when Kicks comes to town. Local house music magicians swathe a path through the midweek monotony and hip-hop DJs lay a solid foundation to groove to. |
| Friday | FRI: Sticky Fingers, The Rubens, and Willow Beats have all taken the stage as part of one of Sydney's longest standing electronic and indie night, that mighty womb of live music – MUM |
| Saturday | Saturday night has stood as a sounding board for Australia's up and coming dance music producers and DJs at The World Bar for nearly 10 years and Cakes is no exception, bringing incredible international acts into that fold and helping Sydney's dance community to thrive. |
| Sunday | The work week is about to begin again, so put a smile on your face with Sundays Terrace Comedy night. Featuring 8 standup comics, spend a perfect Sunday night having a laugh with friends old and new. |