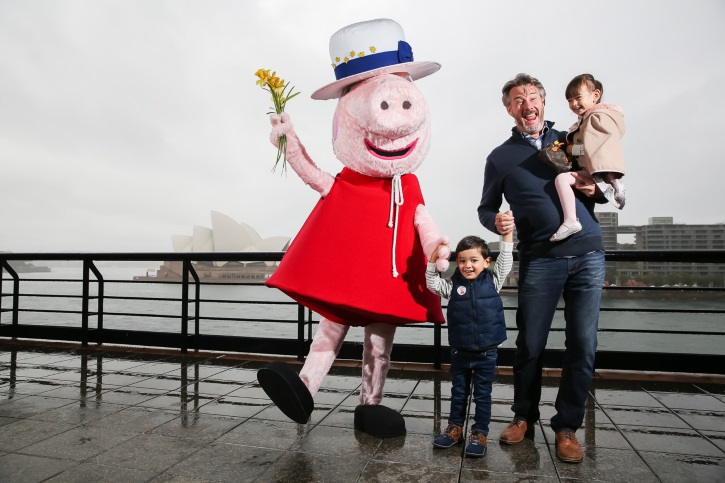 Sydney: Thursday April 30th 2015: Peppa Pig, through the brand's licensor and distributor Entertainment One (eOne), has teamed up with Cancer Council to help teach children about sun protection, healthy living and staying active.
The children's television favourite and global phenomenon, will sign-on as Cancer Council's newest ambassador to encourage children to embrace a healthy lifestyle.
Acting CEO of Cancer Council Australia, Catherine Sullivan, said the world's most famous pig is a welcome addition to Cancer Council's stable of ambassadors: "Peppa Pig has a major influence on young children who watch the program. We are really excited that Peppa has agreed to be our latest ambassador and we hope a new generation of Australians will learn about sun safety, healthy living and the importance of being active.
"Lifestyles learnt in childhood can affect kids later in life, especially in cancers linked to sun exposure and obesity."
TV personality Barry Du Bois said: "My twins Bennet and Arabella are obsessed with Peppa Pig, so it's good to see Peppa join Cancer Council to help raise awareness of the fight against cancer and to help educate children about staying healthy. I'm sure Peppa will have a lasting positive effect on young Australians that they will take into adulthood."
eOne and Cancer Council Australia have already launched a range of Peppa Pig sunscreens that have become best sellers in Coles Supermarkets. This success encouraged Peppa to get even more involved to engage and educate young Australians and their families.
Trish Padoin and Con Goutzoulas from eOne Licensing Australia, also attended the partnership announcement.
Trish Padoin said: "Cancer Council Australia is such a respected charity and their work raising cancer awareness and funding research, education and support services is vital. We hope that lending Peppa's brand to their amazing work will not only help them raise more funds, but also help communicate their messages to more young Australians, and in turn, hopefully this will see them embrace healthy practices throughout their lives."
About Entertainment One

Entertainment One Ltd. (LSE:ETO) is a leading international entertainment company that specialises in the acquisition, production and distribution of film and television content. The company's comprehensive network extends around the globe including Canada, the U.S., the UK, Ireland, Spain, Benelux, France, Germany, Scandinavia, Australia, New Zealand, South Africa and South Korea. Through established Film and Television divisions, the company provides extensive expertise in film distribution, television and music production, family programming, merchandising and licensing, and digital content. Its current rights library is exploited across all media formats and includes more than 40,000 film and television titles, 4,500 hours of television programming and 45,000 music tracks.
About Peppa Pig
Pre-school phenomenon Peppa Pig is created by animation studio Astley Baker Davies and is co-owned and distributed by Entertainment One. Peppa Pig is Australia's number one selling pre-school toy license and consistently achieves the number one rating spot for pre-school television in Australia, airing on The ABC. A theme park attraction Peppa Pig World opened in 2011 in the UK at Paultons Park in Hampshire and attracts over one million visitors per year. The show is broadcast in over 180 territories worldwide and is fast gaining an international following with successful merchandise launches throughout Australia, the U.S.A., the UK, Spain, Italy, Benelux, CEE, South East Asia and Latin America. There are over 700 licensees globally with licensing programs launched in 70 countries.