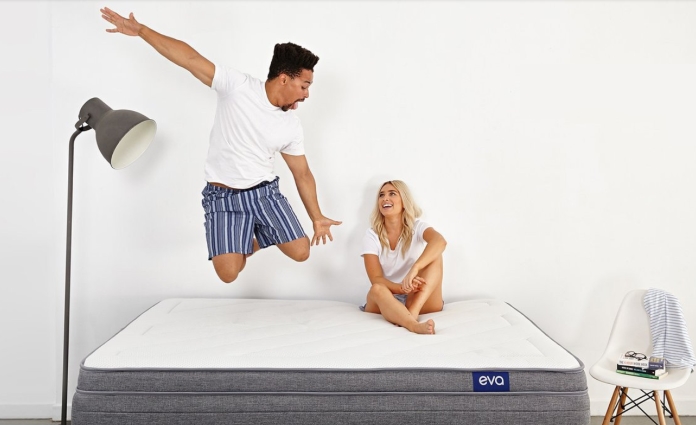 Out of more than 50 different bed-in-a-box companies, only Eva Mattress has earned the best mattress in a box award for three years running. Their mattresses were once again voted the Best Mattress in a Box for 2019 for being the best in comfort, spinal support, reduction of partner disturbance, build quality and the ratio of value to money.
Here is how Eva mattresses excel in these 5 areas:
Comfort - Every Eva mattress has 5 important components that provide comfort:
* Memory foam - Thanks to memory foam Eva mattresses have a smooth, firm surface with a generous amount of bounce. Memory foam resists deformation, so the comfort that it provides lasts for years.
* Cooling gel - Beads of cooling gel scattered throughout the top layer of Eva mattresses absorb heat and draw it down to the center of the mattress where it can be carried away by air flow.
* Micro springs - These tiny springs help Eva mattresses conform closely to a user's body contour and relieve pressure points.
* Natural latex - Eco-friendly latex gives Eva mattresses a nice pillow top, as well as a protective barrier against microbes and tiny critters that would steal our peace of mind and comfort.
Spinal support - All the components in Eva mattresses contribute to spinal support, but springs and density foam are primarily responsible for keeping the sleeper's skeletal system properly aligned. Here's a closer look at these 2 important layers:
* Springs - Every Eva mattress has between 1,000 - 2,000 springs depending on its size to give it optimal firmness. These springs rise and fall to fit each sleeper's unique body shape and give them the skeletal support that they need.
* Density foam - Right in the middle of Eva mattresses is a thick layer of density foam. This foam brings the mattress' firmness to perfection and helps keep the skeletal system aligned, as well as relieve pressure on joints.
Reduction of partner disturbance - The secret behind the ability that Eva mattresses have to reduce partner disturbance is pocket springs. Every single micro spring and support spring in Eva mattresses is sewn into a cloth pocket. These pockets allow the springs to rise and fall individually and this keeps movement from traveling from one side of the mattress to the other.
Build quality - The Eva Mattress Company believes that high-quality products don't happen by accident, so they invested in thorough research and careful design to create their mattress. They now maintain this high quality by holding themselves to exacting standards as they source the materials for the mattresses and manufacture them.
Value to money ratio - Eva Mattress works hard to produce top-quality mattresses that provide great comfort and spinal support, while also keeping the price of every mattress below $1,000.00. When you consider that they also ship their mattresses for free all over Australia, it is understandable why they were voted as having the best value to money ratio among bed-in-a-box companies.
Although Eva Mattress is proud to have been the best bed-in-a-box in 2017, 2018 and now again in 2019, their greatest satisfaction comes from knowing that they are improving the quality of sleep, productivity and overall quality of life of thousands across Australia. Are you ready for an Eva mattress?