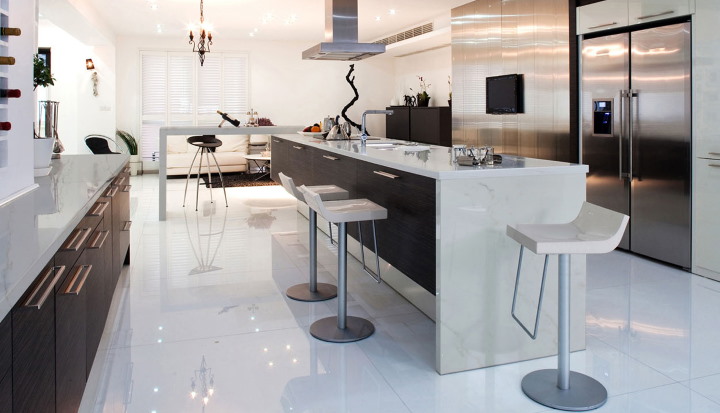 As the years pass on a house, it's natural that certain things might need an update. The walls can crack, the paint will peel, and some appliances just aren't what they used to be. When renovating or updating any part of the house, it can be a long but rewarding process. Many people often turn to the kitchen for renovation, as it is the room most frequently used in a house. There are a few simple but smart choices you can make when renovating your kitchen.
Change Up Your Countertops
A fast and easy way to bring new life into your kitchen is to change the material on your counters. Some people choose a nice wooden top, while others might go for marble. A stone kitchen benchtop is a sure way to catch someone's eye in the kitchen. These types of renovations can be messy but are a relatively easy and quick way to change the look of your kitchen.
Add an Island
Depending on how big your kitchen is, an island is a great way to add more space to your kitchen in a sleek manner. The island can double as a prep station, a snack table, or even a small cocktail bar. This renovation will require a bit more work and pay, as there will be more considerable work done to the kitchen.
Embrace the Open Concept
An open concept kitchen will make a striking impression in any home. Typically, this will require walls to be removed so that the kitchen naturally flows into the next room. Many people with an open concept will opt for either all countertops lining the wall, or a large island in the middle of the kitchen. No matter which you chose, an open concept kitchen is a popular idea that has become a trend in recent years.
Consider: Cosy, or Minimal?
Different kitchen ideas will appeal to different people. Many people like an open concept kitchen that is minimalistic, as it is a naturally appealing look. Others may opt for wooden countertops and fixtures for a more rustic look. Some people might choose to add multiple drawers and shelves in the kitchen to display spices, dried food, tea, and more. No matter which you prefer, you should first think about what you like and don't like in a kitchen.
By first knowing your style and preference, it will make it easier to decide exactly what you want in a dream kitchen.