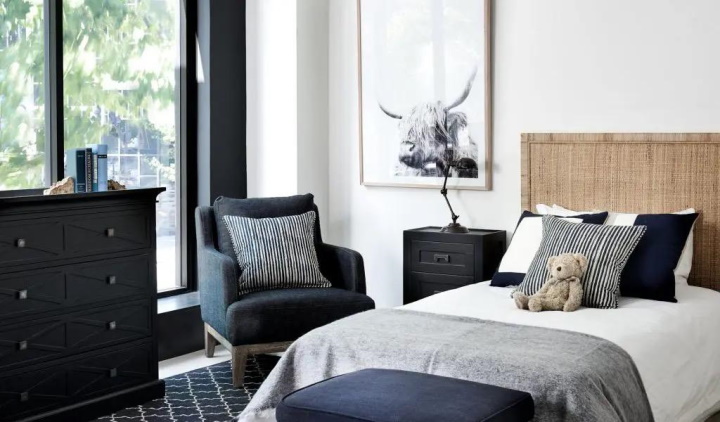 Side Tables are one of the most essential and versatile pieces in any home. They give you a place to rest your cup of coffee or glass of wine, and they provide an exciting design element to any room. Are you thinking about buying some new side tables? Here is a list of the 15 best side table ideas with styling tips for each one by La Maison.
Apply Minimalistic Approach
Less is more in terms of usefulness! Consider the non-negotiable objects you must have next to you when you wake up and then combine them with one or two decor pieces to create a beautiful and valuable aesthetic.
Attractive Color Scheme
In each space or style job, colour plays a crucial role. Even while your bedside table should be practical and efficient, it should also blend in with the rest of your room and the colour scheme you've previously set!
Play with hues comparable to the primary furniture items in the room, such as the bed and dresser, when it comes to the table itself. Keep accent colours consistent as well — for example, if you have gold hardware throughout the bedroom, make sure your bedside table pick and style reflect this.
For Book Lovers
Even if you're not a big reader, there's no disputing that is stacking books on a small surface like your bedside table looks excellent. Pick a few favourites that fit well together stylistically and stack them spine-out in one area of the table. To make the most of the area, place a candle, vase, or trinket on top.
Add Your Style
Things don't always match, and that's fine! If two different bedside tables flank your bed, it's time to lean in and appreciate their individuality. If you're just getting started with bedside tables, two distinct types can be the way to go. Go for it if they match stylistically (for example, both rustic style bedside tables or both industrial).
Add Practicality
The usefulness and practicality of your bedside table are vital factors to consider. Nothing is more annoying than relaxing into bed only to be distracted or turned off by an unclean environment. Keep it simple and display the essentials you'll need daily.
Add closure to the Design.
Because this is your area, it's critical to include unique touches that truly reflect who you are. Framed images and emotional trinkets can be used to remember loved ones, or colours, textures, and valued objects can be used to reflect your individuality.
Size Is Important
If you're dealing with a bit of a larger bedside table, bulkier objects will help balance it out. Coffee table books, statement lamps, and even little pots to contain your favourite plant all look lovely.
Add Coastal Design
With some coral and blue and white décor, you may give your area a subtle seaside feel—porcelain is always in trend.
Candles Add Style
Candles not only provide a visual aspect to your home, but they also create a peaceful, cozy atmosphere that is ideal for a bedroom. A candle holder with trendy tapers may give a bedside table some much-needed height. Find something distinctive that suits the vibe of your room if you want a classic candle in a holder.
Add Aesthetic Vibes
Framed paintings or pictures may add a touch of whimsy or tenderness to your bedroom decor. A framed photograph will be the ideal complement to any room, whether you want to view your favourite people when you wake up or look at something lovely and motivating.
Make your Table Bed of Roses
Beautiful blossoms are also a lovely accent to any nightstand. Put your favourite kind in a vase or container that matches the rest of the room's colour scheme. Place your flowers in their holder on top of your book stack if you're short on space.
Illuminate Your Space
A light source is something that most people require on their bedside tables. Add a lamp to help brighten your room while also adding a touch of style. The marble-based Kio Table Lamp and the Virgo Table Lamp are quite on-trend with their copper shade and mesh base.
Mid Century Style
The mid-century design side table is an excellent choice if you want something that will blend into your bedroom area while still being utilitarian. No one can take their look away from the adorable small basket near your bed that can help you save space.
Get Natural
Nature-inspired elements will let us bring the outside in all year long, with no upkeep required! An earthy touch is added to this coffee table by a faux antler and leaf-shaped trinket dish.
Balance and Simplicity
Finally, it's critical to maintain perfect equilibrium (we guarantee it's much easier than balancing your life, which is an unreachable myth). Keep items on your sideboard that provide additional storage for you. Similarly, surrounding them with neutrals may be helpful if you have a few little multicoloured things, so they stand out and don't feel overpowering. Take a step back and remove a piece or two if it's becoming too much.