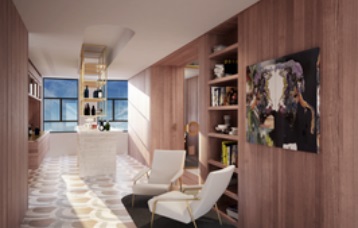 Sydney 5 March 2015. Statistics prove that workplaces are changing – serviced offices and hot desking environments are expected to see a 4.7 per cent growth for the next three years. The way people work is changing, and with that where people work is also changing at a rapid pace. The Office Space, a serviced office provider with a difference, has recognized this and is also changing with the times, launching their next serviced office venture, Paramount by The Office Space, in Surry Hills in April.
After ten years in the serviced office industry, The Office Space understands the needs and desires of small businesses and start-ups whose philosophies may not match the traditional and often sterile serviced office approach. The Office Space came to life to provide a seamless and supportive professional platform that fosters the growth and success of start up, small-medium and entrepreneurial businesses. Offering inspiring office and multifunctional spaces that provide an environment within which to work, to connect and to collaborate The Office Space has successfully created more than just a place to do business. It is this understanding of a new breed of businesspeople that gave birth to The Office Space's original venture on Reservoir Street a decade ago, and has now been evolved for the company's second foray into the industry with Paramount by The Office Space.
Situated within one of the area's most iconic properties - the heritage listed Paramount Pictures site on Commonwealth Street - the eponymous serviced offices pay homage to the history of the site whilst simultaneously catering for a very modern workforce. The offices within Paramount by Office Space have been architecturally designed to offer an intelligent new way of working, providing impeccable professional and personal services to create a business environment of unparalleled prestige and sophistication for businesses of one to five people.
At the helm of the bold new concept in office real estate are owners Naomi and Boris Tosic, whose vision for collaborative, creative workspaces is being brought to life again, but in a very different way.
"The serviced office industry is projected to grow at close to 5 per cent per year for the next five years, but not everyone fits into the traditional model," explains Naomi. "Paramount by The Office Space is the next step in catering to a growing market of small businesses who don't want to work from home, but want something more than a sterile stand alone office environment. Paramount by The Office Space still offers the core services of collaboration and creativity that were founded at The Office Space, but on a more sophisticated and niche level. We like to think of ourselves as the boutique hotel of serviced offices."
And just like a boutique hotel, these rooms aren't available by the hour. Geared towards creating a creative and collaborative yet professional community, offices at Paramount are available by the month, or on longer-term leases. Providing everything you expect from an office such as internet, receptionists and access to meeting rooms, Paramount by The Office Space also offers the things you don't – such as a business concierge service, events manager, bespoke scents, and access to the Golden Age cinema and bar for truly impressive business presentations.
Address: Paramount building, 80 Commonwealth Street, Surry Hills
Available: April 2015