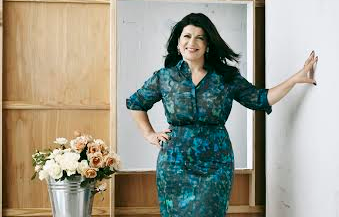 Feb 26 2015. Sue Ismiel, CEO of Australian Owned company Sue Ismiel & Daughters, makers of Nad's, will be participating in a panel discussion at the 2015 NAB International Women's Day Brunch on 6 March at the Ivy Ballroom.
Celebrating the valuable contribution of women in business and the community, the brunch titled "Women as a global economic force", will explore how the potential of women in the economy can be unlocked, whilst encouraging the audience to take positive action because it makes good business sense.
The panel led by David Hornery (NAB Executive General Manager for Corporate and Specialised Businesses) will also include Jillian Segal (Director NAB Board) and Angela Mentis (NAB Group Executive Business Banking). The annual event will be attended by over 200 middle and senior female management personnel from NAB and its clients.
An inspirational woman and true entrepreneur, Sue Ismiel will be part of the panel discussion on women as a global economic force and explore ways women can receive the adequate support to achieve their business and leadership goals.
"I'm honoured to be able to contribute to this insightful discussion on how we can encourage women to achieve excellence in business and in the community," Sue says.
From being a humble housewife, who had the desire to solve her daughter's unwanted hair problem, to building an iconic Australian company with an enviable global reputation, Sue Ismiel is a true entrepreneur. Nads products are now sold internationally in major retail chains in Australia, USA, UK, and NZ - quite the feat for a product that was created in Sue's kitchen 23 years ago.
Today, Sue continues to drive innovation and excellence whilst working towards taking Nad's towards an initial public offering. Not just a hard working business woman, Sue Ismiel is an inspiring example of how hard work and dedication can lead to great things in life while still giving back to the community. Through her tireless efforts to improve the wellbeing of those less fortunate, Sue is an exemplary philanthropist and a role model for women looking to start their own company.
From donating hundreds of thousands of dollars to the Jean Hailes Foundation to fund an important world-first study known as the Sue Ismiel International study into Women's Health and Hormones that are now published in a US Medical Journal, to funding a cochlear implant operation for a child in need, to sponsoring 101 children through Child Fund in Ethiopia and raising over $200,000 for Westmead Children's Hospital, Sue is always committed to enhancing the lives of women and those less fortunate. Sue also supports charities that help women with Polycystic Ovarian Syndrome, of which excessive body hair is one symptom.
"Success is an amazing feeling, but that feeling is best preserved through giving back. I feel blessed to be able to do so, and appreciate that just like success, style is judged far more broadly," Sue says.