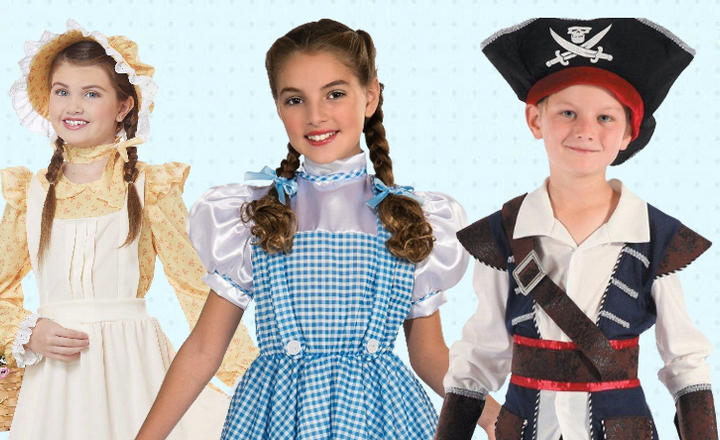 As a parent, few things are more heart-warming than seeing the kids dress up and let their imagination run wild. Whether it be for Halloween, a birthday party, or a casual Sunday afternoon, there are millions of ways the family can get into character and join the fun.
Of course, with so many creative and imaginative costumes to choose from, finding the perfect match can be tricky. Especially if your child's interests are constantly changing each season.
To help you find a costume that your children will absolutely love, be inspired by these trendy and creative costume ideas.
Old Lady Costume
What's that, you say? Speak up! You heard right. You can get a fully-fledged old lady costume for your little one to wear. Or you can make one yourself out of your grandma's existing wardrobe (with permission, of course).
Regardless, this costume will instantly transform your child into the future, and show you what life could be like for your loved one. To complete the transformation, make sure you have the following:


Wig with curlers

Shawl

Flower clip

Glasses (preferably with a chain)

Dress (maybe with some kind of floral pattern)

Necklace, gloves, and cane
Zombie Costume
Yes, the zombie craze has been done to death (no pun intended). But that doesn't mean a zombie apocalypse isn't around the corner, right? By having a zombie costume, you can easily blend in with the army of the living dead and escape to the safety at the right time.
Okay, even if the zombie apocalypse never does happen, you still have an awesome costume for all year round! Whether you purchase in-store or make one yourself, don't forget the essentials:


Fake blood (either applied yourself, or as a 'splatter' effect on a pre-made costume)

Torn clothes (use old clothes you don't care for anymore)

Make up for face, arms and legs (think of pale skin, eyeliner, grey/black lipstick, fake scabs, and other prosthetics)
Toy Story
With the release of Toy Story 4, new characters have been added to the roster (Forky), and side characters have been given a much greater focus than previous entries (Bo Peep). So your kids have a wider range of characters to transform into – along with classic characters like Woody, Buzz Lightyear and more.
With the Forky costume, you get a onesie costume which has the outline of the fork and pipe-cleaner arms, and a Forky mask to complete the look. Meanwhile, the sassy shepherdess Bo Peep also has a new look, which is complete with a bodice, lace embellishment, and capped sleeve with scalloped hem.
Pirate Costume
Get ready to sail the high seas! If the pirate life is for your child, you'll be glad to know there's plenty of styles to choose from. You can personalise your costume with accessories like bandanas, fake plastic swords, boots, belts, eye patches, and vests that will make you look like a real pirate.
To complete the look, purchase a makeup kit and paint on a fake moustache or goatie for the boys, or eye liner for the girls. You can go even further by including some fake scars for that 'tough as nails' look.
Where to Buy Kids Costumes
These days it's easy to find a well-fitting and affordable costume either online or in-store. If you live near a costume store, go on with your kids so they can try on a few costumes until they find one they love.
Of course, if shopping in-store is out of the question, you can just as easily find a great costume online. Within a few minutes you can browse through hundreds of costume designs and find one in your preferred style and size. If you sign up to their mailing list, you'll be instantly notified of specials and discount codes to help you save money.
Better still, most online stores offer free shipping if you spend a minimum amount. Sometimes as little as $50! Best of all? Many online stores are starting to offer flexible payment plans like Afterpay. So you can own the costume now and pay if off in bite-sized weekly instalments.