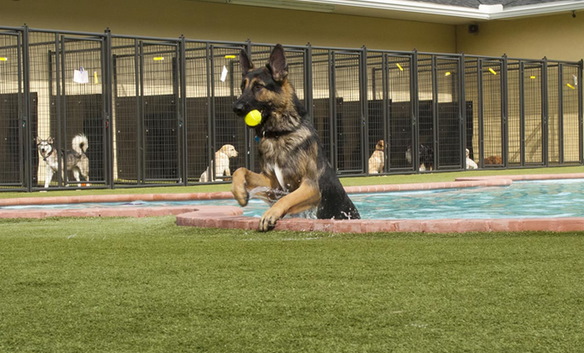 This is a question that many Australian pet owners ask, as they look for a suitable kennel for the family pet while they are away on holiday, and if you fall into this category, you will want some assurances that your pet is in good hands. Here are a few aspects of a good dog boarding kennels to help with your selection.
Professional Canine Care Team – As much as people love working with dogs, you do want to leave your pet in the hands of professional canine carers, as they are equipped to provide the animal with the care it deserves, and with qualified personnel, if your dog needs anything, they would be the first to know. There are first-class dog boarding kennels in Sydney from an established dog training school, where the service is second to none. It is absolutely essential that a qualified vet is on call 24/7 and any kennels that doesn't have this should be avoided.
Outdoor Exercise Area – This needs to be enclosed and large enough for a big dog to run freely, and the policy would be that every dog gets to spend time in the outdoor area on a daily basis.
CCTV Round the Clock – It is essential that the facility has CCTV coverage from every elevation, and with controlled access, your pet is safe. People are not allowed in without a valid reason and certainly no dogs leave without the consent of the staff, which ensures that all the canine visitors are in a safe environment. The facility would also be manned 24/7 and any immediate needs would be attended to, regardless of the time of day.
Welcome for a Visit – If a dog boarding kennels advertise a great service, you should have no problems paying them a visit, where you can see for yourself the level of care and the conditions. When you watch the staff interacting with the dogs, you quickly realise that both the dogs and the staff are having great fun, so do take note of the interaction between carer and guest.
Award Winning Facility – If a dog boarding kennels has won several awards, this is a sure sign they know what they are doing and offer a top service, and ideally, you want a company that is family run and been in business for a long time, as this is a strong indication of top-level service. It is never a question of "as long as my dog is safe, I don't care", indeed, your dog deserves to have as good a time as you on his holiday, so look for a facility that has this mindset and you can quickly tell if the staff love dogs.
Do take the time to visit, as this is by far the best way to assess any kennels, and if you see all of the above, then look no further, as your dog is bound to have a great time in his temporary environment, so you and your family can relax and enjoy your much-needed break.