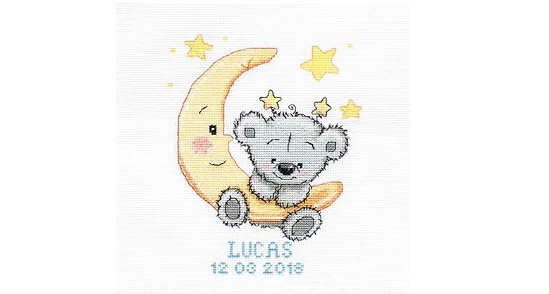 Every parent's joy begins with the birth of their first child. Many parents want to share their new bundle of joy with family and friends creatively. One way to do so is by cross-stitching your baby announcement on fabric or cross-stitch canvas.

These baby cross stitch patterns are perfect for announcing the arrival of your new baby boy or girl and will be cherished forever. In this blog post, you will find top cross stitch designs you can use to announce your baby's arrival in style. Choose your favourite design or make your cross-stitch pattern.

Best Baby Announcement Cross Stitch Pattern Ideas
1. The adorable baby bunting pattern is a great way to decorate your little one's room. You can cross-stitch it in any colour or style you like, with the option of customising each square according to the décor. It would be perfect for beginners and advanced stitchers. However, ensure that embroidery threads are used if you choose more complicated stitches, such as sequins or beads. It will show up well against plain fabrics (such as white).

2. Cross stitch patterns that say "a new life has come" is the best way to show your excitement for the new baby. These designs can be cross-stitched and framed or cross-stitched on fabric and hung in your home. There are many ways you can cross stitch this phrase—whether it's incursive, block letters, different colours, or even with an embroidered font.

3. Cross-stitching the gender of the newborn! This craft is an excellent way to tell the world that you are going to be a parent, and it's also a sweet way to commemorate your child's birth. It is a technique that uses two needles and cross-stitch fabric. Go with the "Welcome newborn embroidery kit" to implement the idea of cross-stitching pink colour for girls or blue for boys on the fabric.

4. Cross-stitching is a small cross stitch image of an animal holding a baby in its hands or on its back. This is the perfect cross stitch pattern idea for a new baby announcement. It is adorable, and using cross-stitching allows you to customise it to be just what you want. With just a few hours of your time, your piece is ready. However, you can also personalise it with a name and date, and it would make a touching addition to your home.

5. One of the easy and creative ideas is cross-stitching the phrase "our precious bundle of joy" for baby announcements. You can begin with stitching on a fabric with cross-wise threads to get the desired phrase embellished on the fabric. It is always nice to get that finished product of the cross-stitching and look at it forever. You might start this craft by purchasing some cross stitch kits, including everything needed for the project.

Bottom Line

Spread your happiness while announcing your special day with the top baby cross stitch pattern ideas mentioned above. This blog post provides cross stitch patterns to celebrate the arrival of a new baby. Consider these cross stitch pattern suggestions that will make great gifts for friends and family while also announcing your bundle of joy's birth.