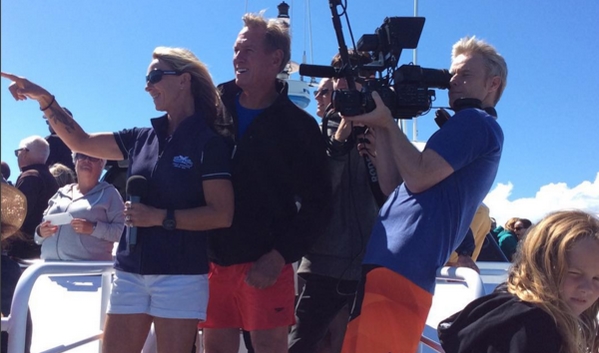 The inspiring relationship between local whale lover Vicki Neville and the famous humpbacks that frolic and play in the protected waters of Hervey Bay will take centre stage in a documentary on National Geographic Channel on October 19.
It will be the first screening to a national audience for the highly-anticipated wildlife documentary by acclaimed producer and presenter Greg Grainger, who filmed the project during the 2015 whale season.
Entitled The Whale Whisperer, the program features the humpbacks raw and unadulterated behaviours documented by a team of five cinematographers and all captured in glorious 4K format.
The film focusses on the conservation efforts of local operator Tasman Venture's team member Vicki Neville, after whom it is named.
Greg Grainger said he looked forward to the 50 minute special leaving viewers in awe.
"Vicki gets us in close for a look at the whales' big repertoire of social play, from peduncle slapping and spy hopping to phenomenal breeches where whales 11 times the size of an elephant launch themselves skywards like a Polaris missile only to crash back down onto the waves with an enormous splash,'' Mr Grainger said.
"She takes us to mothers and their newborn calves where the proud female whale teaches her youngster all the behaviours necessary to survive in the wild waters of the Southern Ocean."
Lloyd Burgess, owner and operator of whale charter Tasman Venture, said they were honoured to be a part of the documentary.
"It was great pleasure to have Greg Grainger and his crew aboard," Mr Burgess said.
"It is very exciting that a film maker of his calibre dedicated himself to the project, highlighting the interaction, emotion, intelligence and behavioural patterns of the whales."
The documentary project was secured as a joint initiative between Tasman Venture, Tourism and Events Queensland (TEQ) and Fraser Coast Tourism and Events (FCTE).
FCTE Acting General Manager Bradley Nardi said the documentary would provide incredible national and international exposure for Hervey Bay, regarded as the premier destination in the world to view humpback whales.
"This is a fantastic exposure for the Fraser Coast.'
"Greg Grainger is an award-winning producer and presenter of travel and adventure documentaries to remote and exotic locations. We are excited to see both this feature and the Fraser Coast being showcased to the audiences of the National Geographic channel," said Mr Nardi.
The documentary will go to air on National Geographic Wild on October 19 at 7.30pm. For subsequent screenings, head to channel.nationalgeographic.com.