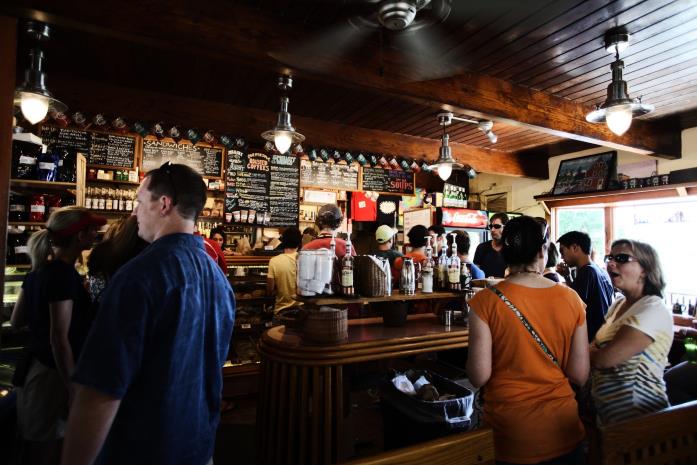 Capturing the attention of potential customers is key to generating more revenue. Small businesses need to find ways to build up local support through word of mouth and an ongoing relationship of trust. To increase that sort of influence there are several things you can do.
Know your strengths and your customers
Make sure you have a fixed idea of exactly what your business offers your customer base. Having a specific field of interest will make it easier for customers to find you. Ideally you want to build up a reputation for being a market leader in your particular field and not having to spread yourself too thin.
Being known for a (Unique Selling Point) USP is closely linked to this. By differentiating yourself from competitors and offering a specific service you will make it easier for customers to find you.
Once you begin to understand why people are looking for the services, skills or products that you deliver, you will realise what is required to develop a solid relationship. This will then allow you to modify the specific features of your business based on ongoing feedback from your customer base. By understanding exactly what your individual strengths are you can develop a successful USP and brand name.

Be familiar with social media
According to a recent report by Sensis, nearly eight out of ten Australians are now on social media. 47% of small businesses in Australia also have an active presence on social media. It is therefore logical that these sites offer a dynamic gateway to reach potential customers and maintain brand fidelity.
Facebook is the most popular platform, with around 9 out of 10 businesses having a presence in its ranks. LinkedIn is the second most popular, with 24% of small businesses logging in to interact with customers and clients. Twitter and Instagram are next in the market for popular social media outlets.
A noticeable trend is that social media use increases with a business's size. As the report from Sensis suggests, "SMBs lag behind but there has been an improvement this year, up from 31% to 40%" The report also states that consumers are more likely to trust a brand if it interacts positively with customers on social media.
Network at industry events

Going offline and interacting face to face with interested parties always benefits your business. By attending crucial industry events, either locally or nationally, you will be able to get the message across about your SMB. Networking at events is usually free, and it provides the perfect opportunity to discuss ideas with potential clients, customers and industry insiders.
Building up a network of relevant connections by asking the right questions and showcasing your knowledge and experience is a valuable method of finding new opportunities. But rather than seeing it as a gruelling job interview, simply stay positive and keenly aware of who's there and what they're discussing. You can then benefit from sound advice from contemporaries and potential clients and customers. This will bring an extra sense of personal confidence both in yourself and your SMB.
Get savvy with the online marketplace
According to a recent report on CNBC, international store Target is about to open up its website to third party sellers. Small businesses will potentially be able to use the Target+ system in the future to further their own exposure and potential customer base. At present the company is being cautious about who it approaches.
Target's digital and marketing head Rick Gomez told CNBC that so far companies such as learning toy developer Kaplan and electronic musical instruments company Casio have been chosen based on "what people are searching for."
As new commercial developments on huge international players such as Amazon and EBay have revealed, there is a clear route for small business to tap into the strategy of the biggest mega-retailers. How this will all pan out with other businesses will need careful examination, but this pathway promises to be yet another useful tool for small business owners.
Keep track of what works...and what doesn't
Keeping on top of assets and opportunities that may benefit your small business is vital for success in your particular industry. The Australian Government provides a variety of useful information for small businesses. As stated on its own portal, the Australian Government website contains "ready-to-use, relevant information for people who are starting, running and growing a business."
Both national and State and Territory governments offer initiatives and schemes designed to help SMBs like yours get off the ground and stay successful. Web-based resources make it easy to keep up to date with relevant sources outlining requirements, obligations and provisions of extra support. There are also helpful guides designed to provide further support and information.
It's also important to stay aware of what isn't successful. According to the Australian Bureau of Statistics there has been an increase in the rate of new businesses closing up within three years. So, despite an increase in new business coming onto the market, there is a greater risk of early closure.
To avoid this happening to your SMB, try to remember exactly why you started trading in the first place. Remaining true to your initial source of inspiration for starting a business is a big factor in allowing you to evolve while concentrating on the core values and output of the business.
Business finance specialists Maxiron Capital state, "while having personal investment in your small business is essential, don't try to do everything on your own. Getting advice and assistance in specialist areas such as accounting, marketing and IT could save you a large amount of time, stress and ultimately, money. If you spend too much time on areas that you are not completely confident in, or that fall outside of your expertise, it is always a good idea to weigh up the potential benefits of enlisting someone else for their skill and ability".

2019 promises to be another great year for small business in Australia. By getting proactive in publicising your brand's identity, getting to know your market inside out and steering clear of the risks involved, you will increase your chances of enjoying a successful and thriving small business.