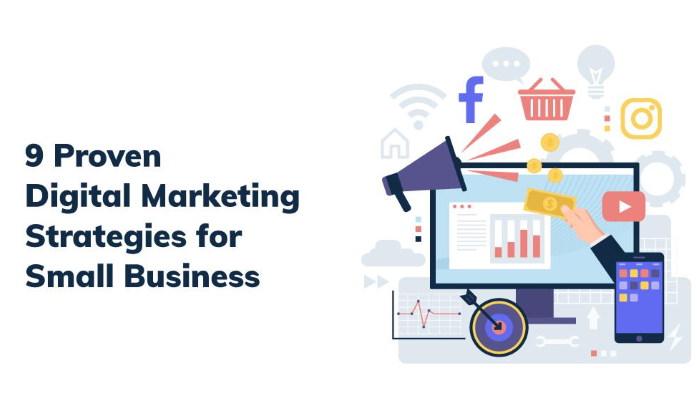 Small businesses usually have limited budgets for marketing. It puts them at a disadvantage over major corporations that allocated a significant amount on their marketing strategies—because of this, competing with big companies to get the attention of their target market can be very tough. These businesses can resort to digital marketing strategies to drive their message across their market to pit against the big corporations. Digital Marketing Agency experts can share their knowledge with their clients to maximize the effects of their efforts. But not all small business owners understand the importance of having a solid digital marketing plan. They need to figure out how this can help them boost the reputation of their business significantly. Here are some facts that could help small businesses embrace the digital marketing trend.
Importance of Digital Marketing for Business
Digital marketing allows businesses to get hold of more target audiences in the most cost-effective and measurable way possible. It also allows companies to have direct interaction with their prospects and gain more knowledge about what their future customers are looking for. Because of this, they will have an idea about the personality of their customers to develop brand loyalty. This type of marketing also lets them save money and get hold of more customers without the need to spend more like what they used to do with traditional marketing strategies. Furthermore, digital marketing strategies can let them track their customers' responses to their marketing efforts right away.
After learning the importance of digital marketing strategies on businesses, here are several tried and tested digital marketing strategies that small businesses can implement to get more customers as fast as possible.

Proven Strategies for Small Business
All small businesses need to jack up their sales to grow their business. If they have no funds to spend on traditional marketing plans, they can use these trustworthy strategies that can help them achieve their sales goals without spending a lot of money.
Launch a blog - Setting up a blog is an ideal way to disseminate new information about the company and the products and services that it offers. When the content posted reaches your target audience, it will gather significant SEO backlinks and encourage users to return to the website. Businesses may also consider accepting guest bloggers to increase the traffic and add more content variety on the site.

Participate in networking groups - Small businesses can benefit from joining networking groups and professional organizations since it will help increase the reputation of the company. The people encountered in these organizations can allow business owners to build valuable partnerships. They may eventually turn into long term clients.

Develop a solid sales pitch - Any traditional or digital marketing strategies will not work if you do not have an effective sales pitch. Businesses must know how to create a relevant presentation for all their sales leads to connect with their target market. They need to concentrate on their benefits instead of the features. Once they managed to come up with a perfect elevator pitch, they can have a better opportunity to sell their products or services all the time using any marketing methods.

Create Responsive Web Design
Small businesses that will come up with responsive web design will significantly reduce the site's bounce rate and lead to sales conversion. Also, responsive web design is cost-effective since they no longer have to develop different websites for mobile and desktop audiences, which can get extra expensive. Also, those who use sites with responsive design will have more chances to change it faster when needed. It can also enhance user experience to attract more customers and magnify their search engine optimization strategies. Most importantly, using a responsive web site allows businesses to have uncomplicated ways to run their websites for easier management.

Optimize Website to Load Fast in Desktop & Mobile Versions
Since most customers use different gadgets every day, small businesses need to create websites that everyone can view using different devices all the time. By having a responsive website, customers who often use their mobile phones will not have a hard time browsing through the site. As much as possible, business owners need to make sure that both their desktop and mobile versions have fast loading speed to reduce the bounce rate.
Create Shareable Content
Making the right type of content is essential for the digital marketing campaign for small businesses. If they post bad quality content that is not relevant to the site, it can damage the business. Meanwhile, publishing high-quality content can enforce a stronger relationship with the target audience, boost the brand image, and increase the sales of the business. To make sure that the content works for the website, business owners need to come up with content that helps companies reach their marketing goals and expand their reach. It must also assist the audience to get the right answers and invite them to share it with others.

Target Organic & Quality Traffic
When using SEO, small businesses often face struggles when building links and authorities for their websites. But when done correctly, organic and high-quality traffic can provide a lot of benefits to improve the standings of small businesses. These SEO strategies can help boost sales, look for new customers, deliver lasting results, assist in beating the competition, and promote better user experience.

Start Social Media Campaigns
Nowadays, social media has become an essential marketing tool used by digital marketers for small businesses. It is because the target audience and long-term clients spend more time browsing these networks compared to other sites online. Also, SEO Agency experts believe that people no longer use social media to connect with their loved ones alone. Instead, it also allows them to look for products and services online and help them come up with purchasing decisions. Most importantly, social media campaigns let customers reach out to the brands in case of a problem or when they need help in reaching out to the company for some complaints and clarifications.

Invest In Branding
Most small businesses tend to overlook the importance of branding. They believe that branding requires them to shell out a lot of money to earn recognition. But branding is very crucial for all types of businesses. It can help increase their values and allow their employees to have the same goals and motivations. It also lets them acquire new customers faster if they can spot your brand among the competition.

Run A/B Test Regularly
Small businesses must consider A/B testing to outrank the competitors in the modern competitive world. Managing a digital marketing strategy for small businesses will be difficult without the correct level of testing. Because of this, business owners need to conduct tests all the time. They should start with the smallest element up to the most significant factors to see if they have a competitive advantage over the other businesses.

Do Email Marketing
Email marketing can help small businesses, whether online or offline. Generally, email marketing requires business owners to come up with a list of existing customers and their possible clients. They can use this to provide future updates on their products and services through regular email correspondence. The constant communication will result in more reliable brand recalls and higher chances of converting leads into clients in the long run.
Conclusion
After learning all these digital marketing strategies for small businesses, business owners can start implementing these in all their marketing campaigns. They can begin to formulate a plan and integrate it with their traditional marketing efforts to get as many customers as possible. As a result, the reputation of the business will expand, and more people will avail of their offers in no time.
Author's Bio:
Shaik Khaja, An SEO Content enthusiast who always keeps a tab on the latest happenings in the Digital Marketing Industry. Curious to learn and implement emerging things floating around the industry. Reach out me gmail Twitter FB LinkedIn