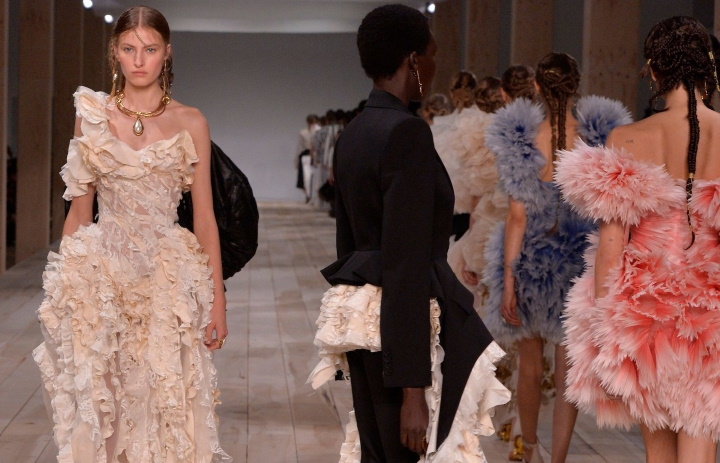 Alexander McQueen and Vestiaire Collective has announced a collaboration aimed at empowering a move towards "circular practices"—efforts to re-use, share, repair, refurbish, re-manufacture, and recycle to create a closed-loop system, minimising the use of new resources and the creation of waste, pollution, and carbon emissions.
Vestiaire Collective's new 'Brand Approved' programme
Supported by innovative technology, the collaboration marks the launch of Vestiaire Collective's new 'Brand Approved' programme and reinforces Alexander McQueen's growing commitment to the durability of luxury fashion.
Known for its impeccable craftsmanship and creation of uniquely beautiful garments, Alexander McQueen's collections are designed to stand the test of time. Both McQueen and Vestiaire Collective have committed to facilitating a move towards sustainability in the fashion industry and in consumer behaviour more broadly.
In terms of the intiative, a select group of clients are contacted by a sales representative at Alexander McQueen. Any pieces the clients wish to sell are assessed and, if eligible, assigned a buy-back price. Once the pieces are received and authenticated by Alexander McQueen, the client is issued with a credit note with which they can purchase new items from specified Alexander McQueen stores.
Once processed by Vestiaire Collective, the pieces will carry an external NFC tag giving prospective new buyers access to information confirming the authenticity of the piece. The pieces will be available to purchase on a dedicated 'Brand Approved' page on the Vestiaire Collective app and site.
Challenging linear economy and setting new, more sustainable standard
Emmanuel Gintzburger, CEO Alexander McQueen commented: "Alexander McQueen is committed to a move towards circular practice, both in the design studio and in the development of new business models. We are delighted to be the first house in the world to collaborate with Vestiaire Collective on its Brand Approved programme and to give beautifully crafted pieces a new story. We are confident that our customers will be equally excited to take part in an initiative that challenges a linear economy and sets a new and more sustainable standard for the future. We hope many houses will follow because to have impact-at-scale, we need to act collectively."
The collaboration represents a merging of compatible values and emphasises the importance of offering a more considered buying philosophy. "There is an urgent need to address the way we currently produce and consume fashion. Vestiaire Collective's 'Brand Approved' programme offers a sustainable solution, reinforcing the importance of durability, whilst empowering first-hand fashion players to disrupt their linear business models and embrace circularity.
"We are incredibly excited to launch the new service in collaboration with the prestigious house of Alexander McQueen, driving a shared mission to embed circularity at the heart of the fashion ecosystem," Fanny Moizant, Vestiaire Collective Co-founder and President said.
Donation to James Beard Foundation supports women-owned restaurants
Meanwhile, Alexander McQueen parent company, Kering, announced a donation to the James Beard Foundation to support women-owned restaurants that have been impacted by the pandemic.
Restaurants owned by women are being disproportionately impacted by the economic realities of the pandemic, according to a National Bureau of Economic Research report. Permanent closure rates have been rising since September 2020 and a nationwide survey conducted by the National Restaurant Association in December 2020 found that 17% of restaurants—approximately 110,000 establishments—closed owing to the pandemic in the United States.
A 25% drop in the number of women business owners—measured from February to April of 2020—could hurt gender equality in the business world and beyond, the National Bureau of Economic Research reports. Prior to the pandemic, according to the United States Bureau of Labour Statistics study in 2020, only 22% of head chefs in the country are female.
"We have all witnessed the severe impact of the pandemic on our restaurant culture. These businesses contribute to the heart and soul of our cities and communities, and now more than ever need our support. The fashion and food industry have a symbiotic connection and strengthen each other to foster inspiration and creativity. We are proud to support the James Beard Foundation, an organization that empowers female culinary talent and champions gender equity," said Laurent Claquin, President of Kering Americas.
To support these businesses that, for many, are essential to communities across the country, Kering's donation will fund the James Beard Foundation's Open for Good campaign, which not only provides economic relief to restaurant-owners in need but seeks to create a more equitable and sustainable industry post-pandemic. In 2020, Kering had over 38,000 employees and revenue of €13.1 billion.
The James Beard Foundation promotes "Good Food For Good™", highlighting the centrality of food culture in our daily lives. Through the variety of industry programmes that educate and empower leaders in our community, the Foundation has asserted the power of food to drive behaviour, culture, and policy change.
The organisation is committed to giving chefs a voice and the tools they need to make the world more sustainable, equitable, and delicious for everyone. As a result of the COVID-19 pandemic, the James Beard Foundation launched the Open for Good campaign to ensure that independent restaurants not only survive, but that the industry is able to rebuild stronger than before.