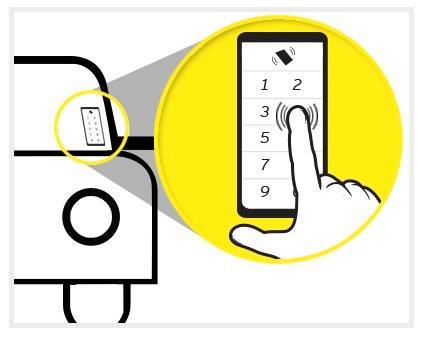 December 5, 2014 –
Hertz, the world's leading general use car rental brand, has introduced new technology to its Hertz 24/7 cars in Australia, allowing members in Sydney and the Gold Coast to use their mobile phones to unlock an impressive range of vehicles including Volkswagen Golfs and newly introduced BMWs.
Hertz 24/7 is an all-inclusive, self-service car sharing scheme where users can rent by the hour or by the day – a new mobility solution that combines the best of car sharing with car rental and the latest on-demand technology
The cutting-edge Hertz 24/7 PinPads remove the need for membership cards or keyfobs, allowing registered customers to book and unlock cars using just their mobile phones and the Hertz 24/7 app. The PinPads are also equipped with Near Field Communication (NFC) technology, so the car can be unlocked simply with an enabled mobile device.
These innovations are particularly popular with corporate renters looking for a flexible, more sustainable and cost-effective alternative to taxis or other solutions such as grey fleet. In Australia, companies such as Channel 9 are also experiencing the benefits of exclusive-use Hertz 24/7 pool cars, as well as many others around the world.
Scott Soutar, Channel Manager at Channel 9, said: "The Hertz 24/7 service has been very well received by our team and the on-site vehicles are in constant use. Instead of spending excessive amounts on taxis, there are cars available to rent in our car park. It's a win-win as we have all the benefits of a company pool car without any of the ongoing maintenance hassles."
Hertz 24/7 is an hourly or daily, all-inclusive*, car rental service. Cars are parked locally in neighbourhood streets and hourly rates include unlimited kilometres. Prices start from just $9.90 an hour for economy vehicles and range up to $14.90 an hour for prestige vehicles including convertible Mini Coopers and BMW 118i turbo-charged sports hatchbacks.
Creating a Hertz 24/7 profile is completely free andHertzHer provides access to vehicles in all locations where Hertz 24/7 operates, including Sydney and Gold Coast as well as London, New York, Berlin and Paris, making this service a great option for business and frequent travellers.
Greg Giraud, Australian General Manager of Hertz 24/7, added: "Carsharing is increasingly popular as a cost-effective and convenient option for companies and individuals as it removes all cost of car ownership – from maintenance to running costs. Hertz 24/7 integrates carsharing and car rental providing great convenience and flexibility. With our new turbo-charged, sporty European BMWs and VWs in Sydney, we offer a stylish alternative to car ownership or taxis."
Hertz 24/7 vehicles can be booked online, via the Hertz 24/7 app or by phone. To unlock the cars customers have to enter the six-digit code they will receive by SMS prior to the collection time on the PinPad. With NFC, users of selected Android and iPhone 6 devices can use their mobile phones to access vehicles.
More information about Hertz 24/7, including locations in Sydney, the Gold Coast and worldwide, is available from www.hertz247.com.au

* Included in the hourly rates are petrol, registration, damage-cover, cleaning, servicing – the only exception are tolls.
About Hertz
The Hertz Corporation operates its car rental brands in approximately more than 11,500 corporate and licensee locations throughout 145 countries in North America, Europe, Latin America, Asia, Australia, Africa, the Middle East and New Zealand. Hertz is the largest worldwide airport general use car rental brand with more than 1,400 airport locations in the U.S. and a presence at more than 250 international airports. Product and service initiatives such as Hertz Gold Plus Rewards, NeverLost®, Carfirmations, Mobile Wi-Fi and unique vehicles offered through the Adrenaline, Dream, Family, Fun, Green and Prestige Collections set Hertz apart from the competition. Additionally, Hertz owns the vehicle leasing and fleet management leader Donlen Corporation, operates the Hertz 24/7 hourly car rental business and sells vehicles through its Rent2Buy program. The company also owns Hertz Equipment Rental Corporation (HERC), one of the largest equipment rental businesses with more than 340 locations worldwide offering a diverse line of equipment and tools for rent and sale. HERC primarily serves the construction, industrial, oil, gas, entertainment and government sectors. For more information about Hertz, visit:
www.hertz.com
.