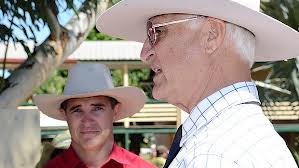 Mt Isa 7 May 2013. The Member for Mount Isa, Rob Katter welcomed talk on a rural leasehold land rent freeze at the Beef Crisis Meeting in Richmond today.

"I asked the Minister for Natural Resources and Mines to consider freezing rural land rents in Parliament last week and got a positive response , so it's very gratifying to hear the Agriculture Minister John McVeigh talk today of a freeze on rents," Mr Katter said.

Rural leasehold land rents had gone up 20% every year for the past six years, and that was set to continue until 2017 when the cap comes off, he explained.

"Given the extremely adverse industry conditions for Western graziers, I asked the Minister to freeze leasehold land rents for these graziers and to commit to stopping extraordinarily high increases in the future," Mr Katter said.

"I'm very pleased it looks as though that might be happening."

The Beef Crisis Summit was held today in Richmond, drawing hundreds of beef farmers in the region. The summit was organised by a group of beef producers and facilitated by Federal Member for Kennedy, Bob Katter and Member for Mount Isa, Rob Katter and was attended by State and Federal ministers.