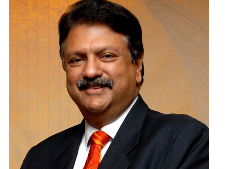 Nurturing a Social Impact Eco-System: 11 Questions with Social Impact Entrepreneur Ajay Piramal
Chairman of Piramal Healthcare, Ajay Piramal and his wife Dr. Swati Piramal believe in nurturing social-impact projects.

They are extensively involved with the Piramal Foundation, the philanthropic arm of the Piramal Group, a diversified global business conglomerate, which has presence across various sectors such as healthcare, life sciences, drug discovery, healthcare information management, specialty glass packaging, financial services and real estate. They personally lead, guide and nurture the foundation.

Each social project that is funded and nurtured by Piramal Foundation lies within one of the four broad areas – healthcare, education, water and empowerment. Projects like Piramal Sarvajal and e-Swasthya are now Harvard Business School Case Studies.

Read more about how Ajay Piramal, a member of Young Presidents' Organization since 1992, started the Piramal Group and his inspirations and stories about the Piramal Foundation's groundbreaking philanthropic work:

1. What was your first job or business?
My father acquired a machine tools business when I was 24. In a sense, he gave me the "keys to the shop." I had to handle everything from marketing, sales, strategy and quality. It was a very good training ground for later in my career when my father and older brother died in quick succession and I became chairman of the group at 29.

Our flagship was a textile mill, which was founded in 1871. These were challenging times for the textile industry, and I was able to turn around a nearly bankrupt business, which was badly hit by the longest textile strike in India's history. I honed my management skills in my first job in the machine tools business and that helped me to form the Piramal Group.
2. What is one must-read book for business leaders?
The "Bhagavad Gita" is a 3,500-year-old text and a must-read on how to understand the true meaning of life and how to apply the lessons in both life and business. The Piramal Group operates with a single-minded purpose of "doing well and doing good" underpinned by its core values of knowledge, action and care.

3. Fill in the blank: If I wasn't a business leader, I would be a [BLANK] because [BLANK].
If I wasn't a business leader, I would be a teacher. I enjoy working with young people and helping them realize their own dreams. At the Piramal School of Education and Leadership we train young people to become leaders. We take young postgraduates who want to make a difference and let them work for two years in rural and urban areas to help improve education standards for under-privileged children. When I see the aspirations of these young people I am extremely moved by their passion to make the world a better place. I also serve as chairman of India's largest NGO Pratham, which helps millions of children learn to read.
4. What is the most difficult leadership lesson you've learned?
To have the courage to take the "path less traveled" and believe that "values create value" (in business and life). To keep to your values in a turbulent and ever-changing world is a challenge, but we believe that business must do well and do good to make a difference to the world around us.
5. What is one of the most successfully funded and realized projects your foundation has helped bring to fruition?
In 2007, a young social entrepreneur, Aditya Natraj, approached me with an unconventional idea to improve the quality of education in government schools. The idea involved investing in improvement of leadership capabilities of headmasters — implemented through young fellows who were keen on contributing to the social sector. I have always believed that the social issues that have persisted after more than 68 years of India's independence require a solution that is innovative, can achieve breakthrough results and deliver change. Aditya's concept, starting with 10 schools and 10 fellows in Rajasthan, was this kind of solution. We began our journey with a small seed capital of Rs5 million. After eight years of learning, the program now covers 1,300 schools across three states with a fellowship strength of 250 and an equal number of alumni.
While the program sought to inspire unique leadership qualities of every headmaster, we were equally conscious that this had to result in an improvement in learning levels in these schools. Documented reports have shown that roughly 50 percent of students in Grade 5 in rural government schools are three grades behind in learning levels in language and mathematics. Our program over the last two years has consecutively delivered an average improvement of 20 percent in learning levels, as measured by an independent agency. In the course of this journey, we have innovated, failed, learned and refined the solution through a strong collaborative approach with the government.
We believe that our approach to philanthropy —providing risk capital to promising ideas and incubating them to achieve scalable results — has provided a new model for this sector in India. We've learned immensely, and the results are a glimmer of hope while the journey has been encouraging and enriching.

6. Who is/are your business role model(s)?
Warren Buffett because he has made sound investment decisions and has now willed considerable wealth to socially relevant purposes.
7. What is the best piece of leadership advice you have received?
Act as a trustee of the wealth that has been given to you and work in the interest of your beneficiaries; shareholders, employees, customers and society.
8. How has the Piramal Foundation affected the Piramal Group as a business?
The Foundation has a unique place in the group's contribution to its stakeholders and to society. The issues that we are trying to address in the Indian social milieu – primarily healthcare, quality of education, safe drinking water and women's empowerment – are complex issues with key development parameters. The Foundation's direct engagement in implementing a solution with governments, international donors and non-government agencies is creating replicable models that can be applied at scale. Our work across 15 Indian states is to create a platform for the Piramal Group to contribute in a meaningful manner to the country's progress.
To me, the Foundation's work is indicative of a holistic approach to the group's purpose of doing well and doing good. Not only do we contribute to nation building, but we do it with a professional and ethical approach. The Foundation has successfully built a strong and professional leadership team serving a large organization of 2,000 employees. Building a sustainable enterprise, not just a portfolio of projects, driven by a common purpose has called for investments in building a talent pipeline, strengthening governance mechanisms and a robust operational backbone. The application of innovation principles in a practical, frugal and inclusive manner have had huge learnings for the business too. Above all, we focus on outcome-based plans and execution.
The leverage that business and the Foundation derive from each other is a huge strength of the Piramal Group. The symbiotic relationship between the two parts of the organization builds an energy far beyond what each is capable of.

9. What is the process to determine which projects should be funded by the Foundation?
The philosophy of what the Foundation seeks to address, rests on three pillars:1. In India, we need solutions that are innovative and have the potential of delivering a step change in results. Innovation has a wide connotation in the social context – innovations in the solution set, innovative technology, a new delivery model, and process innovations. Governments have traditionally shunned innovation for the risk of failure (which is so inherent in the process), and this is where the private sector needs to step up. Learning from failures is a unique quality that we can bring to the foundation's approach. We continue to push the bar on what we strive for in the foundation and, to that extent, are hoping to create 'models' that can be replicated in varied context2. India's challenges are large. An innovative solution that works in a lab will not be of interest to policy makers who are trying to achieve a large task. Scale is critical in India and in that spirit, we believe that the models we create should be robust enough to work across large geographies and be sustainable (not just financially) in the long term. Ability to deliver scale, with the operational rigor that does not compromise on quality, is of immense value to governments and policy makers.
3. We acknowledge the fact that the Piramal Group will never have all resources required to solve any problem nationally. By establishing innovative models that have potential to scale, we are happy to share these in open-source partnerships. Our biggest partner currently is the Indian government, besides a host of national and international partners. The collective force of collaborative partnerships work at different levels – Piramal Foundation as an implementing agency, a knowledge partner that seeks to contribute to a better understanding of the eco-system, partnerships to further research in public policy, etc. We believe that partnerships are crucial to address large problems, and we actively seek these in the quest of a more equitable India.
10. How has being in YPO positively affected your business or leadership?
Interacting with successful world leaders and creating friendships with them has helped me stay updated on the latest developments taking place in other parts of the world and equip our company to meet these challenges.

11. An insight I would like to share with business leaders:
Professor Shikhar Ghosh at Harvard Business School works closely with our Group. He made up a puzzle called Ajay Piramal's Rules of Business for amusement of my colleagues at work and for my family. The puzzle, hints and answers are below.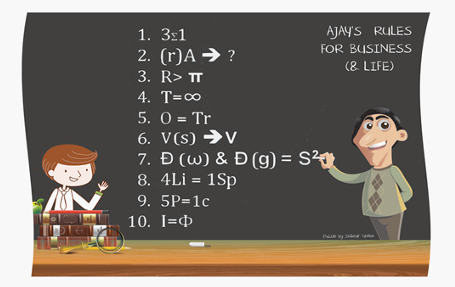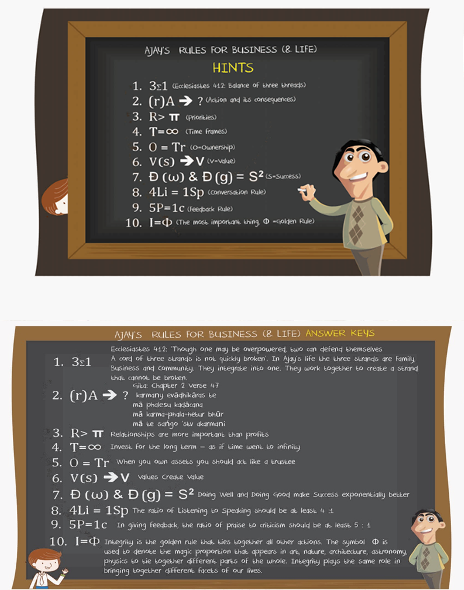 YPO (Young Presidents' Organization) is a not-for-profit, global network of young chief executives connected through the shared mission of becoming Better Leaders Through Education and Idea Exchange™. For more information, visit www.ypo.org.