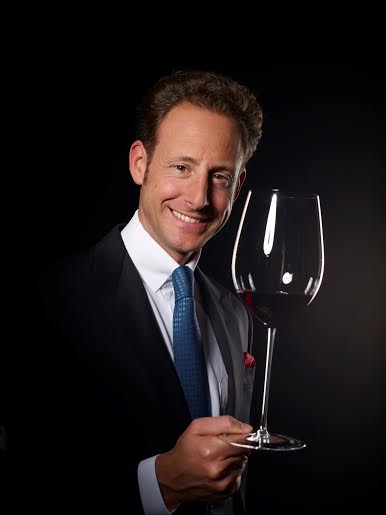 The history of Riedel glassmakers stretches back to 1678, when in northwest Bohemia near Steinschönau, a glass trader by the name of Johann Christoph Riedel passed down his passion for glass to his son – the first in what was to become a long line of artisans, committed to the art of glassmaking. While today the name Riedel is synonymous with some of the world's most revered glassware, their legacy almost did not make it out of the ashes of World War II.

"Our entire inheritance was taken by the Russian government at the end of World War II, and it wasn't until 10 years after that were we able to start again from scratch," relays Maximilian Riedel, CEO of Riedel Crystal of America. "I actually just returned last weekend from a visit to Bohemia with my father and friends to see where my family was active, and 70 years after World War II the ghosts of my family were still present; the factories are there, the graves are there, of course everything is ruined or other companies are running things and that hurts. My father says he never looks back, but all of a sudden he now feels like he needs to return so that he can own some of the properties that were lost to us."

Riedel's dedication to his family's legacy began in childhood when he was an apprentice to his father and had the chance to watch his grandfather at work. After high school, he attended a local college in order to split his time between classes and working at the factory, and then in 2000 at the age of 23, he moved from Austria to New York City to take on the role of executive vice president of Riedel Crystal of North America. Three years later, Riedel became CEO and president and three years after that, he joined Young Presidents' Organization.

Riedel credits these three things – family, New York and YPO – with making him the man he is today.

"I had two generations I was able to learn from," he says. "I was a big fan of my father's work, and I also had the pleasure of seeing my grandfather working hard and saw how he approached the subject. They definitely influenced me."

Riedel says he recognizes all of his employees, knows all his manager's first names – a personal touch he learned during his years in the United States.

"I don't want to say their [the United States] way of doing business is superior, but it's more modern and this is what I'm bringing to the company," he says. "Who I am today is a product of the people I surrounded myself with during my time in the U.S., and that includes the people in YPO. It is a think tank filled with like-minded people and people from whom I learned an inordinate amount."

Reading about the evolution of Riedel glasses means reading about wine, but more than that, it means reading what amounts to love letters to the world of viticulture.
In 1973, Claus J. Riedel was the first designer to recognize that the shape of the glass from which one consumes wine affects its bouquet, taste, balance and finish. In accordance with the Bauhaus design principle (that form follows function), he set about creating stemware that would match, and complement, the wines it held.
In 1986, the company made history by creating the first machine made glass based on the characteristics of a grape varietal.
In 2000, the Vinum Extreme was produced to highlight the special qualities presented in the best wines from the New World (aka not Europe).
In 2004, Maximilian Riedel created the O glass– the first varietal specific wine tumbler in history.
The NexGen student design competition is just the latest innovation from the fecund mind of Riedel. The program partners with leading international design schools to challenge students to reimagine the Nachtmann Crystal (the lifestyle division of Riedel Glassworks) aesthetic in their own vision. Three winners get the opportunity to bring his or her concept to market through the Nachtmann brand.

"Originally, the idea was to align with a famous fashion designer," recalls Riedel. "I met with Karl Lagerfeld's management team, but afterward, the meeting notes were never sent out – that was the week he sold his company. What I learned was that pairing with a big designer was associated with a big cost and this made me think, 'Why go to an established designer and pour money down his throat? Why not take a fraction of that money and invest it in young, potential design students?'"

Thus, Next Gen was born.

"We give students the chance to be creative but also to have a platform where their name is communicated to the design world," says Riedel. "For many this has been a stepping-stone and they are now working in the design world."

Riedel's favorite part of working in the food and beverage industry, he says, is the people.

"Wine salespeople, restaurateurs, sommeliers, wine makers, farmers, they all do it because they want to do it," he says. "These are dedicated people who have a passion for what they do, and I share this passion with them."

And, Riedel's least favorite part of working in the food and beverage industry, he says, is also the people.

"The people are the most difficult," he says with a smile in his voice. "They are all very mindful and creative and of course when you do something you love, you think that you are the best and that makes people difficult to access. Sometimes a passion can also be a stumbling block."
YPO (Young Presidents' Organization) is a not-for-profit, global network of young chief executives connected through the shared mission of becoming Better Leaders Through Education and Idea Exchange™. For more information, visit www.ypo.org.