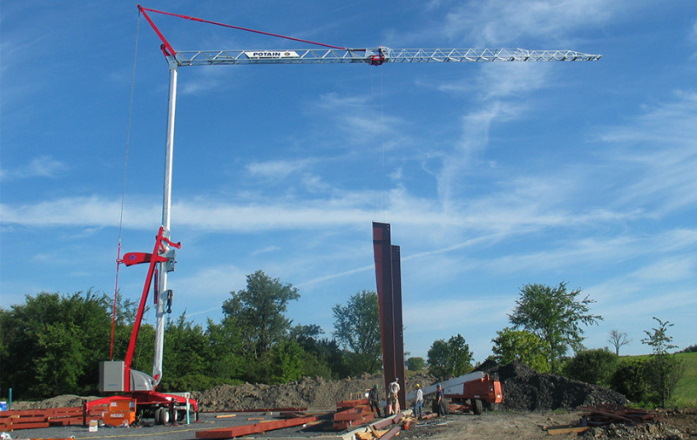 When it comes to employees and other members of the workplace, the ability to be flexible is a huge benefit, and something that employers want and need their workers to possess in order to have continuing success.
Just as it is true with people, the same principle stands firm when it comes to machinery — you must have mechanisms that are able to operate and function in the appropriate scenarios.
For this reason, there are a wide array of cranes on the market to ensure that you can find the appropriate one for your projects and needs. If you want to learn more about the different options, read on for the ultimate guide to the most popular cranes.
Generally, on a typical construction site, you are going to find a tower crane as these are the most used type of crane. Designed to raise substantial construction equipment such as generators and acetylene torches, and building supplies like steel and concrete, tower cranes have the ability to raise significant loads on the highest construction sites.
Used all around the world for a variety of projects that include tall buildings, tower cranes are fixed construction cranes (dissimilar to mobile or aerial cranes), meaning their anchor is bolted to a massive concrete pad for the span of the project so they can cautiously and securely handle bulk quantities.
Depending on the project, your tower crane may require particular attachments to ensure that it has the ability to hold the items being lifted.
Therefore, make sure to always inquire with a tower crane hire company about any accessories that are available for hire or sale (and are necessary for your project) to ensure you possess a complete lifting setup in your project site.
There are various arrangements and accessories available. For example:
A brick cage is designed to carry pallets

A block cage can move both heavy pallets and bricks

A rescue cage can handle up to six people

A concrete kibble makes handling concrete a lot easier

A man box is devised to move people to and from any height

A rubbish bin is a hands-free, self-dumping waste bin

A mono prop can support heavy loads up to 35 tons at a considerable height
2. Mobile Cranes
Unlike tower cranes, mobile cranes can be moved from one job site to another. These mobile cranes are attached to the back of a truck, and the truck can be driven from job to job as required and is adaptable enough to do more than one project in a day. These are an exceptionally versatile type of crane and are specifically created to function with minimal setup.
Mobile cranes come in a variety of styles, such as crawler cranes, hydraulic cranes, and carry deck cranes.
As they are mounted to a vehicle, mobile cranes can effectively be transferred to various job sites, while also enduring a mixture of particular site issues and ground. For this reason, mobile cranes tend to be used when the project involves operating on highway towers, developing maintenance across multiple sites, and setting of pipelines.
All terrain cranes tend to be thought of as a composite of a mobile truck crane and a rough terrain crane as they can be used on a variety of terrains and under diverse weather conditions.
With robust lifting performance (up to 1,000 tons and heights of 152 meters or 500 feet), superior terrain flexibility, and fast speeds on public roads and highways, these are ideal for remote construction sites with no road access. Examples are projects such as constructing wind turbines, installing oil and gas pipelines, lifting dense precast concrete building segments, and other additional construction and heavy haulage purposes.
For congested construction sites that are lacking in space or are too overwhelmed with other cranes, electric luffing cranes are an innovative concept as they are ideal for freeing up valuable space on full job sites. Crane operators especially like electric luffing cranes as they are provided with increased comfort and visibility.
The variety of electric luffing cranes on the market provide hook heights up to more than 100 meters; some have five jib configurations from 30 meters to 50 meters in 5-meter increments.
Generally, these cranes are used to evade static or mobile obstacles, as well as to avoid predicaments of overflying among cranes in out-of-service position.
The new hydraulic technology that electric luffing cranes possess makes it simpler to construct and quicker to operate. The low operating costs of these cranes (when compared to Diesel-operated luffing cranes) are an extra benefit of this new style of crane.
Additionally, their quiet emission-free electric operation was devised and suited to decrease the disturbance and strain inflicted upon the local residential environment, which may circle the construction site.
If you opt for an electric luffing crane, make sure to choose one that has a base that can be modulated and one that comes with an Automatic Safety Management System offering maximum driving comfort.
The overwhelming praise for self-erecting cranes comes from a genuine place. These are some of the simplest cranes to operate and exceptionally easy to install. In fact, they are often able to be erected in less than a full working day. Usually, self-erecting tower cranes are recommended for construction sites that require regular to irregular operations, as they are remote controlled solutions for projects that have a short timeframe.
What should self-erecting cranes be used for?
Well, for the most part, they are the perfect solution for building private houses, small to medium size residential buildings, and any other smaller construction projects.
When it comes to residential projects, hiring a self-erecting crane is most likely your best option as it is able to function completely autonomously, silently, and emission-free, decreasing agitation and tension on the local residences.
Do you have crane operating needs? Which crane do you think will be the most suitable for your project(s)? Let us know what projects you are thinking of starting in the comments below!
AUTHOR BIO
Hermann Buchberger is the Founder and CEO of Active Crane Hire (ACH). He's taken the company from start-up to Industry Leader offering the largest fleet of construction cranes in Australia. ACH launched a new type of crane previously unheard of in the Australian market: electric tower cranes. The company's infrastructure and associated services now comprise a fleet of trucks and trailers, a crane-rigging team, mobile crane technicians, a fleet of service vehicles, and an extensive range of crane spare parts.