Every freelancer knows that they need to constantly be on the hustle to find new clients and projects to work on. In some cases, when your client leads have dried up in your local area, you might find that you have more success finding new work if you throw your net wider. Thanks to the internet, this is now very easy to do, and you could quite easily work for someone who isn't from the same region as you. But have you ever thought about going one step further and trying to find some international clients who are based in different countries?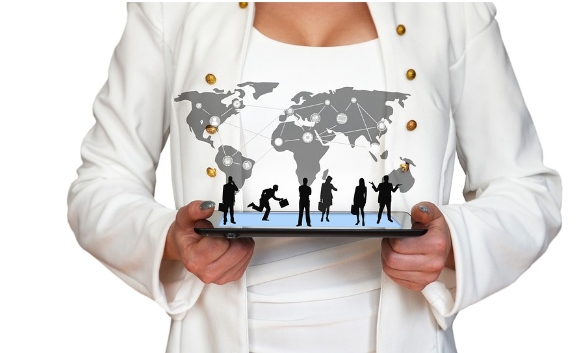 https://pixabay.com/en/isolated-desktop-woman-3033206/
Looking for clients in another country may be quite daunting, but you can be safe in the knowledge that there are plenty of other freelancers out there who are already doing it with plenty of success. As I've previously mentioned, the internet now makes finding foreign clients very easy and efficient. However, you might need to do a bit of extra planning when you do score an international project as there can be a lot of different factors to think about.
Here are a few things that you need to always remember when working with an international client.
Always Have A Contract In Place
Firstly, when you do find an international client who you want to work with, you need to remember that it's necessary to put a contract in place between the two of you. This will need to be compliant with the contractual laws in your own country as well as your client's. Even though you might never need to refer to the contract after you have started the work, it is still essential that you have one just to be on the safe side. The contract will outline your responsibilities and the scope of work to be carried out by you. It should also include the compensation you will receive for the work and how the contract can be eventually brought to an end. If you don't have one in place, you could end up in a great deal of difficulty at a later stage.
https://pixabay.com/en/office-work-workspace-business-2609221/
Double Check Your Insurance
If you already have business insurance, you should take a look at the small print and make sure that you are covered for working on international projects. Some professional indemnity policies won't cover every single country. So, it really is worth your while to check to make sure that you are completely covered. If you can't find out this information from reading the small print, it could be worth giving your provider a quick call. Don't already have professional insurance? If not, it really is necessary to take some out before you start working for international clients.

Consider Time Zone Difficulties
There's a chance that you might have to take into account differences in time zones when you do start working with international clients. If there is only one or two hours between you and your client, then this shouldn't be too difficult to manage. It might just mean that you have to have a very early or very late Skype call every now and then. However, if the time zone is bigger, you might have to carefully plan your work for them. You might also have to double check when your deadlines are in your own time zone, so that you don't ever miss one by accident.
https://pixabay.com/en/time-clock-pointer-clock-face-3665087/
Cultural Barriers Could Also Be Problematic
One of the main issues that many people have when working in a foreign country is that they aren't quite used to the cultural differences. Even though you are working remotely from your own home or office, that's no reason to think that you won't have to experience any cultural differences - there's a good chance that you probably will as well. In fact, the more time you have to spend communicating with your client, such as via emails or over a conference call, then the chance of you experiencing these differences increases. So, before you do commit to work with an international client, you might want to research what the business culture and working environment in their own country is like. That should give you a good idea of what you can expect.
Expect Some Language Barriers
It's not just cultural barriers that might stand in the way when working with international clients. If you take on work from a client whose first language isn't English, then you might find some breakdowns in communication. Not only can these be ever so frustrating, but they could prevent you from working to as high a standard as usual. Thankfully, there are lots of resources that you can use in this kind of situation. You can always use a translation service for documents and contracts. You can use this kind of service to translate all important paperwork that needs to be shared between you and your client. If you have any staff, you might want to also hire someone who is bilingual so that there is someone who can step in should the language barrier prove to be too much.
https://pixabay.com/en/book-dictionary-swedish-german-3101450/
Think About How You'll Be Paid
One of the biggest issues that some freelancers face when working for an international client is payment. The fees for making a payment into a foreign bank account can often be notoriously high and, if your client doesn't cover these, they will be taken out of your fee. So, you might end up being paid a lot less than what you were originally quoted, even if your client does pay in full. Thankfully, there are now a couple of payment services that charge very low fees. Some don't even charge a thing. One that is popular with freelancers is TransferWise, so you might want to take a look to see if you will benefit.
Don't Forget To Factor In Currency Exchange Rates
Another way you might end up getting stung when it comes to payments is currency exchange rates. As currency values are constantly fluctuating every day, the amount that you get converted in your bank account might be different next month. Unfortunately, this is something that is beyond the control of you and your client. One way to get around this, though, is to quote slightly higher than what you would with a domestic client. This should cover you for any shortcomings when the payment is converted.
https://pixabay.com/en/stock-trading-financial-finance-2463798/
There May Be Issues With Your Tax
Some freelancers find that working for foreign clients can affect their tax situation and will make their annual tax return a little more complicated when it comes to filing it. It could be a good idea to hire an accountant who specializes in this situation. Ideally, you would want an accountant who has some knowledge of the tax process in your client's country. Even though you will only have to file your taxes in the country where you live, it's still worth getting some expert advice from someone who knows how things will work on your client's side. It's really important that you are clear about how working for an international client could alter your tax situation, so make sure that you get sorted with this as soon as you sign off on a new project.
Working with an international client can help you on the road to freelance success. As long as you remember all of the factors mentioned above, you should find that it can be a very rewarding relationship for the two of you. Now you just need to start hunting for your first international client!