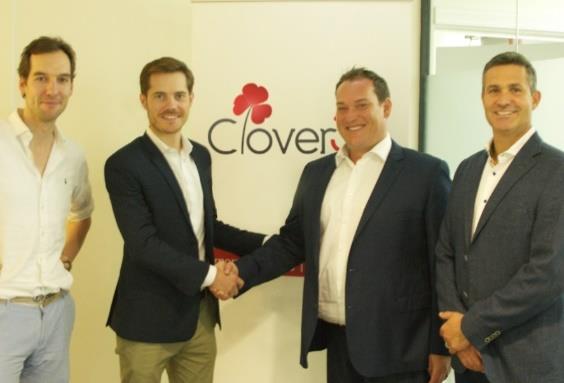 LEADING CORPORATE CATERING PROVIDER SET TO CONSOLIDATE SECTOR: AQUIRES KEY COMPETITOR AND HIRES EX HELLO FRESH LEADER
Australia's leading corporate catering provider – Order-In – has taken over major competitor Clover3 in the company's latest move towards dominating the national market.
This strategic move takes place only a year after Order-In itself was acquired by the global B2B Food Group. And the business has continued to go from strength to strength since. In 2018 the business' sales grew almost 40% and in January alone there was a 50% uplift in sales compared to the same month a year ago. In addition to this, the entity is currently servicing well over 9,000 customers around Australia and works closely with 1,000 local suppliers across the country, having increased its clientele by 50% in 2018, and 40% in 2017.
It's not just the sales and servicing that is experiencing fast-tracked success, with the Order-In team also going through significant developments. Head count is presently growing at 20% every year, and in the last six months alone they have doubled their teams in Perth, Adelaide, Brisbane and Melbourne. Jonathan Rowley, who founded Order-In 19 years ago predicts this number will increase in the coming months.
A key hire during this evolution is Markus Albert, who has been appointed as Co-Managing Director. Prior to joining Order-In, Markus worked at meal kit delivery service, HelloFresh, where he was responsible for leading and further expanding their presence in Australia and New Zealand and strengthening their daily operations.
Mr. Albert says, "I am looking forward to using my background to help take Order-In to the next level. In the last few months we have opened two new offices in Adelaide and Perth, significantly increased our supplier and customer numbers across Australia, and have now acquired one of our key competitors."
The purchase of Clover3 will also lead to an additional 1,000 new customers joining the Order-In platform and will see an extra 15% growth on top of the current projections.
Mr. Albert continues, "We are number one in the corporate catering space, and Clover3 was one of the other top three players in the sector. We don't have any plans in stopping there however, and we have more exciting developments in the works that we will be announcing throughout the year. Let's just say we are absolutely revolutionising food and meal solutions for offices, so watch this space."
Order-In
is Australia's #1 Corporate Catering service, taking the fuss out of ordering food for the office and giving businesses easy, online access to a variety of the best local and quality caterers. It is the leading hub for both office catering and kitchen supplies, taking out all the risk associated with catering, making you look good every time.