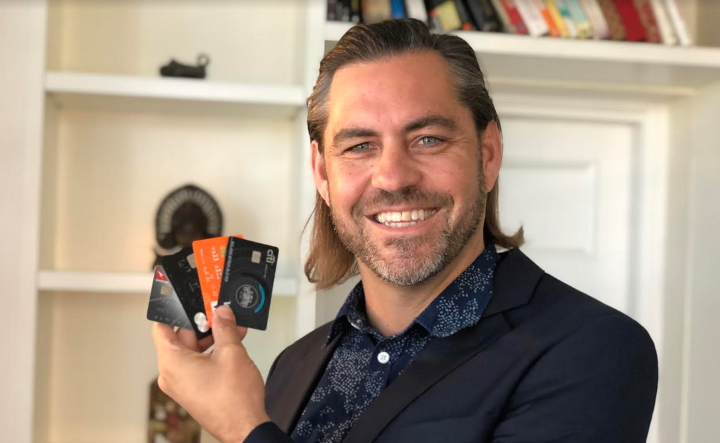 Chances are, if you are not already, you have considered at some point becoming a Qantas Frequent Flyer member – at least prior to COVID. For many existing members, you are probably wondering 'what now'.
"In the normal world of rewards, Qantas Frequent Flyer is about as big as it gets. As you would expect from a rewards program affiliated with an airline, one of the biggest drawcards of earning Qantas Points is the fact that you can redeem them for flights, upgrades and other travel bookings with Qantas and its partners. But with metal tubes mostly grounded, the future looks a bit bleak," Bleyer said.
Roland Bleyer is the founder of Australia's largest independent and most popular credit card comparison website creditcard.com.au. He has collated a definite guide to the Qantas Frequent Flyer program with insight into how to benefit during COVID.
How to join
"Despite COVID, there are still a lot of benefits to being a member. To join, you simply need to visit the Qantas website and complete the ten-minute application form," Bleyer said.
According to Bleyer, if you are looking to go one step further and sign up for a Qantas credit card or indeed any other type of credit card, you should always do your research first. You can compare Qantas credit cards on CreditCard.com.au. It is important to learn how the program works, and choose a card that allows you to earn more back in points value than you pay out in annual fees.
How to earn points
"While earning points through a credit card is perhaps one of the best known ways of racking up Qantas Points, there are many other ways to boost your balance. The important thing to remember is that you need to be able to accumulate points and use them on things in addition to flying – especially at the moment," Bleyer said.
Apply for a Qantas Earning Credit Card. There is a Qantas card to suit pretty much every spending style. Check out and compare the range of Qantas credit cards on offer at CreditCard.com.au.

Everyday Earning. Depending on the credit card you choose, you will earn a certain number of Qantas Points for each dollar you spend, which may be tiered according to the type of purchase you make.

Choose a Direct Earn or an Indirect Earn Card. A direct card links directly to a Qantas account and works well for cardholders who fly solely with Qantas and its partners. Whereas, indirect earn cards earn points on an independent rewards program, which works well for cardholders who want more flexibility.

Book travel. As an airline it is unsurprising that travel is a big points provider with Qantas Frequent Flyer. You can earn Qantas Points on every eligible flight with Qantas, Jetstar or one of the 50 OneWorld partner airlines, and on every eligible night booked with Qantas Hotels, Luxury Escapes provider or on the Qantas-Airbnb portal.

In addition, cardholders can earn Qantas Points on their travels through car hire with Budget or Avis, or by booking a Qantas Activity or tour with a Qantas member.

Convert points from another program. If you earn points through another credit card rewards program, you may be eligible to convert these loyalty points to Qantas Points.

Spend at Qantas Frequent Flyer partners. Outside the world of travel, Qantas has a number of retail partners that allow members to collect points on their everyday spending. Qantas Frequent Flyer partners with dedicated point-earning systems include BP, Quandoo, Deliveroo, Hello Fresh, Uber, Woolworths, Hoyts, Raw Energy, LJ Hooker and AfterPay.

Utilise Qantas Affiliates. Qantas has branched out into quite a few areas separate from travel, and by spending at any of these Qantas affiliates, you can boost your points earn even further: Qantas Wine, Qantas Insurance and Qantas Golf.
How to redeem your points for the best value
"In order to see true value from a rewards program, you not only have to understand how to maximise your points earn, you also need to know how to redeem those points to get the best possible return. Within the Qantas Frequent Flyer program, redemption value is typically at its highest when points are redeemed for flights and upgrades, but there are other options on offer. Given many of us are restricted due to COVID, the ability to use the points across other areas of your life is essential," said Bleyer.
Flights and upgrades. If you choose to redeem your points for flights and upgrades your options are Classic Flight Rewards that you can use to book flights with Qantas and its partners, Paints Plus Pay that allows you to make up the difference on a flight with cash, Classic Upgrade Rewards that you can use to upgrade to Premium Economy, Business or First Class after purchasing a flight, and Big Now Upgrades that is available by invitation to bid your Qantas Points to upgrade your flight.

Qantas Club membership. You can choose to redeem your Qantas Points to cover both the joining fee and annual membership to the Qantas Club. The Qantas Club focuses primarily on providing access to Qantas and partners' lounges around the world, as well as a number of other benefits, including priority check-in on Qantas flights, additional checked baggage allowance, and discounted car parking.

Charity donations. You can choose to use your points to donate to one of Qantas's 12 charity partners at relatively low point redemption, which include Make-A-Wish, Australian Red Cross, UNICEF and Beyond Blue.

Check out Qantas Affiliates. Qantas Insurance, Qantas Shopping, and Qantas accommodation and car hire all offer exclusive Qantas Frequent Flyer member discounts and offers to make your points go even further. Businesses such as Kogan allow you to purchase products using points.
How to calculate value
"The value of each Qantas Point can vary enormously depending on how it is redeemed, so it is important to do some calculations before you hit redeem and use those hard earned points," Bleyer said.
According to Bleyer, to work out the value you are receiving on each Qantas Point on any given redemption, simply divide the item's retail value or dollar cost by the number of Qantas Points you'd need to put down to redeem it. To make that number a bit easier to deal with, you then multiply it by 1,000 to find out the dollar value on 1,000 Qantas Points for that redemption.
For more information on the Qantas Frequent Flyer program, including how to make your way up each tier of the program and the top five things you should avoid to get the most out of the program, check out our complete guide here: https://www.creditcard.com.au/qantas-frequent-flyer-program-guide/
Roland Bleyer is the founder of creditcard.com.au, a website which allows Australians to compare the best deals on credit cards so they can find the one that best suits their needs. Bleyer is considered a credit card expert, and has appeared on TV and various other publications to discuss the credit card industry.