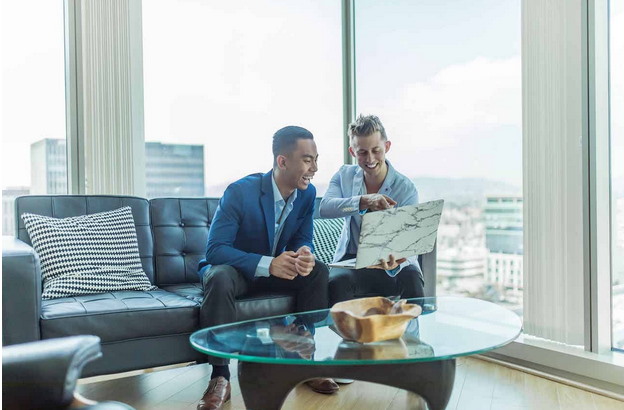 In the digital era, many startups and small companies run remotely, without being tied down to a physical space. Although this work style can bring significant benefits in the long term, business owners are forced to find alternatives when they need to set up face-to-face meetings (anyone who runs a company remotely needs to organise in-person meetings with clients and suppliers every once in a while).
Everyone knows that arranging a business meeting at home is not a good idea because family and business should be kept separate for safety reasons. Alternatively, someone can choose a cafe, restaurant, or library in order to hold important meetings. But are these good options? Most of the time, cafes and restaurants are not quiet enough and do not offer a professional environment. Neither libraries offer a professional environment, even though many of them have quiet corners. Therefore, any business owner must find different solutions in order to hold business meetings in a suitable space (which is extremely important in order to keep a company's reputation and close an important sale).
The spaces listed below should let non-members book a meeting or a conference room on short notice. However, this can depend on the rules and policies of every meeting room provider.
3+1 Ways To Get A Professional Meeting Room
Co-working space
Co-working is a flexible shared office space that can be accessed by anyone who needs a fully-equipped workspace. Most co-working space companies also provide separate meeting rooms that can be rented. Otherwise, the business meeting can be held in a space where other people work as well (even if conducting a business meeting in a big room filled with others can be difficult and unproductive). It is highly recommended for those who need a meeting room check and see if a specific co-working space provider offers private meeting rooms to rent.
Virtual office
A virtual office provider offers a range of services "in virtual form" that startups and small companies can choose as an alternative to traditional offices. Some of the virtual office providers can offer boardrooms and meeting rooms for hire that can be booked through an online portal. The advantage that rooms offered by a virtual office provider can have in comparison with rooms in a co-working space is that business meetings are held exclusively in a private space where no one else is allowed to enter.
Serviced office
A serviced office is a fully-equipped working space that is very similar to a traditional office. The only difference is that the companies using the serviced space do not buy or lease the premises (because companies that manage them are responsible for their maintenance). However, not all the serviced office providers allow non-members to book a private business meeting room.
Hotel
Hotels can be a good option for a face to face business meeting. Most hotels provide big conference rooms that are more suitable for corporations and big companies that need a professional large space for conferences. Some hotels can also offer smaller conference rooms for those who need to conduct small business meetings. But when it comes to 1:1 meetings, hotels might not be such a good idea for two reasons: usually, the rentable business rooms are too big for two people and they can also be a little bit expensive.
Conclusion: Business owners who need to set up face-to-face meetings and do not own a physical office can rent a meeting room in a co-working space, serviced office, hotel, or the office building of a virtual office provider.
Co-working spaces are flexible and affordable, but not all of them provide private meeting rooms (and a common space where others are working is not suitable for a business meeting).
A virtual office provider can offer professional and affordable meeting rooms. The only disadvantage is that not all of them offer this service (only virtual office providers that offer high-quality services have rentable meeting rooms).
A private meeting room in a serviced office can be perfect to conduct a business meeting. Even though, not many serviced office providers allow non-members to rent a meeting room.
Hotels offer a very professional environment where business meetings can be held. At the same time, they can be expensive and in most hotels space tends to be limited to a couple of rooms (meaning that the rooms might not be available when someone needs them).
Getting a meeting room at short notice is not difficult, but it might not be always as easy as finding a cafe or a restaurant. However, business meetings must be held in a professional and quiet place. Therefore, every business owner should spend a little bit of time in order to find the most suitable room for a face-to-face meeting with a client or supplier.