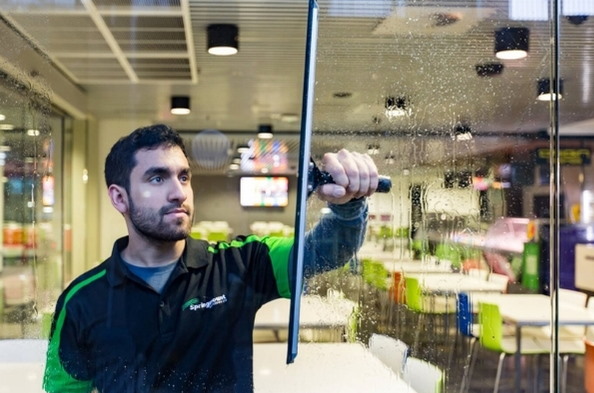 No one wants to conduct their work in an unsanitary office. With the COVID-19 pandemic, most of us are being meticulous when it comes to hygiene. As a business owner, you have the responsibility to both your customers and employees to keep your professional environment in the best shape possible. One of the ways to do this is to hire a professional cleaning service, like Springmount services, to ensure a deep and efficient clean.
But what about those moments when the cleaning service is not working on your premises? Fortunately, there are still a few easy ways to make sure that your business stays clean, even to commercial standards. Most of these tips below are not overly complex but simply require a bit of consistent effort on your part and on the part of your employees. This way, you'll be able to work in a clean environment.

1. Wipe it down:
The COVID-19 pandemic has reaffirmed the need for us to wipe down and disinfect surfaces. However, you should be doing this at your business, pandemic or not. It is usual for dirt to pile up on various surfaces and remain there until the cleaning service comes in and takes care of it. To keep your premises healthy and clean-looking, it would be a good idea to wipe down your surfaces at the beginning and/or close of work each day.
This practice will help remove dirt, dust, and other things that might have clung to surfaces during the day, improving both the appearance of the office and the shelf life of the items in question. Have a spray bottle, napkin, and anti-bacterial wipes handy and encourage everyone who uses the premises to wipe down surfaces and equipment as they use them.
2. Clean the bathrooms:
Bathrooms are one place that everyone uses, especially at the workplace. It is also one of the easiest places for germs to gather and spread. As such, it is imperative that the bathrooms at your business are as clean as possible. Keep all the necessary bathroom supplies like tissue paper, wipes, soap, seat covers, etc. fully stocked up at all times.
A clean bathroom is the hallmark of a clean office, which should be taken very seriously not just for the sake of appearances but to ensure that your employees remain as healthy as possible.
3. Keep various areas separate:
Organization is the key to keeping any space clean, which is why this has to be applied to your business as well. As a business owner, it is important that you ensure that the various areas of your business are kept separate. For example, paperwork should be restricted to desks, copiers, and meeting rooms.
First, this means that paper and other items are less likely to end up cluttered in different places across the office, which helps to aid organization. It also reduces the chances of germs being spread across the office and cleaning will be made much easier when the time comes.
4. Manage your waste:
Poor waste management is one of the easiest ways to spread disease, odor, and bacteria in any space, especially an office that multiple people make use of every day. Thus, it is in your best interest to ensure that your business' waste management is top-notch. This includes making sure that your trash cans do not overflow at any time, perishable products are removed as soon as possible, and that proper recycling practices are done. Doing so will not only keep everyone in your business healthy, comfortable, and safe, but it will also help increase customer trust in your business.
5. Keep desks organized:
This responsibility falls on the employees of your organization as it is common for employees to keep their desks very untidy with all sorts of miscellaneous papers, documents, and random items finding their way to various desks. This will not only help in the spread of germs but also makes such desks look disorganized and makes it harder to find things when they need to be found.
Emphasize to your employees that their desks should be tidy at all times and remind them to avoid cluttering it with unnecessary items. This can be achieved with the use of desk organizers, drawer organizers, and other storage tools. Investing in these will go a long way to keep your business smooth-running as well as clean.
While nothing beats the results of hiring a commercial cleaning service, these small tips can help keep your business premises looking and running as well as possible for your employees and customers.